Government issued ID's such as Driver's License, SSS ID, PhilHealth Card, Pag-IBIG ID, Voter's ID etc. are vital in claiming or processing transactions to both public amd private institutions. For the fact that you cannot drive your car without your Driver's License with you, these cards also required for all government transactions such as, application for passport; availment of benefits from the Social Security System (SSS), Philippine Health Insurance Corp. (PhilHealth) and Home Development Mutual Fund (Pag-IBIG). Also, most public and commercial transactions requires at least two government-issued ID cards that bear the photo, signature and address of the cardholder.
But, what if you lost it due to inevitable instances. Here are the guidelines to replace or duplicate lost Driver's License, SSS ID, PhilHealth Card, Pag-IBIG ID, Voter's ID.
Driver's Licenses Replacement such as; 
Student Permit
Professional Driver's License
Non- Professional Driver's License
Conductor License
REQUIREMENTS
Proof of Identity
Affidavit of Loss
PROCEDURE
Step 1. Proceed to the Customer Service Counter to get your checklist of requirements and secure a Driver's License Application Form. Get a queue number and wait for your number to be called.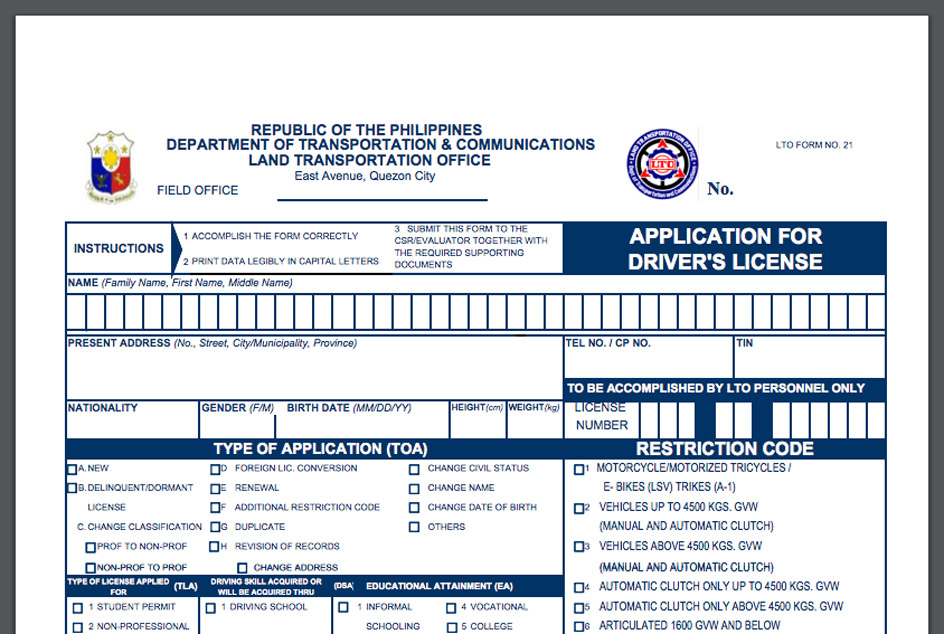 Step 2. When your number is called, proceed to evaluator counter and submit all the required documents and have it checked for completeness and authenticity.
Step 3. Proceed to the Photo Taking/ Signature Area to have your picture and signature taken when your name is called.
Step 4. Proceed to the cashier when your name is called to pay for the necessary fees and obtain an Official Receipt.
Step 5. Proceed to the Releasing Counter, present the Official Receipt and claim the Card Type License. You are required to write your name and affix your signature in the appropriate Released Form.
If license is due for renewal
Medical Certificate is issued by any licensed practicing physician stating that the applicant is physically and mentally fit to operate a motor vehicle.
If license is delinquent, applicant shall undergo the required examinations.
Venue: Any Licensing Center / District Office with DL Transactions
SSS ID Replacement
REQUIREMENTS
Four copies of SSS Form E-6
Affidavit of Loss
2 Valid ID's.
SSS Form R-6
Cash P200.00 (replacement fee)
PROCEDURE
Step 1. Fill-up correctly Application for Social Security ID E-6 form. In the Purpose section of the form, mark check the box for Replacement of Card then tick the box Lost.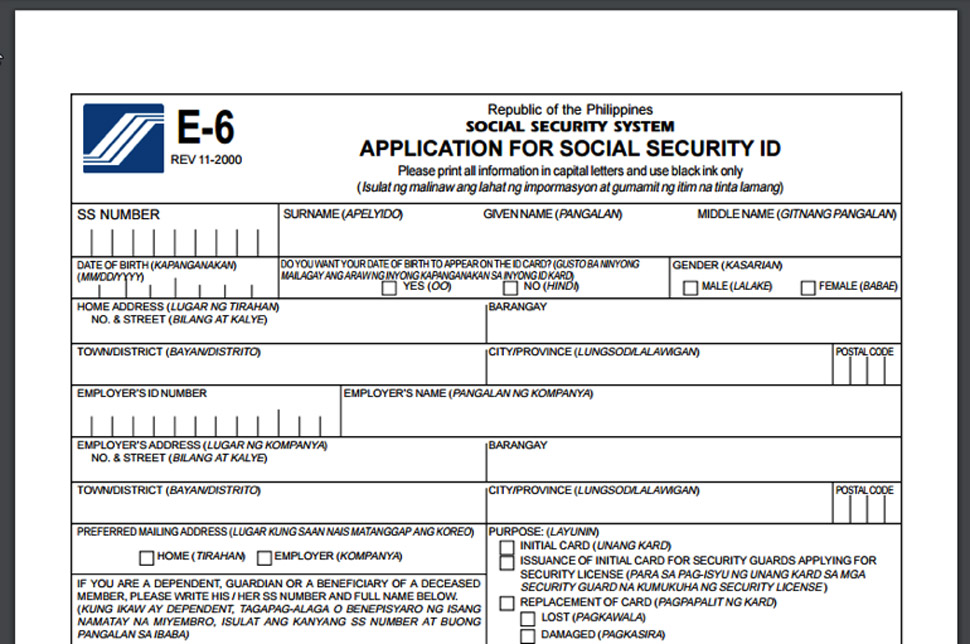 Step 2. Get transaction number to the guard in-charge, then wait for your number to be flashed on a screen with the number of the counter for your transaction.
Step 3. Once your number is called, go to the counter and present your documents; Four copies of SSS Form E-6 attached with Affidavit of loss and 2 valid ID's
Step 4. Proceed to the payments window, present SSS Form R-6 plus cash 200.00 for the replacement fee.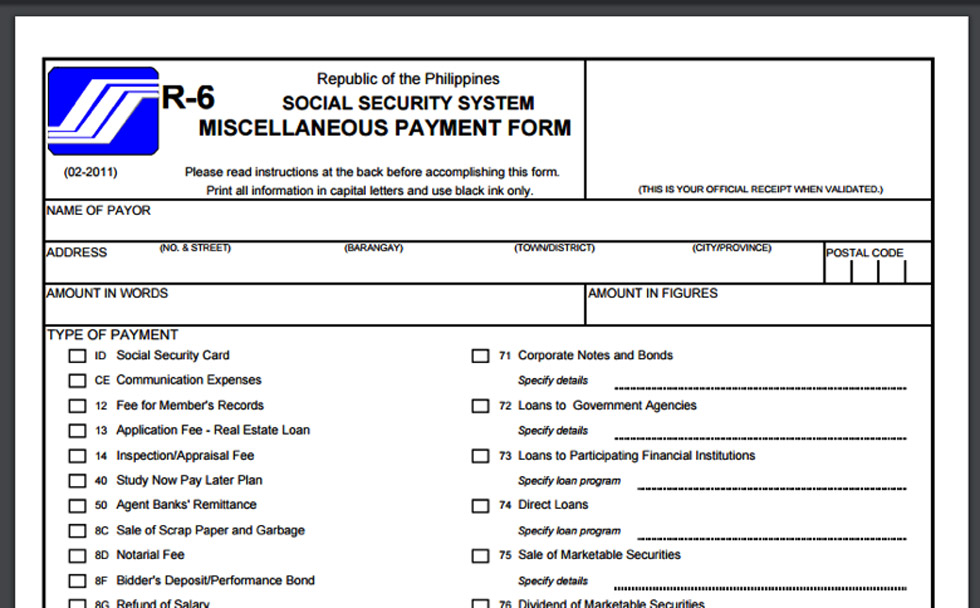 Step 5. Proceed to the ID capture room. picture will be taken; officer will validate your information then required you to sign in the signature pad.
Step 6. SSS ID will be delivered to the address you have indicated in 2 to 3 months.
Venue: Any SSS office that has facilities for SS ID capture and processing.
Voter's ID Replacement
(UPDATE: Currently COMELEC are not issuing Voter's ID)
REQUIREMENTS
Request Form
Affidavit of Loss
PROCEDURE
Step 1. Proceed to the local COMELEC office
Step 2. Dully Fill-up Request Form for Replacement of Voter's ID, attached your affidavit of loss.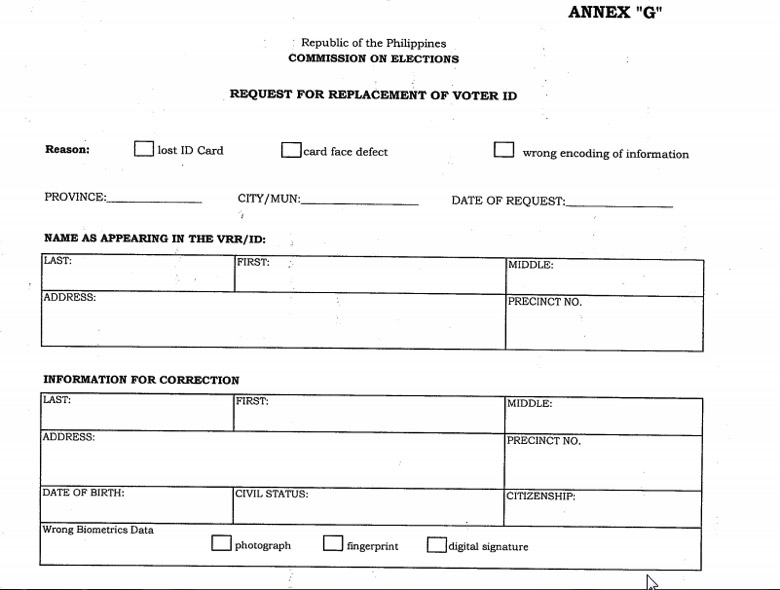 Step 3. You will be given a claim stub stated when your Voter's ID need to pick-up.
Venue: Local Comelec Office
PhilHealth Card Replacement
PROCEDURE
Step 1. Go to PhilHealth Regional Office
Step 2. Bring valid IDs to prove your identity and ask the PhilHealth officer for replacement.
Step 3. PhilHealth officer will process your application.
Step 4. Wait for 15-30 minutes, then you're done you now have your PhilHealth Card.
Venue: All PhilHealth offices, Regional offices, Accre. Dept, Philhealth Express in malls and LHIOs
Pag-IBIG Fund ID Replacement
According the official Facebook page of the Home Development Mutual Fund, also known as the Pag-IBIG Fund "We no longer issue ID cards, what we issue now is what we call the Transaction Card. This card is not considered as a valid ID. The card contains your MID number and security code. This card is issued by the branch where your MID number was generated. If you would like to inquire if your MID number or Transaction Card has been released or generated, please call 724-4244. In the event that your card has not been issued yet, please wait until the next batch of MID numbers are generated."
Pag-Ibig advised its members without the MID yet to secure a registration tracking number (RTN) at any Pag-Ibig branch or through their website www.pagibigfund.gov.ph.
The RTN can be used in place of the MID. Or you can get Pag-IBIG Loyalty Card.
And remember regarding Affidavit of Loss, it doesn't have to be specific, if you lost your ID together with other ID's and cards, you can suggest to the Public Attorney to indicate all lost items in your affidavit. Just like what had happen to me, I lost my wallet with PhilHealth & TIN card. Here's my notarized Affidavit of Loss for your reference.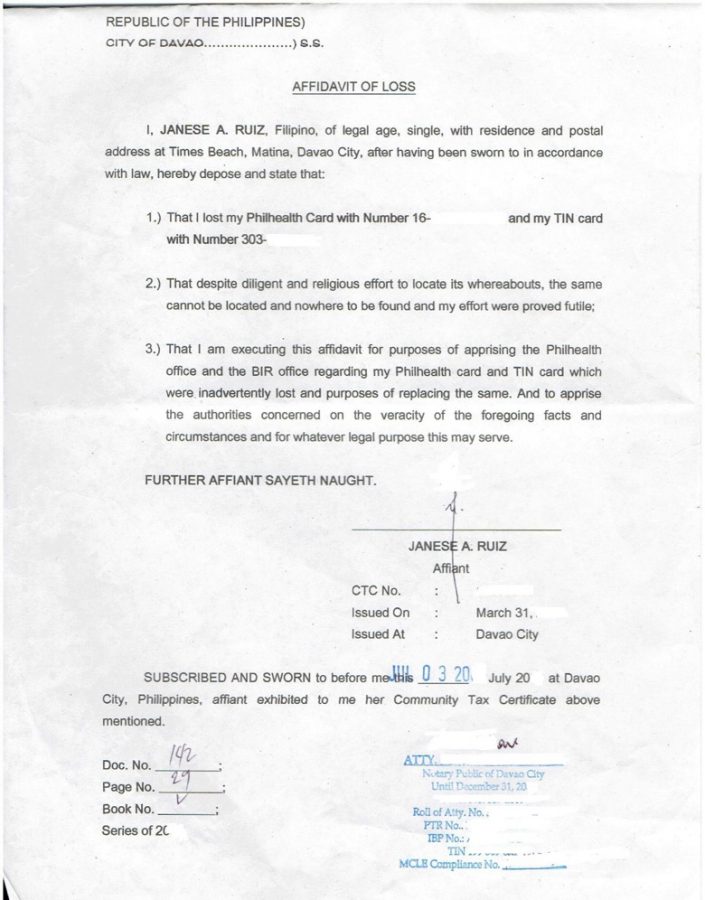 That's it, just wait for a few more days to process your application and you can have your ID's back. I hope this article serves a little help, particularly for beginners online & don't forget to share to your friends & relatives. God Bless.