If there is one thing I can brag about my Samsung smartphone, then I would most likely say customization. Customization is one goodie offered by Samsung and it probably is the reason why a lot of people choose and stay with Samsung. Some people like the idea of customizing their device to a whole new level which leads them to the activity of rooting it. But even if your smartphone isn't rooted, you can still get a lot of customization options for your Samsung smartphone. The one we will talk about in this article is how you can customize your fonts; so let's begin.
First off, you need to go to Settings and choose My Device. Depending on your version of Android, you need to go to the Display option in My Device to toggle the font used. Most Android phones follow the same format so you need to go to Settings > My Device > Display.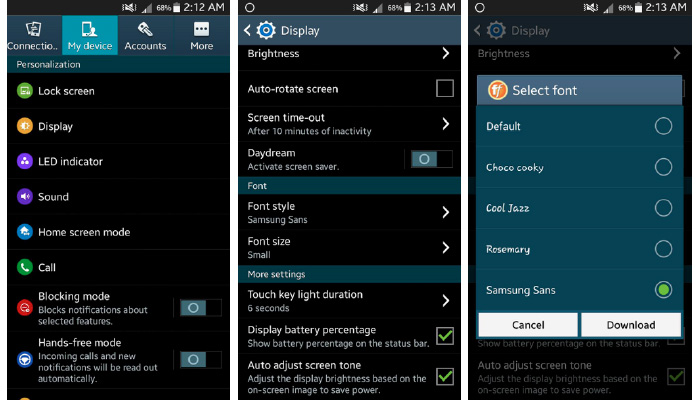 From there, you can easily find the Font category and you will then see two (2) options:
It is quite obvious what the two options in this category does; given the category title, it is a no-brainer what you have to do next. Click on the Font Style and select the font that you want to use. There will usually be around 4-5 fonts available depending on your version of Android and your smartphone. If none of the given fonts tickle your liking, you can download fonts from the same option.
However, there are apps that can have best deal of fonts offered to you at 0 price – yes you don't have to pay for it. One good example is Fontomizer SP; take note, this works on Samsung Galaxy phones. You can browse through their selection of fonts and you can download it so you can use and have a different display on your smartphone.
Read: Hidden Samsung Test Menu
That is actually it; you now have learned how to toggle and change the font on your Samsung Galaxy smartphone. It actually is a no-brainer because all you have to do is to look within your smartphone; you just need to explore and find the Display option and from there, it is simple as ABC.
Now that you know how to change the font style and font size of your device, you can modify it to tailor-fit your liking. As of the moment, there is no option to change the color of the fonts; I am just not sure if rooted phones can do that but unrooted phones definitely still bear that as a question. What are your thoughts about this? Were we able to help you? Let us know in the comments section below.
Read Also: How to fix power button issue in Samsung phones