Our government is becoming more and more advanced in the coming days and what's good about it, is its accessibility even to the simplest of Filipinos. The advancement began when government bodies started to rally up their websites for their members/contributors and with these websites, people can look at their information, people can check for their contributions, and many different things that revolve around the government body they are looking at. In this article, we will be talking to you about Usapang SSS which is the Online Forum of our Social Security System.
First and foremost, just like any other forum, you need to be legally registered in order to participate in all of the talks that go around these online forums. To register, open the website at usapangsss.ph/forum/ and then click on the Register button which can be seen both on top and bottom of the website. After clicking, you will be led to the terms and conditions you have to agree to before you get redirected to the sign-up page. The page looks like this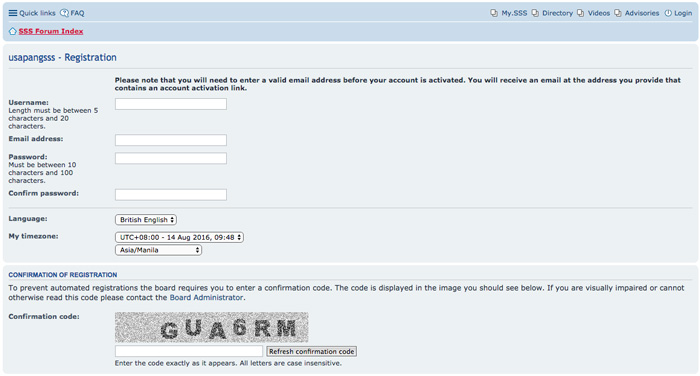 You will receive a confirmation code that will be sent to your email within 24 hours and once you receive that, click the link to officially welcome you to the website. Take note that having an SSS online account does not exempt you from this forum so you need to have different accounts.
In the website, you can search the topics talked about and these can be categorized into these specifications:
Social Security Benefits
SSS Loan Programs
SSS Services
Categorizing the forums like this makes it easier for the members to go on and talk about a certain topic. Say for example they want to talk about loans, they just have to go on the SSS Loan Programs category and go on from there.
To help you get a better view of what you can see in the forums, we will list down the things you can see on each of the categories given by SSS.
Social Security Benefits
SSS Loan Programs
ASENSO (Access of Small Enterprises to Sound Lending Opportunities)
Business Development Loan Facility
Social Development Loan or Facility
SSS Services
AlkanSSSya Program
ACOP (Annual Confirmation of Pensioners) Program
P.E.S.O Fund
Aside from the forum, there is also an SSS Directory that can be accessed through the website. To go to the directory, click on the Directory button which can be seen on the right-hand side of the home page of UsapangSSS. From there, you can select the region and the branch of the SSS for it to open on the map.
These are most of what you can see in the Usapang SSS website. I think that the forum is the most helpful segment because you will be able to communicate with people who are in the same dilemma as you so you will have a better and more concrete view of what's happening.
Technology is becoming more and more advanced and helpful toward to people who need them the most – employees. Because of this, hardworking employees can reach out to SSS without actually going to the nearest office firsthand. This can be beneficial to both parties and this can avoid hassle as much as possible.
More Helpful tutorials from EfrenNolasco.com