Yellow Cab, one of the more famous pizza parlors here in our country, is favored by many. A lot of people like the idea of Yellow Cab because of their unique pizza styles. In addition, they also offer big-sized pizzas which can be shared by over 10 people. There are only a few selected standalone Yellow Cab branches and in malls. But what if you're far from a specific store? Moreover, what if you crave it while you're at home? Luckily, the Yellow Cab delivery system is at go and can be used by people in selected provincial areas and in Metro Manila. In this article, we will teach you how you can order Yellow Cab delivery right in the comfort of your own home.
Yellow Cab delivery methods
This New York-style serving fastfood chain allows both online deliveries and by dialing their delivery hotline. Any of the two is easy for a person who craves Yellow Cab to do. As a matter of fact, whichever works for you is totally accepted. We will teach you the processes for both in order for you to have two (2) options whenever you need to have a Yellow Cab delivery.
Which areas do they deliver to?
Currently, Yellow Cab delivers in Metro Manila and selected provincial areas. The areas they serve are:
Baguio – (074)442-9999
Batangas – (043)723-2222
Cavite -(046)416-9999
Cebu – (032)254-1111
Laguna -(049)502-9999
Those provinces are not just a dot on the map so if you're planning to have a Yellow Cab delivery, better contact those numbers first and inquire whether they service your specific area or not. Furthermore, before asking for a delivery even through their online portal, it's still best to confirm their capabilities of delivery first.
Read: Mang Inasal Delivery: Easy Way How to Order in Mang Inasal
Properly utilizing the Yellow Cab store locator
Another thing that you might want to consider before you decide on ordering for Yellow Cab is the feasibility of their location. You can use their store locator to check the exact locations of branches nationwide. You can access the store locator by visiting this link.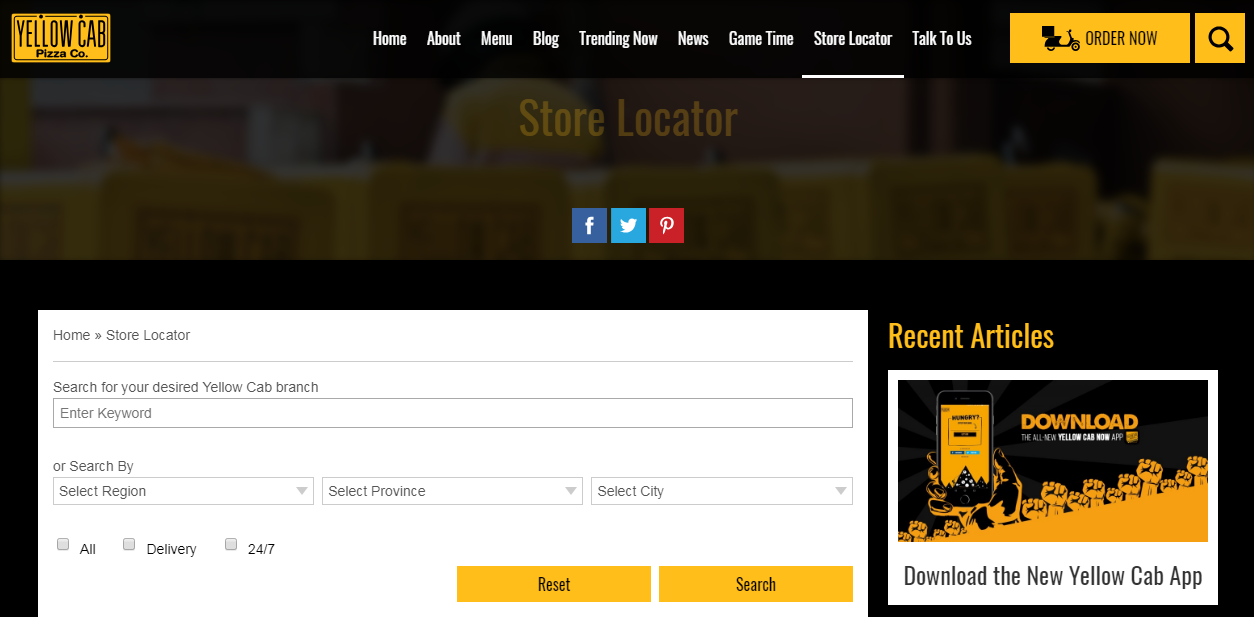 In using the store locator, you have two (2) options:
By using keywords
You can use keywords in determining your search. In fact, it'll automatically populate when the system detects the area that you're searching for has a Yellow Cab branch.
 By using specifics or by region
On the other hand, you can search by region if you're not familiar with keywords, streets, barangays, etc. You need to select the Region > Province > City. This is also effective for people who live in Metro Manila because there are tons of cities there and it might be confusing especially if you live between two (2) cities.
You can also redesign your search if you just want to search for a normal delivery (hotline); if you want an online Yellow Cab delivery (through their website or the app); or if the Yellow Cab branch is 24/7.
The Yellow Cab smartphone application
The application is not in any way different from the browser version; it has advantages, however. In using your browser, you would have to have an account first to proceed with the checkout. You can register by using your email address and filling the form out with your personal information including your address so it can be registered to their system.
You can download the Yellow Cab application for Android by clicking this link. If you're an iPhone user, you can download the application through this link to the App Store here.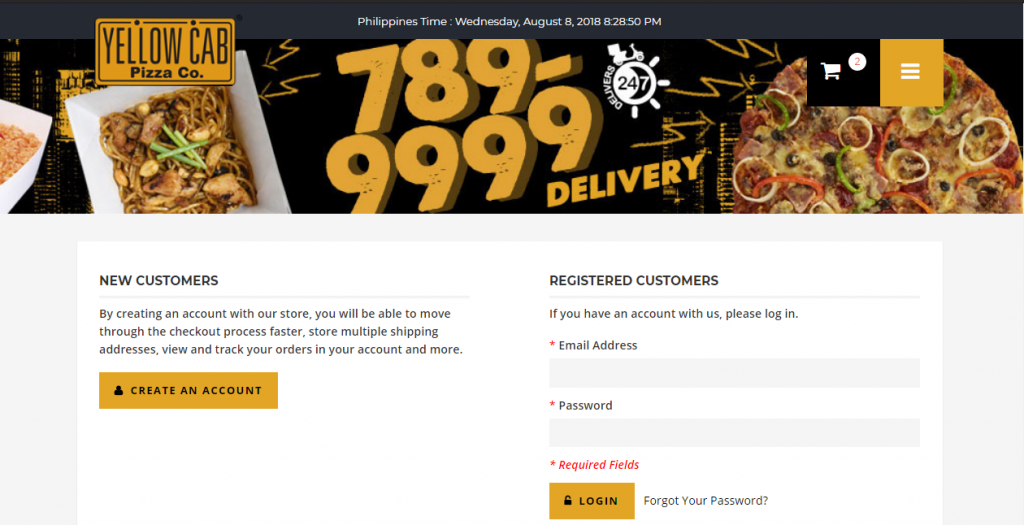 Of course, you would not be able to use the application if you don't have an account. To go directly to the register page, visit their registration website by accessing this link.
Ordering by dialing their hotline
The first and classic way of having a delivery is by dialing their delivery hotline. Yellow Cab's delivery hotline is 789-9999. Contacting that number will direct you to their central customer service center. They will then reroute your call wherever you are in the country through the nearest branch available to you.
Read: Shakey's Delivery Menu: Promos and Discounts
Ordering through their website online
On the flipside, you can also use their online portal to have a delivery. Other than the app, you can use and visit their website for an online Yellow Cab delivery by going to their main delivery homepage which is https://delivery.yellowcabpizza.com/.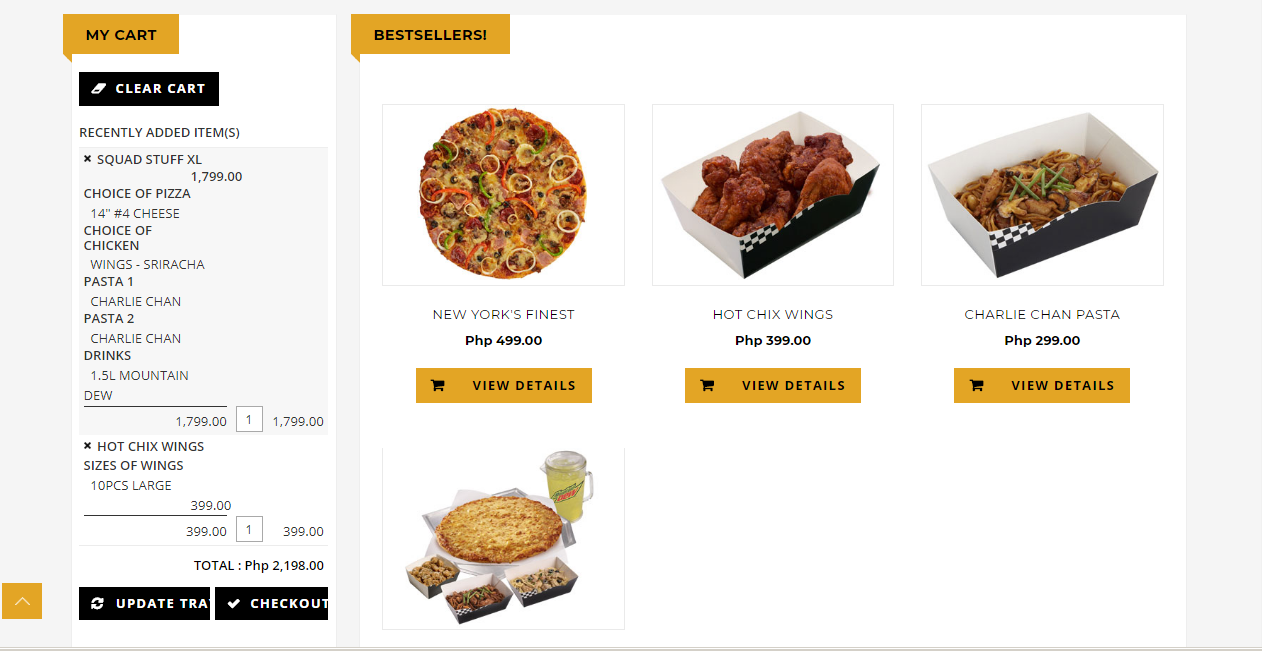 It might be a bit confusing at first but it's actually user-friendly. On the left-hand side part of the page, you will see Categories. From the categories listed, you can narrow your search down and not look for a penny in the park. The categories you can choose from are:
Bestsellers!
Pizza
Chicken
Pasta
Group bundles
Promo
Solo meals
Dessert and beverages
Delivery deal voucher
Of course, clicking on one category would rearrange the entire page depending on what you clicked. For example, clicking on Chicken would display all different varieties of chicken they serve.
Read: Red Ribbon Delivery in Metro Manila
If you want to customize your order, you can click on the View details button on the bottom part of each item. Doing so will allow you to customize each item on how you want it to be. This is best if you're going to select items from the bundles, best sellers, and solo meals categories. However, all of your orders can be customized so you don't have to worry.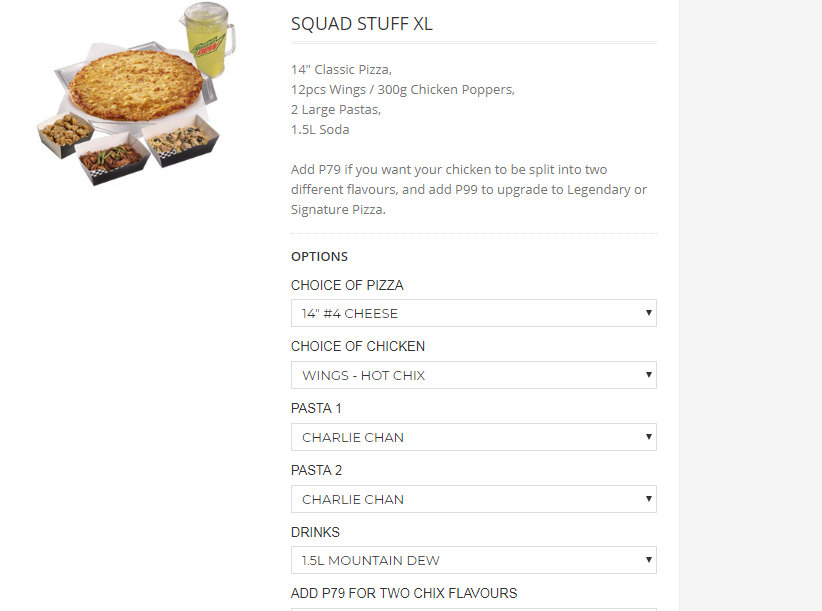 NOTE: The minimum order should be at Php300.00. That's the lowest your order can get in order for a delivery to be executed. Orders below the price won't be honored and you might not be able to have a delivery.
Double-check everything before checking out for you to avoid unaligned orders that would cost you more. After your order confirmation, an operator will contact you through the number you provided in the registration. This is to confirm all of your orders and to ask how much your bill is so the delivery boy can prepare change.
The Update Tray button allows you to see what you have on your cart real-time to double-check before checking out. So once you checkout, everything should be crisp, final, and ready to go.
What method should I use when I order Yellow Cab?
The truth is, both of them are extremely convenient and easy-to-use. The method usually depends whether you're more comfortable in speaking with a person or if you're more fond of using the internet or by doing it yourself.
Read: Greenwich Delivery in Metro Manila
Now that you know the methods on how you can order online, through the hotline, or through the app, what are you waiting for? If you're residing outside the Metro, make sure that you communicate with the points of contact in your location first before placing an order because your region might not be eligible for delivery.