Do you crave for cakes, sweets, and pastries all of the time? Don't have the luxury of time to visit your favorite go-to sweet tooth location? Red Ribbon, probably one of the more notable cake shops here in our country, offers a delivery system for people in Metro Manila who is craving their dishes. Yes, the Red Ribbon delivery system is currently available and is servicing some parts of the Metro. In this article, we will be teaching you how you can get the Red Ribbon delivery service, what you can order, and other things you need to know about the said topic.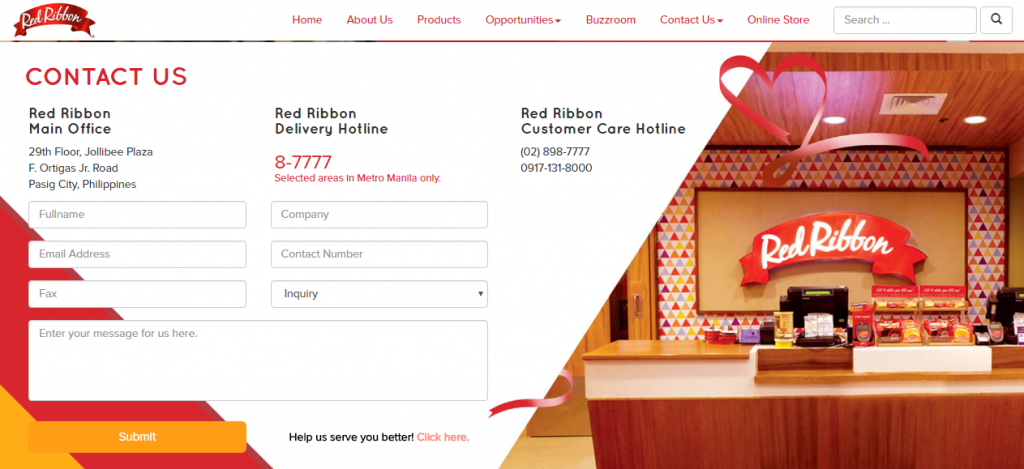 To give you a brief background on what Red Ribbon is, it's a family-run business which started in 1979 by a family in Timog, Quezon City. Right now, it's a notable bakeshop which has over 370 outlets all over the archipelago. In addition, they also service overseas having 33 stores in the United States. Red Ribbon is currently owned by Jollibee Foods Corporation since they were acquired last 2005. With this expansion, Red Ribbon has grown to be one of the most in-demand bakeshops all over the country for whatever occasion or craving you need.
Red Ribbon deliver hotline
If you're comfortable in using a landline to contact Red Ribbon, you can reach them by dialing 8-7777. This is their delivery hotline so in the event that you need to order from them, you can call that number. Although we know that Globe mobile subscribers can freely call JFC food chains, it wasn't mentioned that Red Ribbon was a part of this feature. Nevertheless, you can call them and have a delivery through that number.
Read: Chooks To Go Delivery in Metro Manila
Do you need to give out feedback or opinions on your Red Ribbon experience? You can contact their customer care department at (02) 898-7777. Moreover, if you're a Globe subscriber, you can call or text 0917-131-8000.
What can you order through Red Ribbon delivery?
If you look at their website, you can order a variety of cakes from Red Ribbon. You have different options such as:
Round cakes
Square cakes
Roll cakes
Pastries
Cakes by design for males, females, and for special occasions
There is no mention if a minimum order is required on their website. However, it's still best if you inquire and to be sure. To check this, you can contact their customer service hotline.
UPDATE: As per SPOT.ph, the minimum order for a Red Ribbon delivery is Php250.00. This simply means that your order must be at least Php250.00 for them to make the delivery.
Can we have a Red Ribbon online delivery?
Definitely! Red Ribbon also has an online delivery system which you can utilize if you don't have a landline. Of course, you would need to have an internet connection in order for you to successfully order.
To order, just visit https://www.redribbononlinestore.com/. There, you can order your favorites from Red Ribbon.
Read: Mang Inasal Delivery: Easy Way How to Order in Mang Inasal
Red Ribbon delivery through FoodPanda
Another option you might be considering is ordering through FoodPanda. Yes! You can order through the FoodPanda program or application. Simply put your address when you access the website or the app, hit on find restaurants. If you don't see it firsthand, (because it's not near you) you can just search for it.
After doing so, you can now choose which you want to be delivered. From the options and choices listed above, you can select any as long as it exceeds the minimum threshold that FoodPanda requires. Ordering through FoodPanda might incur a slight increase in the price but it's not something that would put a hole in your pockets.
Utilizing the Red Ribbon store locator
In order for you to know whether or not Red Ribbon delivery is advantageous in your location, you can use their store locator. To access it, just click on this link -> https://redribbonbakeshop.com.ph/#storelocator-div.
You need to select the province, the area, and the branch in order for you to arrive at a specific store. Once you know where the closest store is from where you are, you can decide if you'll still have a delivery or if you just visit the store.
Knowing where the closest store from where you are is an advantage. Why? Because it will help you decide whether or not visiting a store is cheaper. Furthermore, it's actually dependent on what you will be buying.
Read: Shakey's Delivery Menu: Promos and Discounts
Now that you know how you can have a Red Ribbon delivery, what are you waiting for? Are you craving for their pastries? Do you need a cake for a birthday party? Or are you just looking for a cake for your dessert? Whatever your reason is, you now know how you can have a Red Ribbon delivery right in front of your door.