Today, we will be giving you a few tips about Shakey's delivery menu which you'll want. As we all know, Shakey's is one of the more common fast food chains here in our country. With a combination of pizza, pasta, chicken, and other more delicacies most Filipinos are looking for, they're really an all-around place. In addition, a lot of Filipinos love the idea that everything can be served in just one diner. In this article, you will be enlightened about how the Shakey's delivery menu is different
What's different about Shakey's delivery?
One thing you might not have noticed is the fact that they segregate the types of deliveries. On their website, you will see that they'll immediately ask if you're ordering for yourself or for a friend. This means that they'll ask if you want the delivery to come at your location or somebody else's.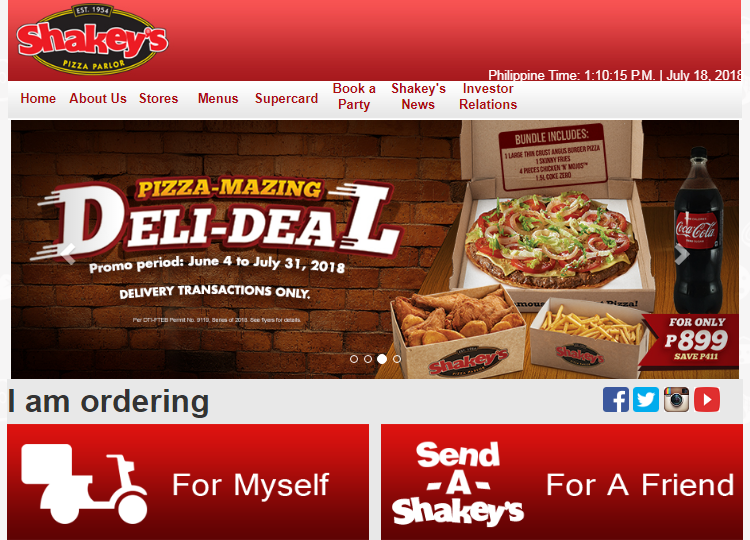 Clicking either one would ask you if you want to use a the Shakey's supercard. We'll get to that a bit later and it'll ask you if you want to use your supercard for your delivery or not. If you choose to have the delivery, however, to yourself, it'll ask you if you want to use a supercard or not, and it'll also ask you if you want to avail a supercard.
Read: Mang Inasal Delivery: Easy Way How to Order in Mang Inasal
Now, what is a Shakey's Supercard?
The Shakey's supercard is one thing you might want to get if you're a real Shakey's fan. Other than bumping up the Shakey's delivery menu if you want a delivery, it also has different perks to it. To name the most notable perks:
It provides a buy 1 take 1 promo (any flavor except Classic Cheese) with a 1.5 liter Coke product;
You get 10% discounts on dine-in or take-outs;
FREE large thin crust pepperoni pizza on your birthday or birth month;
You'll be gaining access to seasonal promos and exclusive discounts; and
One (1) SuperPoint for every Php100.00 cost either in dine-in or take-outs
If you have questions about the Shakey's supercard, you can refer to their online FAQs about the supercard. Furthermore, you'll also know how the buy 1 take 1 promo works in deliveries.
Shakey's delivery bundle promo
Last October 2017, Shakey's let out a huge promo to all supercard users. It's actually a big promo because it has a lot of perks and surprises to it. To know more about this promo value bundle, visit www.shakeyspizza.ph.
Shakey's Delivery Menu
To start, you can order by calling them through their hotline (call center) or you can order online. You can call them by dialing 77-777 for free. Alternatively, you can also use their online platform at https://www.shakeyspizza.ph/index.asp. Whichever you're comfortable with is fine because the prices aren't different (unless of course, you're part of the few lucky people eligible for the value bundle.
Ordering online

In opening the menu, you'll immediately see that it's categorized based on the type of food you want. It's categorized as:
Starters
Soup and Salad
Pizza
Chicken
Pasta
Wholesome Combos
Group meals
Drinks
Bestsellers
Desserts
It'll show you a page like this wherein you get to select either of the ten (10) categories listed above.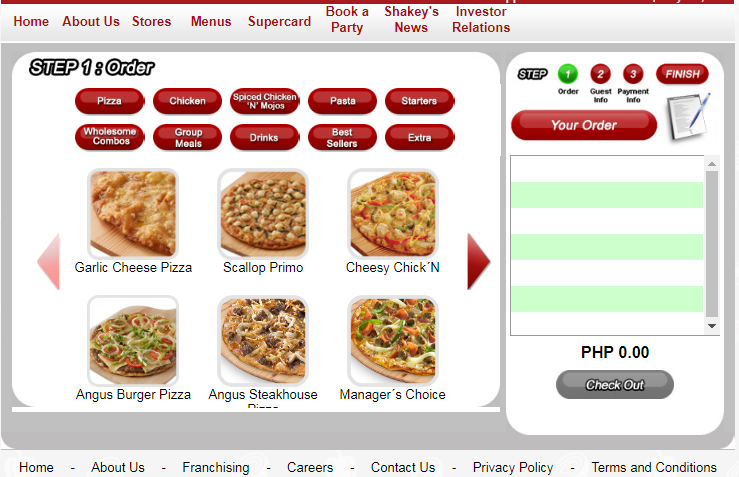 Once you select one, it'll ask you for more details regarding your specific order like the quantity, the size of the pizza, if it's thin crust, cheese crust, literally what they ask you when you order in-store.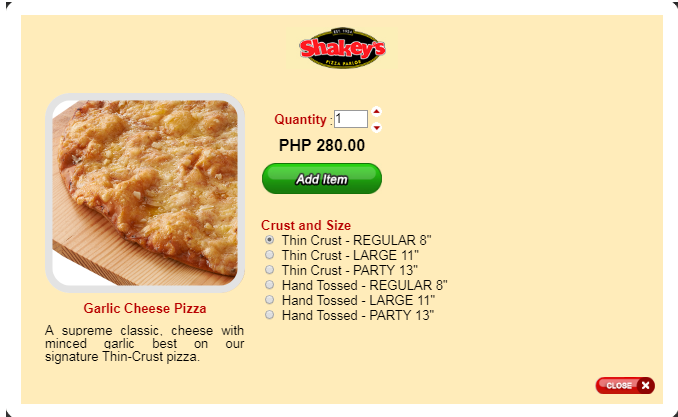 After selecting your order, you'll now be required to put your personal information for the delivery to be set. It'll, of course, ask you for your name, address, if you have a supercard, etc. In addition, it also says that if it's a delivery to Boracay, NAIA Terminal 3, and Palawan, the prices might be different.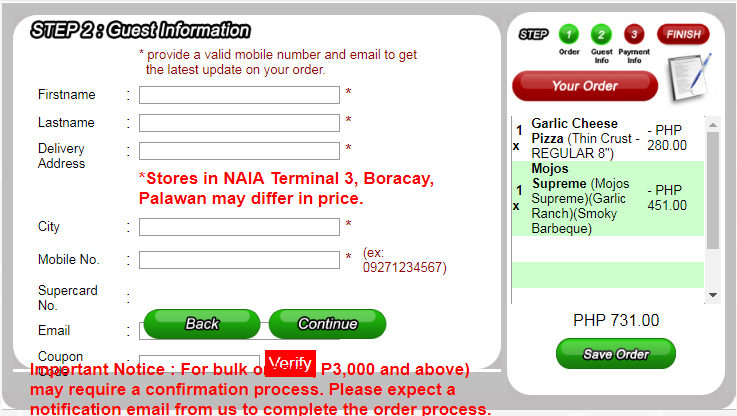 Lastly, it'll ask for a verification through phone. Someone will call you as regards your order to confirm and to ask you for landmarks of your location for the delivery boy not to have a hard time finding your location.
Read: Globe Mobile Subscribers Can Call Jollibee Delivery Hotline For Free
Ordering through the call center
Differently, ordering through an operator would just need you to tell what you want specifically, if you have a supercard, and the address to where you want it to be sent. Apparently, delivering to a specific location where you're far from might be a bit difficult but it's doable. You just have to take note of everything you need to tell the operator for them not to relay confusing or false information to the delivery boy.
Shakey's, being one of the more known fast food chains in our country, is currently in the process of enhancing their delivery system. With the online Shakey's delivery menu, it's easy to comprehend which is which and everything you need to know about it.