Potato Corner is one of the many Filipino products that seem to have a shot in global opportunity. Many know it as something that's international; although that's true, Potato Corner's first ever kiosk was opened in SM Megamall in the year 1992. It's a wonderful treat with its many and rich flavors, you'll surely want to come back when you try it.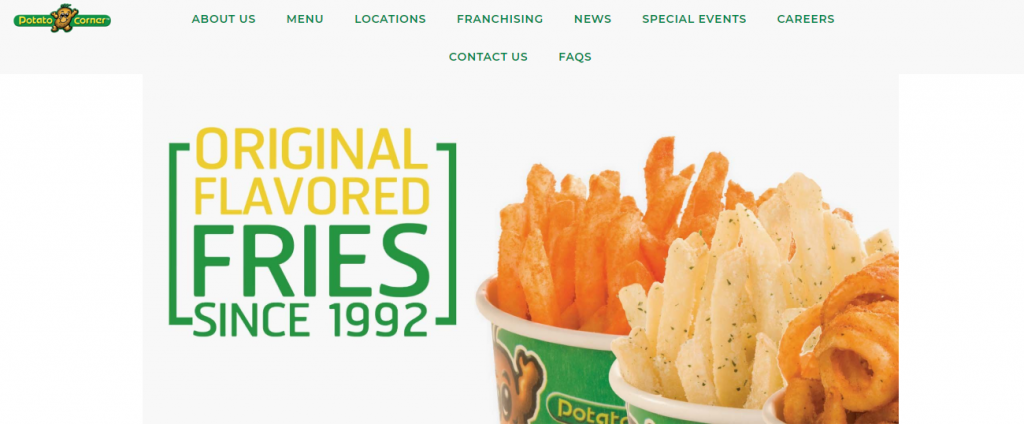 I mean, who doesn't want or like Potato Corner? Everyone I know wants to have a munch of these every once in a while.
Because of Potato Corner's success, it has now become a successful franchise. You will see Potato Corner in every mall you go to; even some small commercial buildings have Potato Corner. Today, there are standalone Potato Corner branches and they're there to answer your cravings.
This franchise has been a bull in the market and has been standing for more than two (2) decades. With its easy and satisfactory product, it has grown to be one of the few Filipino franchises that is strong enough to be exported to other international countries.
In this article, we will be giving you the process on how you can own a Potato Corner franchise. In addition to that, we'll also list some of the requirements you might need.
Read: Top Brands Of Franchises In The Philippines And How Much They Cost
Application requirements for a Potato Corner franchise
Firstly, let us discuss what you need to present upon applying for a Potato Corner franchise. Yes, a majority of people might not be able to own a Potato Corner franchise especially if they're just starting out in the business industry.
Potato Corner will cover some of the things you need to operate your business. On the other hand, they also have things that they do not cover. Some of these are:
Manpower
Business permits and other government permits
Location of the cart/kiosk
Cost or rent of the space or location
So, these are the things you would have to figure out on your own. If you have or know a space that would be a hit if you place Potato Corner in, then what's stopping you?
Before you invest in something, you should, of course, have a plan on how you will be able to successfully execute the operations. Read a previous article we wrote on how you can successfully run a food business.
Read: Tips in Successfully Starting and Running Your Food Business
The general requirements when you apply for a Potato Corner franchise are:
Two (2) valid IDs
Duly accomplished application form
Completed marketing study
A formal letter of intent (to run the business)
Location offer sheet
Marketing Analysis
Potato Corner is just one of the many franchises which will have the interest on how you will market their product. This is why you need to present a marketing study but don't worry, upon inquiry and/or application, Potato Corner will provide a Site Analysis and a Marketing Form which will require you to both analyze your market and to study and observe the location.
In franchising Potato Corner, they'll also ask you to submit and present a list of the potential competitors in the area. Information that they might require are:
Distance from your business (cart/location)
The product/s they sell
The price range of their products
Your estimate of how their business makes in a day
By knowing this, Potato Corner will not only formulate a plan better than your competitor, it's also a good source of help to be able to support you and your future business.
Read: Affordable Franchise Businesses You can Start for as Low as Php90k to Php200k
Requirements for your staff (Manpower)
As per some existing Potato Corner franchise owners, the best plan is to have two (2) people in opening the cart and two (2) in closing. Potato Corner will train your staff; however, you would need to set aside a budget so you can pay them their regular salaries for the time being.
How long would the training be?
Staff training of Potato Corner runs for six (6) days. Wherein the first day would tackle the basics of the brand and the Standard Operating Procedure (SOPs) of the brand like how to cook the fries, how to keep the cart running, how to properly handle them, etc.
The following four (4) days would be immersions or live training. This will allow them to learn what happens specifically in a cart on a daily basis.
Last but definitely not the least, would be their exams. This will be conducted in Potato Corner's office. This is for owners to gauge how much the personnel have learned from the six-day training.
What are Potato Corner's packages?
Now that you know everything you need prior to starting the franchise, here are the packages that Potato Corner offers interested franchisees:
School Cart Package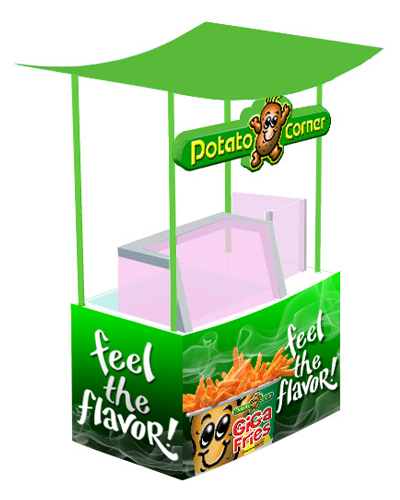 Based on its name, the School Cart Package, of course, needs to be located in a school. This is the cheapest package. The initial investment would be at a total of P257, 600.00 (inclusive of 12 percent VAT). This amount would include:
A P100, 000.00 franchise fee, good for three (3) years
Initial supplies worth P2, 000.00
The cart (2.1m x 1.2m x 0.865m)
Freezer
Two (2) uniform sets for personnel
NOTE: There will be a renewal fee of P50, 000.00 after the three (3) year period of the initial franchise fee.
Read: List of Gasoline Stations and LPG Brands That Are Open For Franchise
Standard Cart Package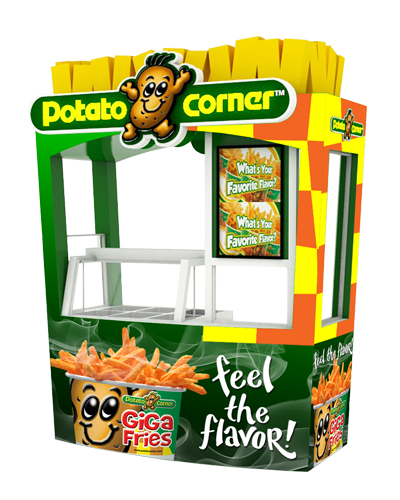 Unlike the School Cart, the Standard Cart Package is slightly bigger. These can be placed in commercial buildings, offices, and other locations which can have better markets. The initial investment in this package would be a total of P431, 200.00 (inclusive of 12 percent VAT). This amount would include:
A P150, 000.00 franchise fee, good for five (5) years
Initial supplies worth P5, 000.00
The cart (2.4m x 1.2m x 0.865m)
Freezer
Two (2) uniform sets for personnel
NOTE: There will be a renewal fee of P75, 000.00 after the five (5) year period of the initial franchise fee.
Read: Start Your Own Kuya J Restaurant Even With Little Capital as They Also Provide Financing
Kiosks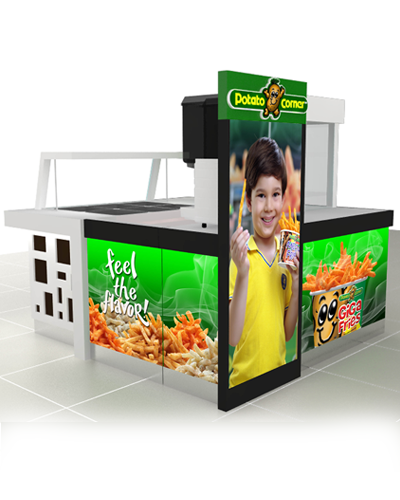 If your business plan bears success and good business, then you might have to expand and get a bigger and better franchise. Kiosks are a slightly more expensive option and are best for bigger locations like malls, supermarkets, etc.
If you go with the Kiosks package, you will get the same things you will get from a Standard Cart Package and a School Cart Package. However, the initial investment package costs P400, 000.00 to P600, 000.00 (inclusive of 12 percent VAT).
There would be a space requirement of a minimum of 4 sqm and a renewal fee of P75, 000.00 after the 5-year initial investment period.
Read: Want to Become a PCSO Lotto Agent? Here's What You Need to Know
In-line counter package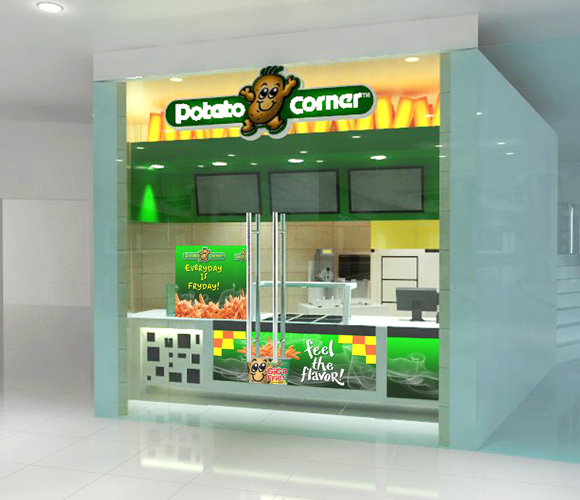 This option is where you will see multiple employees running around to serve customers better. These are placed in malls where the market meets the demand of the sales and would usually be in places near the cinema, parks, etc.
Total investment package: P600, 000.00 to P800, 000.00 (inclusive of 12 percent VAT)
Renewal fee of P100, 000.00 which is good for 5 years
In-line Dine-in Package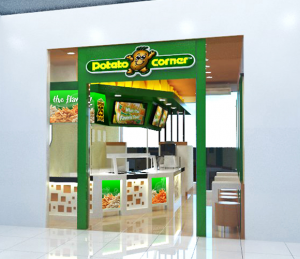 The largest investment package an interested franchisee can apply for. This would have seats inside and a space where customers can be comfortable.
Total investment package: P600, 000.00 to P800, 000.00 (inclusive of 12 percent VAT)
Renewal fee of P100, 000.00 which is good for 5 years
Read: Businesses you can start under Php10, 000
When do you pay if you decide to go with the franchise?
You have to take note that the things we listed above are the basic requirements they're looking for. Depending on your application and the location, they might ask other things from you and you have to submit them.
After you submit everything, Potato Corner will then have an ocular visit to the site. They will see if your location meets their standards. Then, a grant meeting will be held and if you're lucky, contract signing is up next. This is the correct deemed time for you to pay your fees.
When you've finished settling the amount, the company will start the construction of your cart. You might have to wait for a few more days to weeks before your cart is ready. At the same time, the crew or the personnel you've submitted to be the staff of your cart will also be trained.
Once done, you can now start to operate the Potato Corner franchise you have applied for.
If you are having any interest, you can contact any of the following Potato Corner offices:
Luzon
Contact number: (02) 531-9891 loc. 112
Address: 869 Katarungan Street, Baranggay Plainview, Mandaluyong City
Visayas
Contact number: (034) 435-0712; (034) 707-9691 (Bacolod) | (032) 231-6040 (Cebu)
Address: 36 Block 6, Baranggay Montevista, Bacolod City | Master Franchisee- Porfin Trading Corporation 386-C Tres Borces Extension, Mabolo, Cebu City
Read: Passive Income Ideas: 9 Basic Businesses You Can Start Today
Mindanao
Contact number: (082) 285-7355
Address: 505 Ayala Compound, Aguho Street, Juna Subdivision, Davao City
Would a Potato Corner franchise be rewarding as a business?
You won't surely know unless you try, of course. However, the name bearing Potato Corner is something that's appealing to some, if not most, people. As per Potato Corner's sales projections, if the total gross sales will amount to P5, 500.00 per day (P165, 000.00) in 30 days, you will earn a minimum of P32, 576 net on a monthly basis. 
NOTE: This amount already has every deductions deducted. From the electricity, the rent, labor costs, food, and other expenses that are essential to the equation.
Read: Why You Should Invest in Bonds—and How You Can
This amount is not bad for a business owner who is just starting. This specific franchise will work its way up to your pockets.
Owning a Potato Corner franchise could be a good start in your business and investment portfolio. It can be considered as a minimal risk investment because Potato Corner will aid you in establishing your franchise. Nevertheless, it's going to be rewarding given the fact that Potato Corner already has its name in the Philippine franchise leaderboard.