Now, the current jackpot prize of the PCSO Ultra Lotto 6/58 is at 704 million Pesos. Wouldn't you gamble a few hundred pesos for a chance to win this amount? A lot of us Filipinos think that this is the way to escape poverty. This is why becoming a PCSO Lotto agent could be one of the best businesses here. But how can you start? What do you need for a PCSO Lotto outlet startup?
Why do Filipinos believe in sweepstakes?
I mean, who doesn't? For a very small amount, you wouldn't gamble to win millions of pesos? It's fairly logical, just a small amount and you'd have the chance to change your lives. Although it's kind of a big deal if you look at it in long-term, people don't think that way. What they think of is that they're just gambling a small amount, ready to claim millions of Pesos if it allows them.
Read: Small businesses you can start next week at your home
What is the PCSO and the Lotto?
The Philippine Charity Sweepstakes Office (PCSO), is a subsidiary company of the Philippine government which provides funding for the public's health and welfare needs and activities. If you're wondering, their earnings come from the people's payments to enter the sweepstakes or draws which come from the agency.
The Lotto is the event or the draw that millions of Filipinos yearn to hit. There are many different programs and services that our countrymen wait for with high hopes of them hitting the jackpot.
What are the different PCSO Lotto draws and products/services?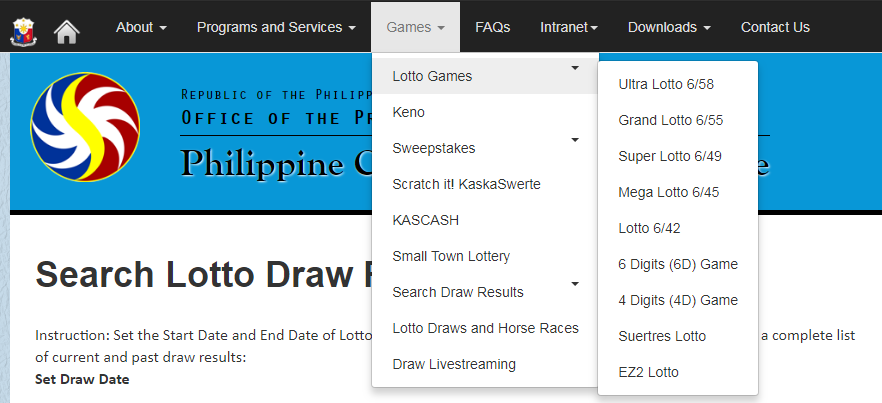 There are a total of ten (1) draws or games and other subsidiary products and services that PCSO Lotto agents offer:
Lotto Games/Draws:
Grand Lotto 6/55
Ultra Lotto6/58
Mega Lotto 6/45
Lotto 6/42
Super Lotto 6/49
Power Lotto
Lotto 6-Digit Game
Lotto 4D
SuerTres Lotto
EZ2 Lotto
In addition to these draws, PCSO lotto outlets also offer the following mini-games or mini-draws:
Keno
Small Town Lottery
Scratch It! Instant Tama!
KasCash
Those are the main highlights of specific PCSO Lotto outlets and those, believe it or not, gather thousands of people every single day; people gather with the hopes of them winning a jackpot, escaping the harsh reality of life.
Read: Passive Income Ideas: 9 Basic Businesses You Can Start Today
This puts you, a business-minded person, thinking. Would it be nice if I become a PCSO Lotto agent? Would it generate thousands of pesos each day serving the hopes of your fellowmen? Here's what you need to know to get started.
Cost of setting up a Lotto outlet
Of course, just like any other business, you need a bit of money to start your store up. In becoming a PCSO Lotto agent, a lot of people would think that they need to pay a Franchise Fee, right? Good news, the PCSO does not charge this, however, they need to ensure that you have enough capital to support their services and their system. Here's what you'll be needing in starting a PCSO Lotto outlet:
Processing Fee of Php 1, 700 which you need to pay to PCSO;
Installation Fee Php 10, 000 which goes to the telecommunications carrier;
A Cash Bond of Php 500, 000. This earns an annual interest; and
A Surety Bond of Php 5, 995.37 which is paid and renewed annually.
Once you become a PCSO Lotto agent, you would need to settle many different fees. The good news is that PCSO will be paying for these following fees:
Thermal rolls
Lotto tickets
Space rental for the terminal or outlet
Telecommunication fees
Other service fees
Just to be clear, the PCSO is not a franchise and they do not charge franchising fees. Being a PCSO Lotto agent, it is your right to operate an outlet properly and appropriately so being a sole-proprietor of the business is crucial and risky.
Are there requirements before actually applying to be a PCSO Lotto Agent?
Yes, there are certain requirements you need to meet first before you can start to operate a PCSO Lotto outlet. Access this link to know the specific documentary requirements you need to submit and prepare (proceed to number 4.)
Read: Starting a Money Lending Business in the Philippines
Firstly, you need to be at least twenty-one (21) years of age in order for you to apply as a PCSO Lotto Agent. This actually is the right and legal age where you can apply for things.
1. You need to submit a letter of intent (LoI) with a map of the location of where you're proposing to put up a PCSO Lotto outlet.
2. Once PCSO receives your letter, they will then evaluate your proposal, studying the potential sales and communication facilities. PCSO might have different requirements for this but you need to ensure the following:
It should have a good amount of foot traffic;
Should be a hundred meters away from schools, churches, and other lotto outlets;
The place and location should have good telecommunication facilities
It should not be prone to flooding, landslides, and other natural disasters, and traffic; and
Should be at least five (5) meters away from pawnshops
3. Once your proposal is approved, you're good to go. You will be instructed to construct the booth and you need to follow the PCSO's requirements for the physical appearance of the booth. Once they're satisfied with it, they'll be installing the terminal. Once installed, you need to pay both the processing and the installation fee. The surety bond, however, is payable to PCSO-accredited insurance firms and should NOT BE PAID TO ANYONE ELSE.
4. You will be scheduled to a one-day training seminar by the PCSO. They will cover the validation and selling of tickets, basic operations, and fraud prevention. Proceed to the PCSO's main office in Mandaluyong city for outlet provisions. Applicants outside NCR, however, must need to pass documentary requirements first at their own provincial district offices before proceeding to the main PCSO office.
5. After that, contract-signing is up and you just wait for the online activation before you start to operate.
How much does a PCSO Lotto Agent earn from their booths?
Essentially, Lotto agents earn 5% commission per sale. So, if you sell Lotto tickets worth Php1, 000.00, you get Php50.00 out of that. However, PCSO requires a quota from its Lotto agents. If your store is located in the National Capital Region, your sales quota is Php 300, 000 to Php 600, 000 a month for the first half of the year you operated.  Putting it like this, selling 500, 000 pesos worth of tickets, your commission for the month would be Php25, 000.00, that's what your earnings are.
If you think that opening and operating a PCSO Lotto outlet is easy but in reality, it is not. According to the agency themselves, only five (5) to seven (7) applicants are approved for operations every week and more than a hundred applicant consistently tries for an application. The answer? Good location. If the PCSO is not satisfied with your proposed location, then you might want to find another one. As a matter of fact, the location is actually one of their main standards in approving PCSO Lotto outlets.