For some years now, Kuya J is being seen in different malls all over the country. They underwent a two-year expansion and now, iKitchen Inc., the firm which operates the brand Kuya J, will open their business for franchising to hasten growth and development of the brand. The problem with this is that Kuya J is currently a multi-million brand; how can you start your own Kuya J Restaurant if you don't have enough capital? The answer is with the brand as well – they also provide financing to help aspiring franchisees a chance to own their own Kuya J restaurant at a low and affordable cost!
What is Kuya J?
For those of you who are not aware of what Kuya J is, Kuya J is a casual dining restaurant which offers Filipino cuisines. Yes, this is the restaurant where you see Mr. Jericho Rosales as the model. However, Mr. Jericho Rosales is not the owner of the brand. The nationwide-famous star is the ambassador of the brand and he is the face of Kuya J restaurant.
Read: Top Brands Of Franchises In The Philippines And How Much They Cost
Kuya J franchise?
The last 13th of September, 2018, they unraveled their plans for expanding their company by franchising it for as low as P5 million of anyone's money. Yes, you might only need P5 million to open your own Kuya J restaurant and this is through their financing. Interested franchisees can avail and apply for a long-term loan from the company to open their own Kuya J restaurant.
According to iKitchen Inc. Chief Finance Officer (CFO) Francis Reyes, franchisees may avail of a loan that would allow them to start operating their own Kuya J restaurant. As much as 70 percent of the required start-up capital, they can try and apply for a loan for them to start with the business.
For example, you have a location of 190 square meters inside the mall, of the most likely investment of up to Php14 million, Kuya J will be able to support up to 70 percent of that amount," he said. "[That means] the only portion of that will be required [from you] will be around Php4.2 million."
See how easy and affordable it is to start your own Kuya J restaurant chain? With the help of iKitchen Inc. and Kuya J, you can make your wants of owning a Kuya J restaurant a reality. With the help of their flexible and affordable financing, you can start your own Kuya J restaurant even with little capital!
What are the terms of the loan?
In the event, they also mentioned that the loan is payable in five (5) years. So, whatever the 70 percent of the total costs you'll need would be, you will be able to settle it in five (5) years maximum. The interest rate would be eight (8) percent per annum. So, if you come to think of it, it's actually just like the bank, or, even better. There are banks who have an interest rate of seven (7) to nine (9) percent per annum with no assurance of what your small business would be.
Read: List of Gasoline Station and LPG Brands That Are Open For Franchise
With the iKitchen Inc. or the loan from Kuya J, you will directly be using your loaned amount to start-up your own Kuya J restaurant. By knowing this, it's actually better if you apply the loan to Kuya J so you can have a peace of mind of where your money or your loan is actually going.
It's minimizing risks
Kuya J is a well-known brand here in our country and starting a branch might actually cost you more than you think. However, since the brand is already alive and a majority of people are already aware of it, it's less risk, given the fact that the market is already existent.
It's just like franchising a well-known fast-food chain; the only difference is, Kuya J is a casual dining restaurant, not a fast food chain. Another thing is that it's a lot cheaper than franchising globally-famous food chains like Jollibee or McDonald's. This is actually a great opportunity, however, you still have to shell out a few millions first.
Read: Passive Income Ideas: 9 Basic Businesses You Can Start Today
How much would the costs in starting your own Kuya J restaurant be?
As per the company's sales officers and teams, a standalone branch would require a minimum capital investment of Php10 million to Php20 million. Now the range would vary depending on the size of the store and, of course, it's location. To give us an example, the sales officers said that a Php10-million capital would already be able to accommodate up to an 80 square-meter restaurant. The seating capacity of the said size would be around eighty (80) people. If you think about it, your Php10 million investment would already be in a good deal with the fact that the Kuya J brand is already known nationwide.
However, doubling that doesn't necessarily mean that you'll have 160 seats. Of course, you have to invest in the physical appearance of your store and your staff. And besides, the sales officers only gave us an example of the costs.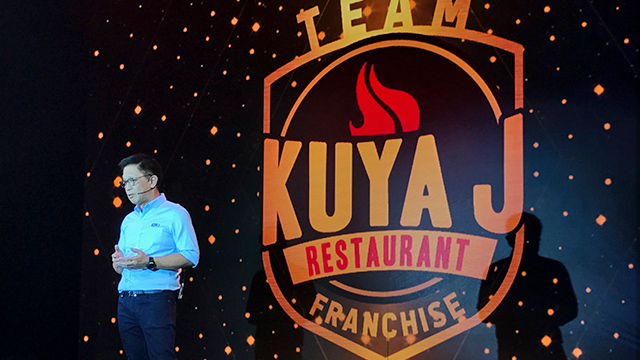 Winglip Chang, President of iKitchen Inc., said that the payback period can be as soon as two (2) to three (3) years, depending on how much the franchisee can take.
Make no mistake about it, we welcome all franchisees but we also believe that there might be some people who are passionate about opening a Kuya J franchise but don't have enough capital at the moment," Chang told reporters. "And we don't want to pass up the opportunity especially (since) what we look for are those with passion to open (a business)."
In addition to his statement, he also said that they're not backed up by a financing firm or a bank. Furthermore, he explained that their business is big and that financing won't be an issue.
If you still have doubts about it, don't think twice. In under two (2) years, the Kuya J brand opened at least one (1) new store per week and currently, they have an outstanding 105 branches nationwide. Their goal is to open 100 more branches in the next two (2) years and that will put them equal to, or even better, than Max's Restaurant which has 175 stores nationwide as of June 2018.
Read: How to Start a Concession Business (Karinderya)
Aspiring businessmen should consider this a good deal, given the fact that your only startup would only cost you somewhere around Php4 million to Php7 million pesos. With Kuya J's franchising and financing capabilities, you can start your own Kuya J restaurant without shelling out tens of millions of pesos.
Are you looking to open your own Kuya J restaurant? Do you dream of owning a multi-million franchise but lack the funds? Worry no more because iKitchen Inc. and Kuya J has your back!
Inquire about how you can avail of the loan or a detailed version of what you need to expect by clicking this link.