For those who are busy in their everyday work and don't have time to watch their favorite Pinoy TV shows on time, especially for the Filipinos working abroad, don't worry TV companies like ABS-CBN, GMA and TV 5 have provided a website where you can watch the replay or live streaming of their shows.
Filipinos out there, please don't patronage pirated websites that post and upload Filipino TV shows without the permission of the network. Some of this pirated websites has been sued, taken down and fined due to copyright issue. I have posted an article about this in which the owner of some pirated sites ordered by the court to pay $10 million for damages resulting from his infringing the copyrights.
Another reason why you must avoid this pirated websites is that, sites owner monetize this using some ad network that collect some sensitive personal data without you knowing. These are the advertisement that pops up while you are watching. To avoid these, use only the official website which I am going to share to you.
Now, using the official websites of the big 3 TV network in the Philippines, you can watch your favorite TV shows anytime anywhere without worrying that your personal data might be in danger.
Here's how to watch Pinoy TV shows in the official websites of three networks.
ABS-CBN Pinoy TV Shows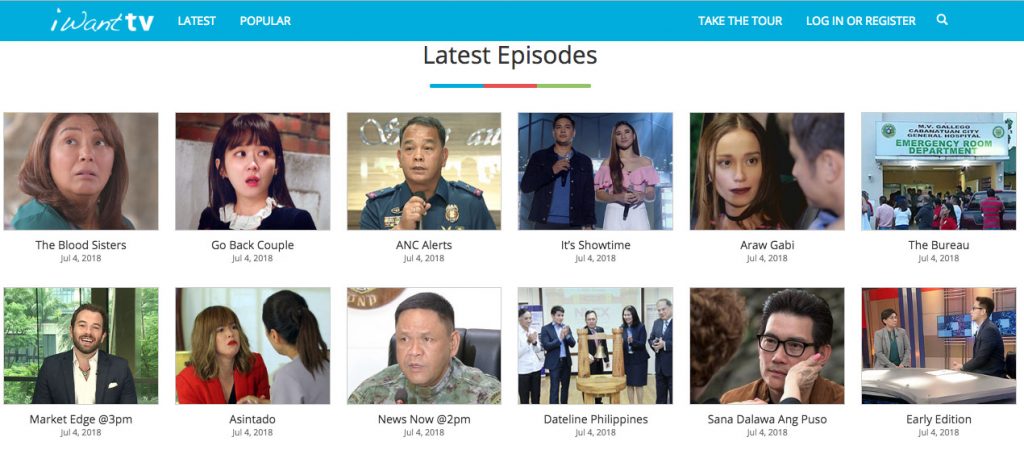 There are two sites you can watch the live and replay shows of the channel depending on your location. For local viewers you can register at www.iwantv.com.ph or if you are ABS-CBN Mobile subscribers and using a smartphone, you can download their apps available on Google Play or AppStore.
For viewers outside the country or the Overseas Filipino Workers (OFW) you can access the shows using The Filipino Channel website tfc.tv. You can register for 7 Days free trial and pay for the subscription package you want to avail after the trial period.
Available subscription package
Premium Package  – Access to all of TFC's current programs and selected television classics, movies and sports programs.
Available subscription periods: ten (10) days, one (1) month, three (3) months, twelve (12) months
Lite Package (May not be available in some territories) – Access to essential content from two line-ups of TFC's current programs
Available subscription periods: one (1) month, three (3) months
Movie Channel Package – Access to extensive on-line library of blockbuster and classic movie titles
Available subscription periods: one (1) month, three (3) months
You can pay your subscription using your Credit Cards, Paypal Account, E-Wallet which TFC.tv will assign you upon registration, and you can use Prepaid Cards that you can buy from ABS-CBN offices and  authorized TFC.tv dealers and distributors.
ABS-CBN YouTube Channel
ABS-CBN also has a YouTube Channel where you can watch live and replay. Here are some of their YouTube Chanels.
ABS-CBN News – You can watch here some clips of TV Patrol, Bandila, ANC News and other documentaries. They only upload clips, not full video replay, they have a dedicated website (iWantTV and TFC) where you can watch the full video.
ABS-CBN Sports and Action – In this channel you can watch live and replay of S&A
ABS-CBN Star Cinema – you can watch here clips and official trailers of Star Cinema movies
For complete YouTube Channels of ABS-CBN you may visit this link.
GMA 7 Shows
GMA 7 also provided a website where you can watch your favorite documentaries, news, teleserye and live streaming. The good thing on their website is that you can access it anywhere and it's free.
The replay and livestream can be found in their official website www.gmanetwork.com
GMA YouTube Channel
You can also check their YouTube Channel where they regularly upload videos. Some of their channel are:
GMA News – You can view all GMA news program in this channel including 24 Oras, Saksi, Unang Balita,  Balitanghali, News To Go, State of the Nation, Balita Pilipinas Ngayon and other news program of GMA 7 and GMA News TV.
GMA Public Affairs – This is one of my favorite channel on YouTube, you can find in this channel the reply of previous episode of award winning documentary program of GMA like I Witness,  Reporters Notebook, Byahe Ni Drew, Pinas Sarap, Reel Time, Tunay Na Buhay, Kapuso Mo Jessica Soho and other GMA documentaries.
TV 5 Shows
Like the GMA 7, TV5 also provided a website where you can watch their show live and replay for free. To watch the live stream of TV 5 just go to their official website to www.tv5.com.ph
TV5 YouTube Channel
TV 5, Sports 5 or ESPN 5 also has a official YouTube Channel which always feature live Philippine Basketball Association (PBA) Games, Premier Volleyball League (PVL). You can visit their official channel here.
Filipino who don't have time to watch their favorite TV shows due to work schedule can always watch the replay anytime. With the availability of internet today anything is possible.