With the ongoing scandal between Facebook and Cambridge Analytica, everyone seems to have been buzzed. Although it's kind of a long and complicated story to start with, let me just give you the gist. Moreover, it's actually what you just need to know. Cambridge Analytica is a company that deals with data mining, brokerage, and data analysis to help with the electoral process.
**To help you with the timeline of how it all started and when it all happened, click on this link here. If you have the interest to read a short summary of what happened, continue reading below. In addition, so you can also be at par of what's happening because this is ought to be extravagantly important. **
Let me cut to the chase – just in March of this year,  The New York Times and The Guardian did not fail to report that over 50 million Facebook profiles were utilized for Cambridge Analytica in an explosive data scandal. Moving forward, this number was later revised to as many as 87 million Facebook profiles.
Aleksandr Kogan, a Cambridge academic made an application last 2013, this is the "thisisyourdigitallife."
The application is a program that Facebook users were enjoying. Why? Because this application would answer questions about a certain person's psychological profile based on the data they have on Facebook. As per reports, almost 300, 000 people were paid to take this certain psychological test – with it harvesting their data. To make the scheme more intense and brilliant, Facebook friends of the users who took the test had their data breached as well.
With this application, Kogan was open to millions of information he was able to harvest through Facebook's privacy and information.
Read: Things You Should Never Share Or Post On Facebook for Safety Reasons
Facebook's developer new rule
If you can remember in 2014, Facebook set new rules in terms of developers' having access to Facebook data, right? This was done in order to ensure developers not being able to access a certain user's friends' data without permission. Although a slight problem was left because Kogan did not delete the information he was able to gather as the rule was not retroactively set.
Well we'll not talk about how it is related to Trump because the main issue here is your data privacy. We won't care about the election that has already happened; all we care about is if our safety is ensured.
So how can I check if I was affected by this Cambridge Analytica scandal?
Recently, Facebook started notifying 87 million people that their Facebook profiles have been shared with Cambridge Analytica. Although not all who was involved are notified, Facebook is making its way.
However if you think you saw the warning or the prompt in your news feed, you should be vigilant. To show you the difference, let me post two (2) pictures we gathered that differentiates an account warning of an "affected user" and an "unaffected one:"
In the image below, the left-most part image shows "Go To Apps And Websites." This prompt is a certainty that no information from your account was stolen by the application "thisisyourdigitallife." Since you are being prompted to change the setting on your phone, you are now being given the option to remove applications and websites you think can steal information from you.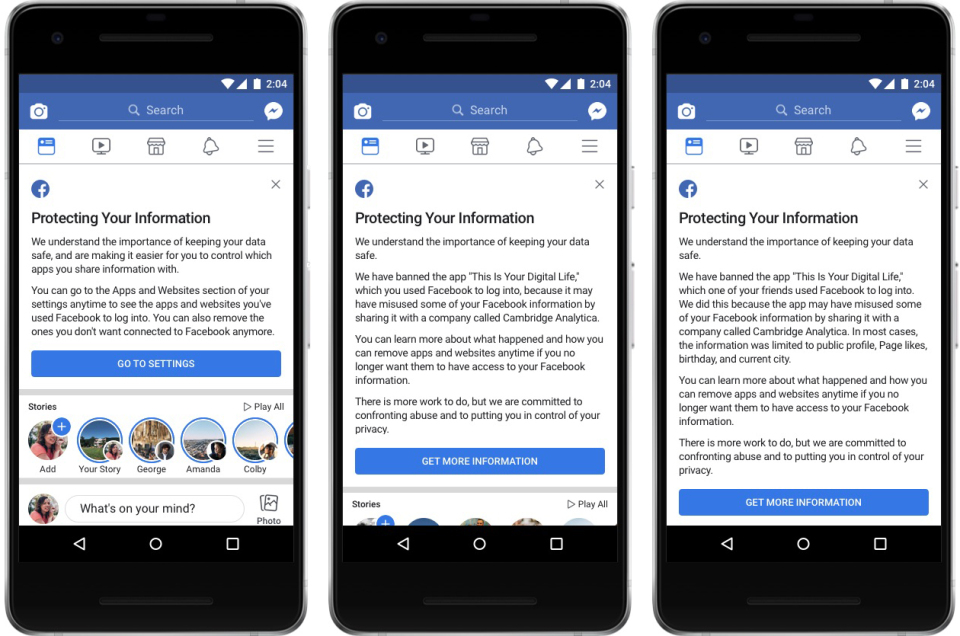 The image in the middle that says "See How You're Affected," is a sign that some information might have been taken away from you or is being shared with Cambridge Analytica.
Lastly, the one on the far-right part of the image says "Get More Information" simply means you're not being affected. However, that doesn't mean that you should not worry. Why? You still have other applications where you've shared information to. How can you be so sure that they're safe?
Read: Tips That Can Keep Your Facebook Account Secured
Is there a button or a link that would allow me to see if I was affected by the Cambridge Analytica scandal or not?
Thankfully, Facebook developers have now made a way to ensure that people would be aware about every bit of information they deserve. Facebook now has a section in their help center segment that shows whether you're information is shared or not.
You can view that by clicking here.
However, Facebook is not notifying users on who used the "thisisyourdigitallife" application but, users are now suggested to have a look on their profiles to select what apps should remain on their accounts.
You can do this by going to your apps settings list, and review all active apps in your account, and remove the apps that you don't want.
https://www.facebook.com/app_settings_list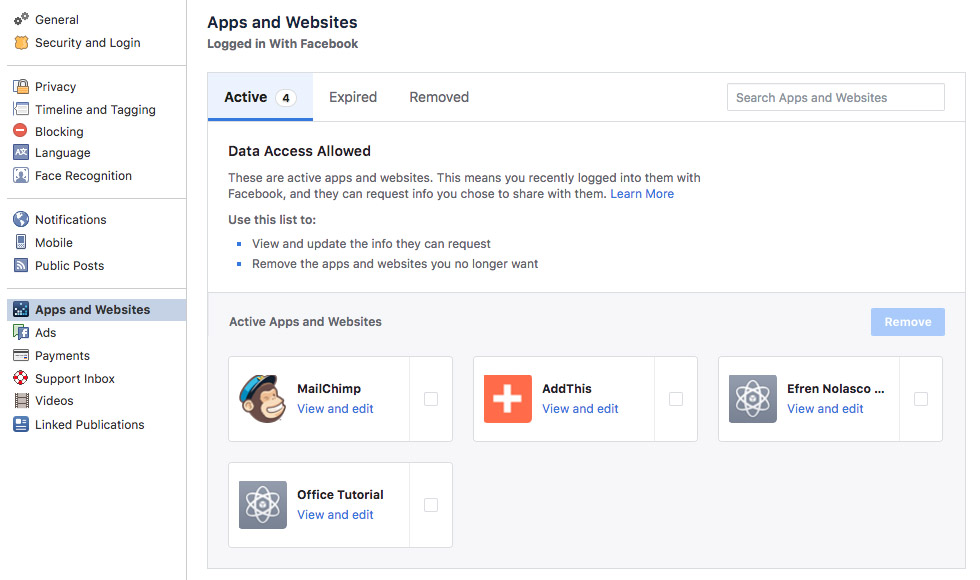 On the side note, over 1.175 million Filipino Facebook users' information has been compromised so you should not be complacent.
What is Facebook doing amidst this scandal? Are they really the one to blame?
I know that most of you would ask these questions however, we are not in the position to answer that. Although Mark Zuckerberg, the CEO and founder of the social media giant, laid his apologies to all Facebook users affected and non-affected by the incident.
Right now, Mark and his team are working on improving data analysis so in case this gets resolved soon, this incident won't happen again. To add to what they're currently doing, a team of specialists are now auditing different developers to see if they did or attempted to harvest data through applications, websites, etc.
In current news, Facebook CEO Mark Zuckerberg will testify before Congress this week. This is for him to answer questions about Facebook's use and protection of data of their users.
Sources: Inquirer, The Verge