Besides the fact that all OFWs want to secure a house, most of us want comfort in transportation, too. Having that said, houses and cars are few of the main goals that OFWs look forward to. In addition to it being a comfort in transportation, they can use it for business or income-yielding processes as well. Although hearing and reading about the OFW Auto Loan can excite all OFWs, this application is only available for Hong Kong and Saudi Arabia OFWs through the Philippine National Bank (PNB). Moreover, the program is through Global Filipino Auto Loan, a financing institution that helps car buyers.
In this article, we will be discussing the ins and outs of this OFW Auto loan. So, if you know someone, share this and spread the knowledge to help and assist them especially if you have a relative or family member working in either of the countries.
What types of cars are eligible for buying under the OFW Auto Loan?
Of course, buyers won't be able to secure or purchase "any type of car they want." Although the range of cars available is wider than you would expect, here's a list of what's available for purchasing.
Sedan cars;
Sports Utility Vehicles (SUVs);
Asian Utility Vehicles (AUVs);
Light Commercial Vehicles (LCVs); and
Passenger Vans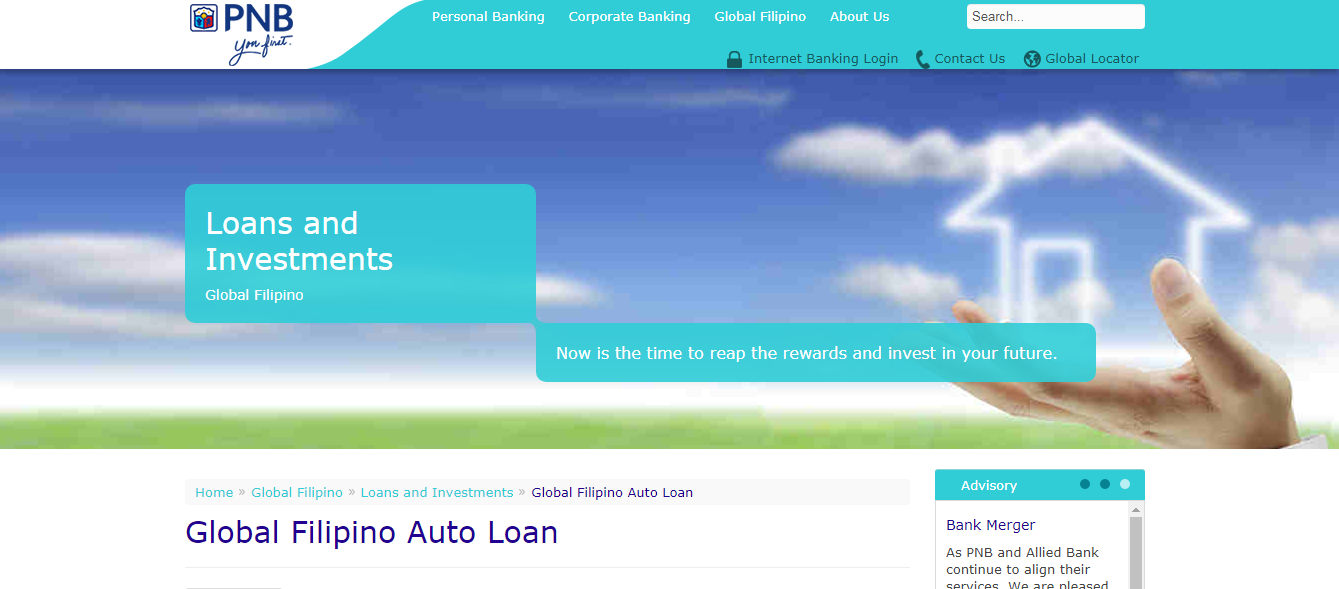 We mentioned earlier in the article that it can either be used for better transportation of the family of the OFWs or for business purposes. Although trucks are not included, as you can see passenger vans are here meaning, the OFW Auto Loan can be used to purchase a van that can be used as a rental vehicle or the UV Express franchise.
What are the documentary requirements in applying for this OFW Auto Loan?
1. Special Power of Attorney (SPA), duly authenticated and certified by the embassy (Hong Kong/Saudi Arabia);
2. Duly accomplished application form with ID picture;
3. Authenticated contract of employment (CoE) or;
4. Authenticated pay slip (at least 2 months); and
5. Certified statement of income and expenses
Through the PNB website, it states there that in order for an application to run smoothly, the application form should be accurately and honestly filled out. Of course, the PNB will do background checks and lying is the last thing you'd want.
Where can I submit my application form? Can it be done online or through mail?
Although the PNB website did not mention anything about forms and document being mailed, you may submit your applications through the Philippine National Bank (PNB) offices in Hong Kong and Saudi Arabia only. In terms of it being submitted or done online, no accounts of it are circulating around, yet.
How would I know if I'm qualified for it?
Of course, you should be an employee who has a contract in Hong Kong or Saudi Arabia only. Other countries are yet to be included. The principal eligibility requirements would be:
The borrower should be at least 21 years old; moreover, should not be more than 60 years old upon loan maturity; and
Must have been working abroad for the last two (2) years
Read: Metrobank Home Loan For OFWs
Frequently Asked Questions about the OFW Auto Loan
How long is the processing time?

Probably the first thing that borrowers would want to know; the approval process is three (3) to five (5) days upon receipt of complete basic documentary requirements. So after you submit them, what you do is hope and pray for it to be approved.
What is the maximum loan term?
Maximum term of loan or the longest is sixty (60) months/5 years. You should have it fully paid on or within 5 years.
How much is the amount of loan and required down payment?
The minimum amount of loan would Php400, 000.00. Maximum loan applicable amount for brand-new vehicles is up to 80% of the cash list or purchase price of the vehicle.
What is the interest rate?
For the interest rate, it is set by the management and is computed using the add-on interest method.
Are there miscellaneous fees? What would they be?
Chattel mortgage fees – These fees are determined and observed by the bank based on the PN amount. A chattel mortgage would be mortgage on a movable property.
Comprehensive insurance – The comprehensive insurance coverage on the motor vehicle financed is procured from/by the PNB General Insurers Company, Inc. Insurance coverage is equal to the selling price of the unit. Succeeding insurance coverage will be in accordance with the existing policy on insurance coverage on bank-financed undertakings.
What are the modes of payment for monthly amortization?
Auto debit arrangement
Issuance of post-dated checks (PDCs)
Those would be the questions borrowers might ask about the OFW Auto Loan. There you go, if you know someone who is currently working overseas either in Hong Kong or Saudi Arabia, do them a favor and share this to them. Who knows? Maybe this is the key to them being able to be with their families again through a business.
EfrenNolasco.com is in no way affiliated with the Philippine National Bank (PNB). This post was made possible to help OFW from Hong Kong and Saudi Arabia get a car loan through the OFW Auto Loan.
Read Also: Applying for a BDO Personal Loan