Everyone dreams of having a stress-free life in terms of transportation. Especially here in the Philippines, going from one point to another is quite a hassle because of factors like the traffic, the heat, the types of passengers, and so on. Although most of us want a car to support our wants of having a carefree mode of transportation, not everyone could afford to have one. That's the reason why a lot of financial institutions offer loans to different Filipinos to somehow achieve reality of owning a car. One of which is the UnionBank Auto Loan.
What is the UnionBank Auto Loan?
Based on how it's called, the UnionBank Auto Loan is a type of loan granted by UnionBank to give Filipinos a chance to own a vehicle. Although there are requirements in terms of eligibility, it can still be a big help for some, if not, many Filipinos who dream of owning a car.
Not only that, those who dream of owning a specific car would also be able to have the chance. Have you ever dreamt of owning a luxury car? Ever thought of driving a sports car? Not a problem because UnionBank can grant that wish for you.
That being said, what types of vehicles can I purchase with this car loan?
The UnionBank Auto Loan would allow you to purchase brand new vehicles or even second-hand cars. Moreover, you'll also be able to get light trucks for business purposes.
I see a self-assessment test in the UnionBank Auto Loan page; what is that for?
The self-assessment test is UnionBank's tool in tailor-fitting the reaches of a certain applicant to his/her dream car. Before you can apply, you would have to take this test first; it would look like the image below: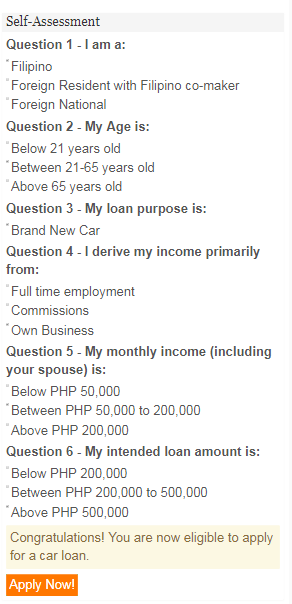 What are the requirements for a UnionBank Auto Loan?
Just like any other loan, there would be certain requirements. Firstly, you need to be at least 21 years old at the time of your loan. Moreover, you need to be 65 years old or younger at the time of the loan maturity. What does that mean? It means that you need to be of legal age and of course not a senior citizen at the time of the loan maturity. This can be kind of an assurance that you would be capable of paying the loan off.
Another requirement is the monthly income. Your monthly income should be at least Php50, 000.00 to ensure that your loan would be approved.
What are the documentary requirements that we need to submit if we're looking to apply for a UnionBank Auto Loan?
If you are an employee, then you need to submit the following:
Duly accomplished application form; you can check what you're eligible for by clicking on this link;
CoE – Certificate of Employment with compensation;
ITR – Latest Income Tax Return
NOTE:  Submitting an ITR is not required for loan amounts below Php3, 000, 000. However, it's still best to be ready because you might be asked of this. Depending on UnionBank. Although this statement came from UnionBank themselves, it's better to be prepared.
If you are self-employed or you own a business, you need to submit the following:
1. Duly accomplished application form; you can check what you're eligible for by clicking on this link;
2. Business Registration papers:
Department of Trade and Industry (DTI business/registration form);
Securities and Exchange Commission (SEC business/registration form); and
Bureau of Internal Revenue (BIR business form)
3. Income Tax Return (ITR) with audited financial statements of two (2) years; and
4. Trade references
The UnionBank Auto Loan calculator
In the requirements, I've put a link leading to the loan calculator. Let's expound on what that calculator is and of course what you can see there.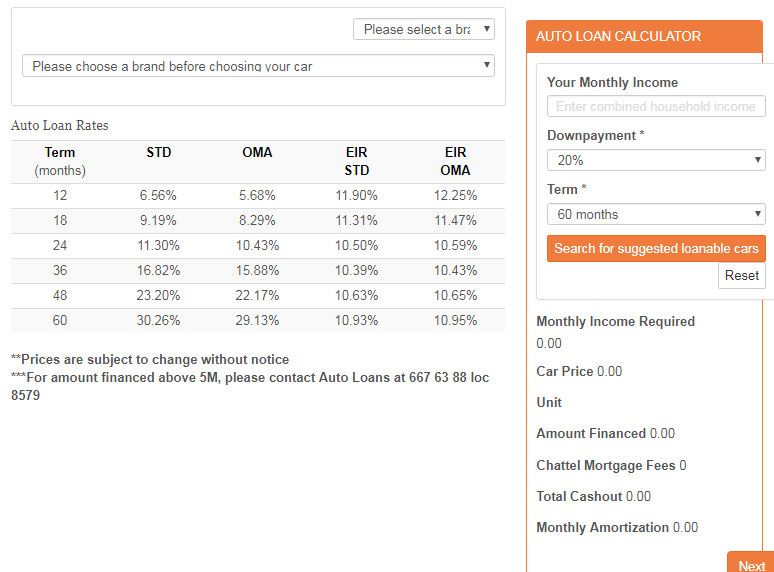 In the image above, you will be asked to select a brand. After that, the model of the car you're looking to get. Once you set that up, you will now see and know the:
Requirement for monthly income if you select to purchase that car;
The price of the car;
Amount financed;
The mortgage fee;
How much the cashout would be; and
The monthly amortization
Say we select a Toyota Altis 1.6 E MT. This would be the figures: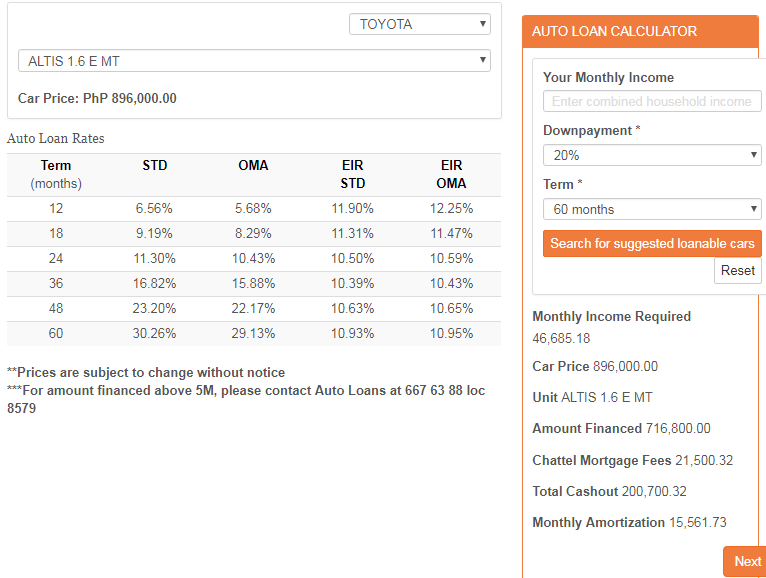 What modes of payment can I do to pay off the car loan?
Of course for the security of the loan, UnionBank would then ask you two (2) methods:
1. Auto Debit Arrangement (ADA). With this, it would automatically be deducted from your account. You may open a Checking or Savings Account with UnionBank with no maintaining balance. Otherwise, you can get a Debit GetGo Card.
2. Postdated Checks (PDC).
With UnionBank's car loan, you can now easily get a loan for your car without breaking a sweat. You would be required to take the self-assessment test though to confirm your eligibility and to try and be eligible. Who knew that achieving your dream car would be this easy?