The vast popularity of Facebook has made a ton of different users and consumers loyal to it; with its record-high of having at least 2.6 billion monthly active subscribers, they really would need to innovate to keep people from leaving. Recently, they rolled out Facebook Messenger Rooms and we're here to discuss it.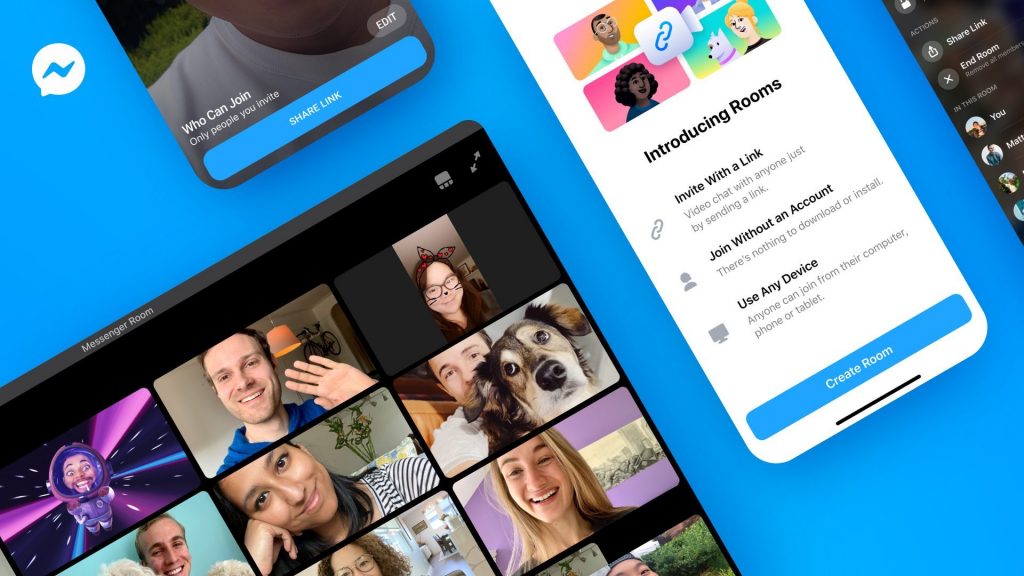 Facebook is launching a number of new products to further improve and widen their capabilities in video-chatting; especially now through the midst of the pandemic forcing hundreds of millions of people to stay indoors and increase their dependency on digital devices for almost all of their work, school, and social needs.
Read: Top Ways to Keep Your Facebook Account Safe From Hackers
Now, 700 million people and above are making calls on Facebook Messenger and WhatsApp every single day.
Messenger Rooms on Facebook
The company on April 24th of 2020 unveiled the arrival of a new tool called "Messenger Rooms." This utilizes specifically in virtual hangouts with the capacity of videochatting with up to fifty (50) people; also allowing friends to drop in on you as they please.
Technically speaking, this will double the capacity of video calls in WhatsApp from four (4) people to eight (8), adding video calls in Facebook Dating; and a suite of new live-streaming features to both Facebook and Instagram.
Read: How Much Time Do You Spend on Facebook? Here's How to Find Out the Total Time you Spent on Facebook
Mark Zuckerberg, the CEO of Facebook, announced the features on the same said date through a live-stream and an interview with The Verge. He said that the new video features were built with the company's shift toward creating more private messaging tools in mind.
Video presence isn't a new area for us. But it's an area that we want to go deeper in, and it fits the overall theme, which is that we're shifting more resources in the company to focus on private communication and private social platforms, rather than just the traditional broader ones.
He added that this is a good mix and good innovation for the welfare of the people; especially those who want to always connect with friends and family members. This might be the answer we need in the shrinking economy that the entire globe is facing.
Read: The Newest Facebook Feature, Facebook Dating Launches in the Philippines
So this is a good mix: we're building tools into Facebook and Instagram that are helping people find smaller groups of people to then go have more intimate connections with, and be able to have private sessions with."
Expanding businesses in the market
However, due to this, other rival companies are also surging to take this opportunity as a means to expand their own businesses.
Zoom which began as a simple business video-conferencing tool jumped from having 10 millions users in the month of December to having more than 300 million users today; that's more than a hundred percent added to their users!
Read: Smartphone Apps You Can Use During a Lockdown
Another arising rival is Houseparty, an app specifically for virtual hangouts with friends; which Facebook has previously imitated before abandoning the project last year, kickstarted at the top of app store download charts. It gained 50 million users over the past month.
The swift and fast-paced movement and growth of alternative social products has always been a cause of concern for Facebook. This had dedicated significant resources to monitor any arising social products and has made it a point to acquire the companies behind them or clone their features.
While the world is still at a halt in the first few months of COVID-19, consumer behavior is changing to adapt the new normal; and Facebook's existing product lineup has not met demand yet.
With everything that has been announced, Facebook emphasizes the significance of the new feature the most. Messenger Rooms has been said to be available in the company's products globally some time after its initial launch; it's known to allow up to 50 people to participate in a single call.
Read: A Look Back: Over 200 Apps Suspended By Facebook Over Possible Data Misuse Investigation
About Messenger Rooms
Are you interested in knowing a few good deals about this new Facebook Messenger Rooms? Here are a a few things about how the new Facebook feature works:
Privacy settings
How can a room be made and what does it come with?
The creator of the room can decide whether the room call would be open for anyone to join or lock it. This is to prevent any unwarranted guests from participating. To start, room calls will be available to Facebook and Messenger first then later onto Instagram, WhatsApp, and Portal. furthermore, guests can join a room regardless of having a Facebook account or not.
For clarification purposes, the creator of the room needs to be a Facebook user; then the creator can invite a non-Facebook user.
Read: Things You Should Never Share Or Post On Facebook for Safety Reasons
Design and features
Guests can play with Facebook's augmented reality (AR) filters or completely change their background to a virtual one in Messenger Rooms. Some backgrounds offer 360-degree views of exotic locales, the company said. And a new launch of AR filters may help brighten up dark rooms or touch up users' appearances.
While WhatsApp video calls are end-to-end encrypted, Facebook says Messenger Rooms are not. The creator of a room has the ability to remove guests any time; as well as rooms partaking in illicit behaviors may be reported to Facebook.
This does not mean, though, that rooms aren't safe. They are, in fact, the content of the rooms especially the activities are to be kept confidential.
Read: Facebook Memories: How Do I Toggle This Feature?
Malicious content
A surge of malicious behavior has been observed in Zoom as it became the world's default meeting app. "Zoombombings," as they call it, swarm with racist, bigoted, and pornographic meetings all around the world.
Zuckerberg then noted that the new video-chatting tool utilizes a strong hold for privacy controls. Moreover,the feature's reliance on connections with your real-life friends and family make it less likely that it will be used to harass people. As for groups where people do not know each other, moderators are able to kick people out of rooms.
A lot of the time that I've spent on this over the last few weeks as we've been building this out and getting ready to ship has been on privacy, security, integrity reviews, and how do we make sure that a lot of the use cases that that have been problematic around Zoom are not going to be things that are replicated here."
Capacity of rooms
Initially, we said that the capacity of Facebook rooms would be 50 people. And unlike other apps, there'll be no time limit for it; and it's totally free! If you are not able to use the 50-capacity today, it's because they are launching with a smaller capacity.
Read: What You Might Not Know: Facebook's WiFi locator is Now Available to Users Worldwide
However, within the next few weeks, it'll reach the full capacity, accommodating up to a total of 50 people.
Live With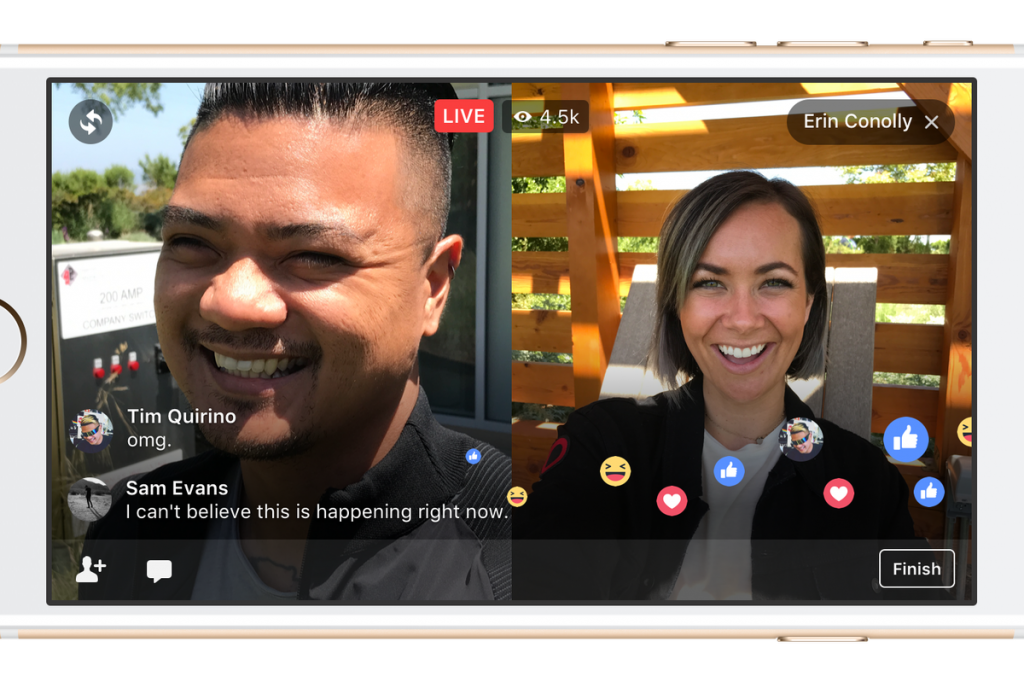 Facebook Live will add a feature called Live With which will enable users to invite another person to stream with them. So technically speaking, the Live With feature will allow multiple streaming opportunities.
In addition to that, a donate button will be on live streams. This will allow users to raise money directly from their streams in countries where fundraisers are available.
Instagram, on the other hand, will start allowing users to post live streams on IGTV, too. Not to mention that they'll have the feature available with their Instagram stories after the stream, and Instagram Live Broadcasts will be available on desktop for the first time.
Read: New Apple iPhone Launched for the Cost-Conscious
Users with Facebook's Portal display will also have access to go live on pages and groups even if Portal users already have the capability to go live on their own profiles.
Live streams however also bring its own source of problematic behaviors; and Facebook has already faced criticisms when such platforms have been used to broadcast acts of violence. The company has taken down 1.5 million copies of the Christchurch terror attack after it has been broadcasted live on Facebook.
Who can use Facebook Messenger Rooms?
Facebook Messenger Rooms can be for the benefit of a lot of things. It can be used by regular consumers to chat with their friends; can be used by companies to hold meetings; it can be for business deals, and so on.
The digital world has evolved and it's still evolving. With the COVID-19 threatening the world economy, it would be best to act upon it immediately.
Read: Free DepEd Commons Access, Department of Education
This new feature has been available for use since the 24th of April 2020 in nearly all countries. With us here in the Philippines, we're not sure whether it has been in use but it can now be. It is available through the Facebook application and people can use it effectively and efficiently. The feature will roll out in a number of countries and will become available globally within the coming weeks.
What do you think about the newest Facebook Messenger Rooms? Can this be deemed to be effective in this time of the pandemic? How will it shape the current lifestyle we have in terms of interacting with our peers and our loved ones? Interestingly, would this how the new norm would look like after the quarantines and lockdowns of the pandemic?