PayMaya and GCash are the most popular online wallets in the Philippines, the functions of these two are almost identical, you can use these for online payment of your utility bills sending and receiving payment for your online transactions, and many more.
In a previous article, I already show you how to transfer funds from GCash to PayMaya, now I will reverse the process, from PayMaya to GCash.
How to transfer funds from PayMaya to GCash?
To be able to transfer funds from your PayMaya to GCash, you need to make sure you have a verified PayMaya account. The verification process takes up to 72 hours, you just need to provide complete details of your personal info including valid IDs and a video of your face.
To transfer funds from PayMaya to GCash, follow this step. Please also note that PayMaya is charging 15 Pesos transfer fee.
1. Login to your PayMaya account
2. Tap "Bank Transfer"
3. Select "GCash" in the list of banks
4. Fill in the Details. Enter the amount that you want to transfer, purpose, account number, and name. The account number is the mobile number associated with the GCash account, you can leave blank the field that says optional like the middle name. After you fill it out, tap continue.
5. Confirm your transfer. Double-check all the details, make sure all are correct especially the mobile number. Tap "Send" to confirm.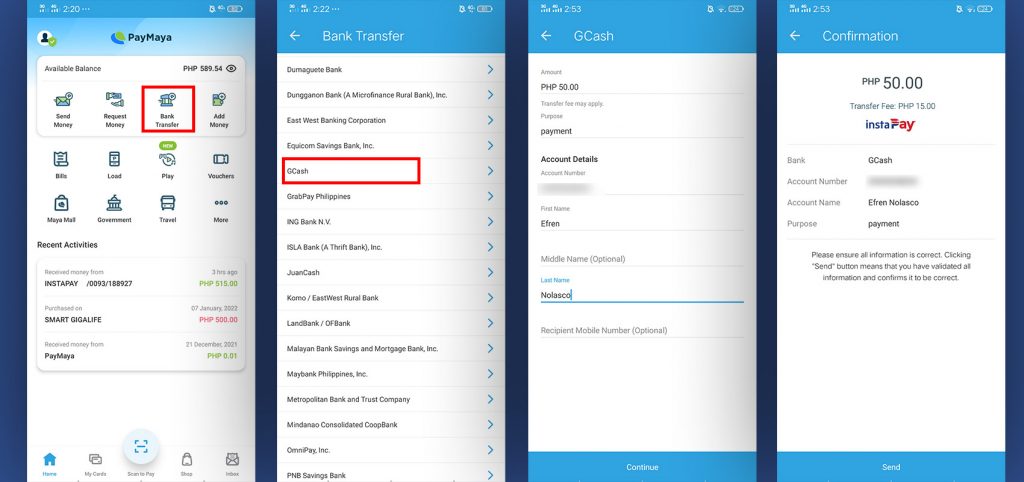 6. Enter OTP. You will receive a one-time Pin in your mobile number associated with the PayMaya account, It will automatically be entered on the field, tap Proceed.
7. It will now process your transactions, you will receive an SMS or text confirmation both from your GCash and PayMaya associated mobile number.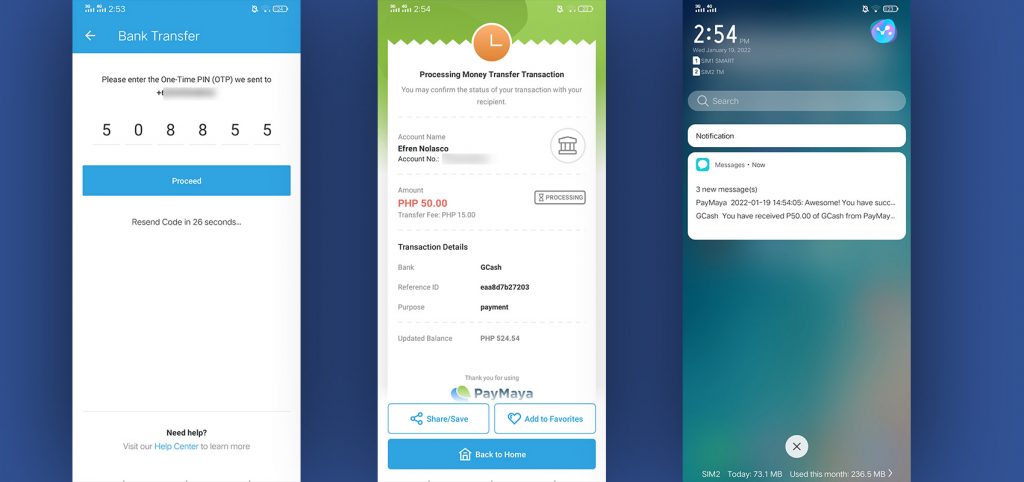 The money is almost instantly transferred, you can confirm by checking your balance. If you didn't receive the funds, you can call the hotline or send a message to their official social media pages.
PayMaya
For GCash
Hotline: 2882 available everyday from Monday to Sunday, 8:00 AM to 5:00 PM and is toll-free for Globe subscribers. PLDT, Smart and other non-Globe subscribers may call (02) 7730-2882. Airtime and long-distance charges may apply.
Email: [email protected]
Twitter: @gcashofficial
Submit a Ticket: https://help.gcash.com/hc/en-us/requests/new?ticket_form_id=360000706713
More Tutorials