Over the years, technology have been moving forward and based on what we can witness today, it has no plans of stepping down. One of the most prominent topics as regards to technology is Facebook. Facebook was first known and utilized as a tool to communicate with friends and family without the use of cellphones but it is now considered home by most people. Because it is technology, it also is a clear symbol of progress and development; from 360 photos, to group calling, and a lot more, it is safe to conclude that Facebook has no means of being slowed down. Right now, there is what we call a temporary profile picture and we will relay it to you in this article.
Facebook Temporary Profile Picture
It isn't rocket science, everyone; it's' really simple. Taking it from what it is called, a temporary profile picture is your profile picture except that you have the option set a certain schedule as to when it will be replaced automatically by the previous profile picture you have permanently set. This is great if you want to share something like a photo or a GIF in public but you do not want total exposure of it and the automatic removal is perfect for that.
This is just perfect for keeping track of what you pictures you show publicly. It is a great move by the team and it will be clearly one of the hallmarks of Facebook.
How do I set my profile picture to be temporary?
In order to do this, you obviously need to click the Update Profile Picture button on your profile pictured before anything else. Select a photo that you would want to use and at the bottom left part of the panel, you will see a button with clock icon that says Make Temporary. You obviously have to click that and you will be allowed to choose the time/date when you want the temporary profile to be removed. There is a custom time there so you don't have to worry about strict times. You can also set this not to be removed automatically; you hold the choice.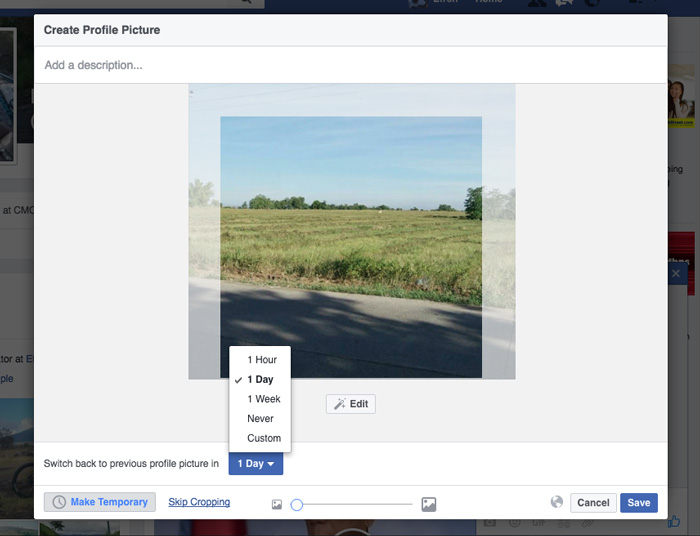 If you plan on doing it through your smartphone, be sure to update your version of the Facebook app to its latest to avoid confusion and problems – it might not work on outdated versions so be sure to double-check.
Every time you go and have a peek at your profile, you will see the time when your temporary profile picture will expire (of course if you set it to be removed).
Now you know what and how to set your profile photo to be temporary; it is not that hard, right? It is fun and cool because you can have different pictures everyday and you can see how friends and family will react. Have you tried this Facebook feature? Give it a go and leave your thoughts about it.
Read Also: How to take and Upload 360 Photos in Facebook