Many Overseas Filipino Workers (OFWs) have been longing for the iDOLE card. To give you a brief background of what it is, it is an identification card provided by the Department of Labor and Employment (DOLE) to take the place of the Overseas Employment Certificate (OEC) because of long lines and hassle processes on how to get it. However, the release of the iDOLE card was moved and moved and because of this, the Overseas Workers Welfare Administration (OWWA) is releasing a new ID for OFWs which will be known as the OWWA e-card.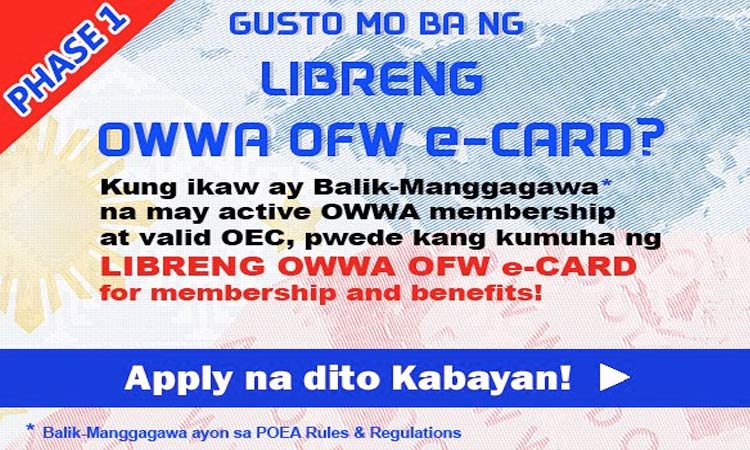 Don't worry, I know that most of you are still clouded on what this is, what its importance is, and how OFWs can get it. We will provide and inform you everything you need to know about it and, of course, how you can get it.  
What is an OFW 

OWWA

 e-card?
First off, we have to fully know what an OWWA e-card is. This is imperative for you to know whether or not getting it is important to you or simply, if you can utilize it. In the simplest words possible, an OFW OWWA e-card is solid proof that a certain OFW is an active member of OWWA.  
By having this form of identification, processes and different programs which the OWWA services would be easier for you. Since it's one of the most legitimate government-issued IDs, having this is powerful and can serve as a primary ID if you're visiting any Philippine Overseas Labor Office (POLO) or any consular offices in other countries. 
Read: How To Request POEA Legal Assistance And Counseling Online
Are there eligibility requirements in applying for an OFW OWWA e-card?
Yes, not all types of OFWs would be allowed to apply for the OWWA e-card. Only OFWs who are returning to work to other countries (balik-manggagawa), can apply for the OWWA card. More so, only returning-to-work OFWs with a valid OEC, OWWA membership, and valid passport, exemption number can apply for the e-card.  
That being said, new OFWs who are just working out of the country for the first time or those newly deployed might not be able to push through with an OWWA e-card application. The OFW OWWA e-card is still on its first (1st) phase so the limitations are still strict.  
Which workers 

are considered to be

 

balik-manggagawa

?
According to the Philippine Overseas Employment Administration (POEA), an OFw is considered to be returning to work if he/she finished or is currently in an employment contract and: 
He/she will go back to the same location and same employer;

 

He/she will go back to a different location but with the same employer. 

 
How can I know the status of my OWWA membership?
There are certain ways on how you can check the status of your OWWA membership. The most basic and simplest way is for you to download the OWWA Mobile app in your smartphones. It's both available in the Google Play Store and in the Apple App Store.  
If you're not comfortable by using the app, you can proceed to any POLO-OWWA branch if you're out of the country. Alternatively, you can visit the nearest OWWA Regional Welfare Office from where you are if you're currently in the Philippines.  
If my OWWA membership is already expired, how and where can I renew?
Renewing your OWWA membership is not actually a hassle. However, there are instances where an OWWA member has his/her membership expired even if that worker still has a contract. There also are a few ways on how this can be achieved: 
If you're abroad, proceed to the POLO-OWWA office in the country where you're in. 

 

If you're here in the Philippines, however, you can proceed to any OWWA regional welfare branches. Alternatively, you can proceed to NAIA Terminals 1, 2, and 3, 

Trinoma

, POEA Ortigas, and 

Duty Free

 Fiesta Mall for renewal. 

 

You can also do this online by visiting 

www.owwa.gov.ph

 and find the link where it says 

Online Application Form 

for OWWA OFW e-card.

 
NOTE: OWWA Membership should not be below ninety (90) days form the date of the application for a certain OFW to apply for the OWWA e-card.
What benefits can an OFW get using his/her OFW OWWA e-card?
If you think that having the e-card is just like having a regular valid ID, think again. The OFW OWWA e-card is not "just" a primary ID, there are certain benefits and advantages of having this e-card and being an active member. These are:  
It can serve as an exit clearance to go out of the country;

 

Different services and programs serviced by OWWA can be faster, hassle-free, and more efficient;

 

Having an OFW OWWA e-card can serve as a permanent OWWA/OFW membership number;

 

It's a valid primary government-issued ID you can use for government transactions. 

 
How can I apply for an OFW OWWA e-card?

1. To process and get your very own OFW OWWA e-card, just follow these steps: Visit the OWWA website at www.owwa.gov.ph 
2. Look and click on the banner which says "Gusto mo ba ng Libreng OWWA OFW E-CARD?" 
3. You will be asked to put in the following information: Name
Date of Birth

 

Contact Number

 

Passport Number

 

POEA OEC Number 

 
4. Select which OWWA regional welfare office branch you want to pick your e-card from.  
5. Check Data Privacy Act and do the CAPTCHA and click on "Submit" after providing all information the system is requiring. 
6. You will be shown a tracking number as well as the number of days when you can get it as proof that you've proceeded with the application for the OWWA e-card. 
7. To check the status of your application, you can supply your Facebook Profile name and email address.  
Alternatively, you can track the status of your OWWA e-card with OWWA's tracking tool. You can access that tool by clicking on this link
.
What if I'm an OFW and I'm currently out of the country, can I apply for an OWWA e-card?
Definitely. Balik-manggagawa workers who are currently out of the country can apply for the e-card while they're away. It's just that, they'll be able to get the physical ID ONLY when they come back to the country. Currently, the delivery of the OWWA e-card is limited to regional welfare offices in the Philippines, not abroad.  
So, they can apply through the website and secure a number for themselves.  
As you can see, applying for an OWWA e-card is not that challenging. As a matter of fact, it can easily be done online in the comfort of your own homes. If you have questions or if you're interested in other things, you can visit OWWA's FAQs about the e-card here.