The US court in Oregon ordered Ashby to pay $10 million dollars to ABS-CBN for the damages resulting from infringing the copyright of ABS-CBN TV shows and Movies on his video streaming websites.
Ashby is the owner of well known websites like WatchFilipinoMovies, WatchFilipinoTV, PinoyTalaga and other Pinoy Tambayan sites that stream ABS-CBN shows and movies online.
Meanwhile Elisha Lawrence, associate vice president of Global Anti-Piracy of ABS-CBN International said that Jeff Ashby is only the first of many pirates that they pursuing.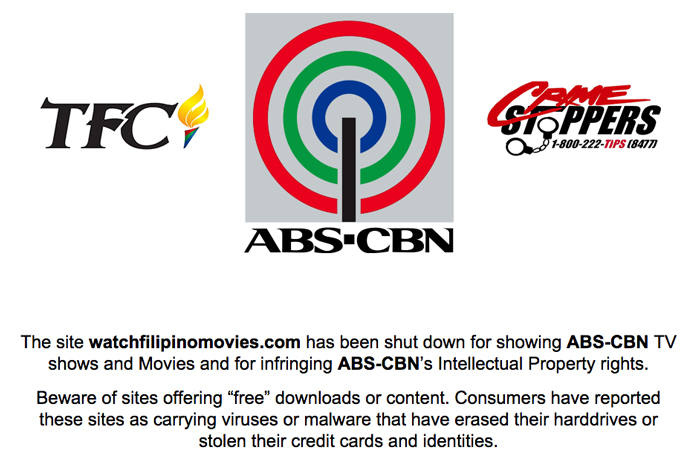 "We have begun a relentless campaign to enforce against all pirate websites due to the numerous reports that these sites contain dangerous malware which causes substantial harm, including identifies theft of financial information and phishing attacks," she added.
Ashby, in a statement also warned his fellow admin running pirated websites, publishing Filipino movies and TV shows, particularly ABS-CBN shows to stop from what they are doing immediately to avoid a very serious consequences.
But, instead of stop from what they are doing, many site admin only changes their domain and continue to post copyrighted content. Every week you will notice new websites with almost the same themes and content of the previous sites that taken down.
I noticed that websites owners will not stop from creating pirated websites because users, particularly the Filipino's around the world are patronizing this kind of websites. Even it will cause harm to their computer security due to the dangerous malware inserted in some pop up ads that they are displaying to earn money.
These are the danger that most Filipino's using this kind of site are not knowing maybe they just want to save money because it's free.
There's an easy and also free way to watch Filipino shows online without using pirated websites, GMA 7 and TV 5 created a website that offers their replay show and live streaming to watch online.
Although ABS-CBN offers some of their TV shows to watch online only if you are a premium member they also offer free for a week and you can also watch live streaming and replay of TV Patrol and other news program on their official website abs-cbnnews.com.
To learn how to watch Pinoy TV shows online read this post: How to watch Pinoy TV Shows Online