The Social Security System (SSS) is the executive body of the Philippine government who gives benefits for private employees of the country. If employed, then the employer, together with its employees would work hand-in-hand to pay the contributions. Self-employed individuals, on the other hand, must present their Payment Reference Number (PRN) for them to be able to pay their contributions.
In this article, we will be detailing how you can generate your PRN for your SSS contributions. Voluntary members can enjoy the benefit of paying without having to visit the nearest SSS regional office.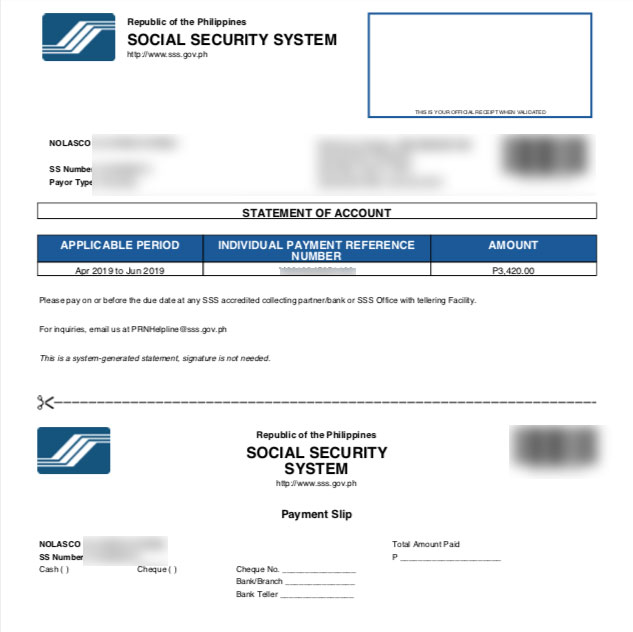 Read: Unlocking your Locked SSS Online Account
What is the PRN?
The Payment Reference Number or the PRN is a unique number that is generated for each member of the SSS—this number is unique so it's just one (1) PRN for one SSS member.
This is what SSS members need in paying for their SSS contributions—for the system to discern which is which—to avoid multiple stacking of contributions to just one account.
What the PRN is not?
Since this article will be focusing on how you can generate your PRN, we need to understand what the PRN is not. Most people, especially those who regularly pay their contributions online, mistake the PRN to be something else.
To clarify this, let's discuss the misconception that most people have when it comes to the PRN. Always remember that the PRN is not:
Read: Text SSS: Your Door To Easy SSS Requests
The Social Security Number (SSS) that most people think it is; and
The Common Reference Number or CRN that you can immediately find in your Unified Multi-Purpose ID (UMID)
So to end the confusion, the PRN is neither of the things mentioned so be sure to always remember that.
How do you generate your PRN?
There actually are a few ways on how you can generate your PRN. Once you are able to generate your PRN, you can use it to make your monthly premium contributions to the SSS.
For voluntary and individual members, there are four (4) ways on how you can generate your PRN.
Phone call
You can call the hotline of the SSS or the PRN hotline. They're open from Mondays until Fridays 24 hours a day. You can contact 920-6446 to 55 or their toll-free number at 1-800-10-225.
E-Centers or Member Services Sections in SSS branches
One easy way to be able to generate your PRN is by visiting any SSS branch and utilize the e-centers or member services kiosks there. You can ask officials, even the guards to help you there and they'll be more than happy to accommodate your request.
Read: How to Pay Utility Bills Online In The Philippines
Email
You can shoot an email to the PRN help line at [email protected] or at [email protected]. Through those services, you can request for your PRN.
What you need to indicate in your email are the following:
Your full name
Your SSS number or Common Reference Number (CRN)
Date of birth (DOB)
SSS Counters
When you visit the nearest SSS regional office to request for your PRN, you can try and inquire through the counters for it. If you are not comfortable in using the e-centers or the kiosks, you can relay to this specific option.
Generate your PRN online
Last but definitely not the least would be via the SSS online channel. This is probably the most done part since it doesn't require any type of effort from SSS members—they just need an online account, an internet connection, and voila! 
If you don't have an online SSS account yet, you can read our guide on how you can create one.
Read: Register SSS Online Account
After you've created your account, you just have to go and log-in via the SSS website at sss.gov.ph. After so, be sure to select the Member Login box.
Enter the User ID you've set as well as the password.
Once in your account, you will be revealed different options; one of which is the Payment Reference Number (PRN) and this can be seen in the main navigation menu.
When you click it, your Payment Reference Number (PRN) will be displayed on the page.
NOTE: You might be confused on what you are about to see. For clarification, what you will see upon clicking the PRN is based on the latest SSS contribution you have made.
Also read: Here's How You Can Pay Your SSS Contributions Online
Print Statement of Account (SoA)
Clicking this option would print your SOA together with your PRN which is what you need to present when making your voluntary SSS contributions. Well, so much in deciding to generate your PRN, right?
Edit SoA
Hitting on this option, on the other hand, would allow SSS members to modify a couple of things on their membership like: monthly amount of contributions, membership type/s, and applicable period/s.
Read: SSS Maternity Benefit: You Can Now Inform SSS via SMS
Using the SSS mobile application
If you want to generate your PRN, the steps above are the only things plausible to help you get your PRN. Some people prefer utilizing the SSS mobile application, however, as of this moment, the specific PRN button doesn't do anything yet.
That, however, was based from reports from a lot of individuals who tried to generate their PRNs through the mobile app. You can try yours if you wish to—it's easier there.
Can't SSS members just use their CRN or SSS numbers when paying for contributions?
They actually can, in fact, this has been the traditional way of paying for contributions. The only real reason why the PRN was made was because of the fact that paying contributions via the PRN gets posted real-time.
Once you pay your contributions, you will immediately see it reflecting on your SSS account.
Read: Where and How to Complain About Unremitted SSS Contributions by Employer
No more delays, no more waiting for the next cycles for your contributions to be posted! It can easily be posted real-time if you have and know what your Payment Reference Number (PRN) is! Imagine the time you can save by just knowing what it is? 
Are you self-employed that you want your monthly contributions to be completely paid by you? Are you currently trying to find ways on how you can generate your PRN for faster and more accurate contribution-posting? Don't worry because we got you. By generating your PRN, you can easily abide by your required monthly premium contributions without having the stress of it when being posted.