Identification (ID) Cards are a valuable item that an individual needs to make various transactions possible all over the world. It is one of the main requirements that is asked to be provided when having legal transactions. Whether you are processing bank transactions, paying bills, applying for a loan, or trying to join an organization, ID cards are required to be presented. Thus, it is the standard of knowing the important details of an individual to be able to identify them.
Here in the Philippines, there are several ID cards that an individual can acquire. However, most of the ID cards that are considered as valid ID in the country, charges a fee to be able to get them. Not that they only require a fee, most of the valid IDs here in the Philippines have an expiry date. There are also some cases where Filipinos who need to acquire a valid ID to make certain transactions possible such as opening a bank account are taking their time to acquire a valid ID. Not knowing that applying for a valid ID, also requires a valid ID as a supporting document to acquire a valid ID.
The Philippine Government system's lack of having an ID card for their citizens makes certain activities for some Filipinos not doable. Now that the current government wishes to provide better service for the Filipino people, the Republic Act (RA) 11055 or the Philippine Identification System Act has been into law by President Rodrigo Duterte in August 2018. Under RA 11055, a single National ID will be granted for all Filipinos and foreign residents. The bill aims to make it easier for Filipinos and foreign residents to have a trouble-free transaction with private and government organizations through the established single National ID.
Read: PhilSys PhilID FAQs – Helping You Understand it Better
With the current situation, we are facing due to the pandemic, the Philippine Statistic Authority (PSA) has launched on April 30 the National ID online registration to make it convenient and safer for Filipinos and foreign residents to acquire the National ID. The following steps are the process for online registration of the National ID.
National ID Online Registration Process
Getting the National ID is required to finish 3 steps and only the first steps you can do online, the second step requires personal appearance to get your biometrics and verification of the information you filled out during online registration and step 3 is for  issuance and releasing or delivery of the ID
Step 1: Registration of Demographic Information and Setting Appointment Online
To start registering for the National ID online, visit PSA's online portal and register the required information to be able to acquire a National ID. The needed information are full name, sex, date, and place of birth, blood type, and address. Other optional information will also be filled up such as contact number and email address.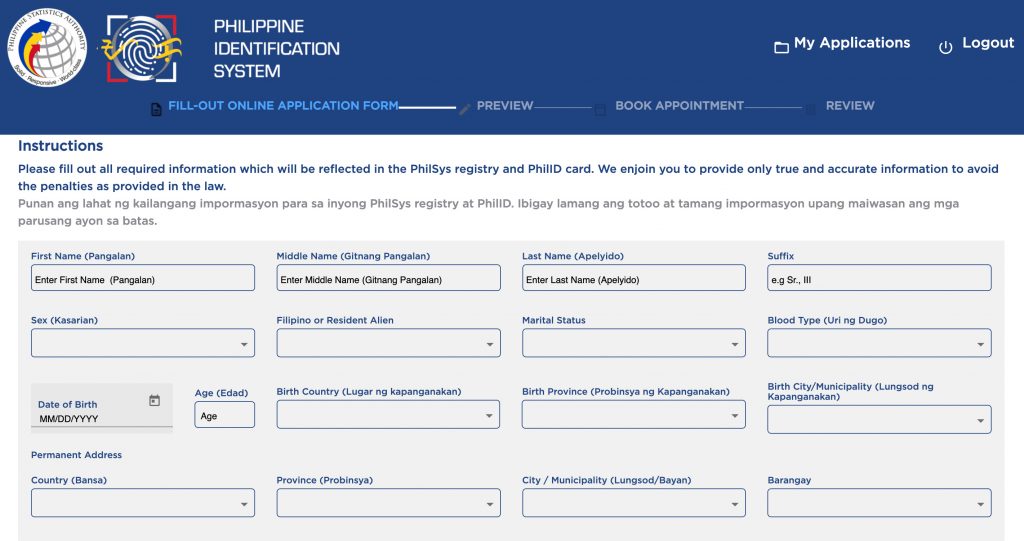 Once the demographic information has been collected, the applicants must set an appointment to the at physical registration centers near their areas to proceed to step 2.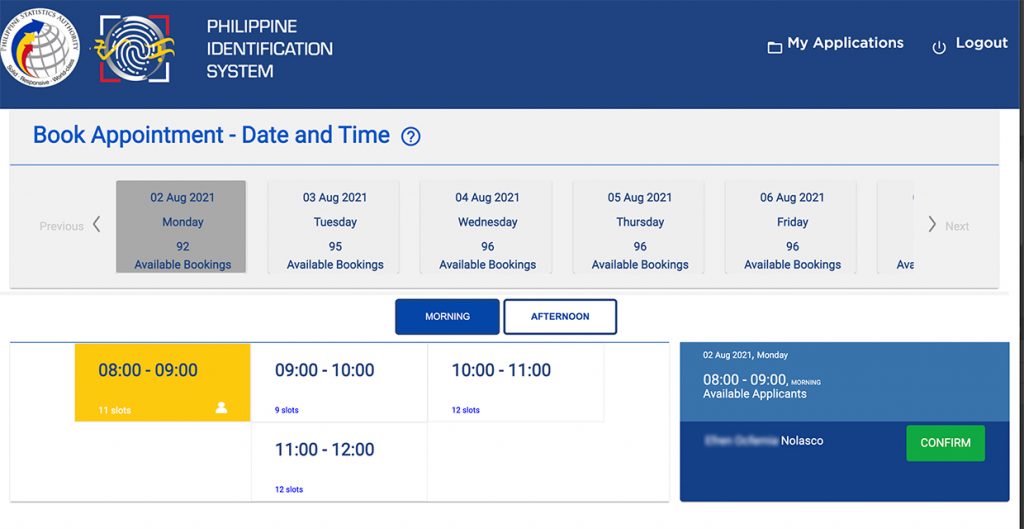 Prepare Required Documents
Keep in mind to prepare the necessary documents before proceeding to step 2, and bring them along with the set appointment. To apply for the National ID, applicants are required to bring an original copy of one of the following primary or secondary supporting documents:
Primary Supporting Documents:
Certificate of Live Birth issued by PSA
One (1) Government-issued ID containing the full name, front faced photograph, signature, and thumb mark
Philippine Passport of E-passport issued by DFA
Unified Multi-Purpose Identification Card (UMID) issued by SSS or GSIS
Driver's License Permit (Student, Non-Professional, Professional) issued by Land Transportation Office (LTO)
Secondary Supporting Documents:
Certificate of Live Birth with Birth Reference Number (BreN) issued by PSA
Certificate of Live Birth issued by LCRO
Report of Birth issued by PSA
Certificate of Foundling Integrated Bar of the Philippines (IBP) ID card issued by PSA
Professional Regulatory Commission (PRC ID)
Seaman's Book
Overseas Workers Welfare Administration (OWWA ID)
Social Security System (SSS) ID
Senior Citizens ID
License to Own or Possess Firearms (LTOPF) ID
Pantawid Pamilyang Pilipino Program (4P's) ID
Police Clearance
NBI Clearance
Solo Parents ID
Voter's ID
Postal ID
Persons with Disability (PWD) ID
Taxpayer Identification Number (TIN) ID
Philhealth ID
Special Resident Retiree's Visa (SRRV) issued by Philippine Retirement Authority (PRA)
National and Residence ID from other countries
Step 2: Collecting of Biometric Information and Validation of Required Documents
During the set appointment at the registration center, the biometric information of applicants will be collected such as fingerprint, iris scan, and photography. The supporting documents that are required for the National ID will also be validated on the site.
READ: Required Information That Will Be Stored And Used In The National ID System
Step 3: PhilSys Number (PSN) and PhilID
Upon successful completion of the previous steps, the PSN and PhilID will be issued and delivered by PHLPost right through the applicant's doorstep.
The creation of the PhilID is a great way to make the lives of Filipinos and foreign residents easier in terms of having important transactions. The National ID is also free and has no expiry for the Filipino citizen, while foreign residents will be given a year validity for PhilID. A fee will only be charged for a request of replacement for loss or damage PhilID, but individuals who will request for replacement and can present a Certificate of Indigency will be waived for replacement charge fees.
To register online for the National ID, you may visit the official website for registration at https://register.philsys.gov.ph/.
References
Adrian, (2021), Here's Everything You Need To Know About The National ID, iMoney
National ID, (2021), National ID Online Registration: How to Register, Philsys ID
Baclig, National ID system registration: 3 steps you need to follow, Inquirer.net