These are some of the best ways to earn money online in the Philippines. Everyone pays to have a decent and great Internet connection; everything good has a price. Of course business-wise, what you pay for should serve you back something as well.
Having a great internet connection is as good as placing the whole world just above your palms because you can do everything, be anyone you want to be on the internet – might as well use it to earn money, right? Here are a few of the best ways that you can do in order to earn money online.
Sell your services
One of the best and most effective ways to earn money online in the Philippines or earning a good amount of money online is by selling your services. Every person is skilled, may it be drawing, writing, about technology, and many more stuff, you can absolutely share it to the world to let them know what you are capable of.
Upwork.com, formerly Odesk, is one of the most used website for freelancers. The site has a ton of opportunity for people who are currently looking to earn money while they are just inside the comfort of their own homes. There are a lot of job opportunities like writers, graphic designers, even customer service, in the site. It is one of the best digital work finder that you will come across the internet.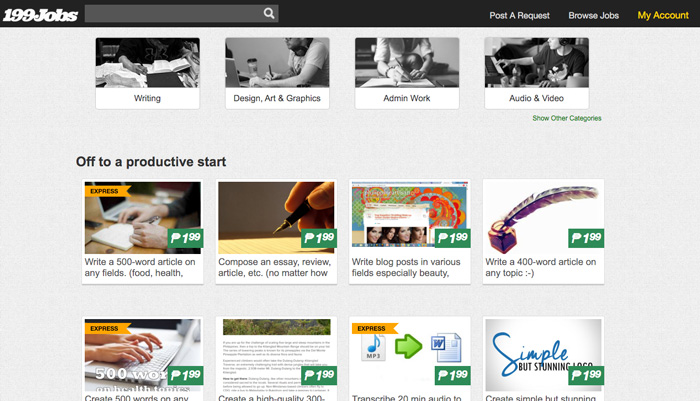 199jobs.com is a Filipino establishment in which you can find freelancers just hanging around, waiting for their service to be called. It is a lot like Upwork but the freelancers are mostly Filipino.
Of course, if you have something to offer aside from digital work, you can also use the internet as an advantage to promote and make your ability prosper.
Let people know of your slightly used own personal items
The internet is a big world, almost all people who are currently at par with the technological advances is aware of the internet and what it can do. Check everything you own and by some stroke of luck and hardwork, I can guarantee that you can find something to sell. An old pair of unused shoes, clothes, musical instruments, books, etc., you can sell those and who knows, maybe this step is the start of your journey to becoming one of the best businessman/salesman who started in the internet.
If you can currently afford and can buy stuff online, you can go and try buy and sell. One good site for this one is olx.ph, the website where almost everyone is aware of when they try to go shopping online. The site offers a wide variety of products from cellphones, to houses, even businesses so make sure you go check that out when you decide to try buy and sell. There are also Facebook groups who support buy and sell so go try and check that out now!
Blogging
If you have passion on anything you can start sharing it to billions online. Creating a blog is now easy with a lot of resources and tutorials that you can use to learn and setup a blog. If you gain regular subscribers and readers, you can start monetizing it with a lot of third party advertising network like AdSense.
For your information if you still don't know me, I am a full time blogger, I quit my job abroad and focus on blogging and now earning more than my previous company are paying while working in the comfort of my bed. If you're interested and want to learn how to setup a blog you can follow my tutorials in this article.
Paluwagan
Just like the normal paluwagan our moms and tita's used to do before, it just has bigger groups which therefore, come easily. Paluwagan is like the growing of money depending on the number of pay-ins the group will have which means, the more people involved, the more people who will pay-in, the faster the payout or the faster your money will grow.
Although there are scammers and fraudulent people in this industry, you can ask certain people and check if the one you're planning to join to is authentic and legitimate. There are a lot of Facebook groups that support paluwagan so don't forget to start and educate yourself in that!
Learning new things
"Education is the best investment", they often say. That is true, in most cases because we study because we need and want to learn for us to utilize the knowledge and skills we acquired to earn money. Everything is on the internet, from news, shows, to books, and magazines; we can do almost anything on the internet. We can also learn from it, you know; there are a lot productive things you can do when you are online, you can read, you can watch, you can gain knowledge out of it and earn from that knowledge.
You can read about investing, you can read about marketing, selling, even tutorials on how to utilize programs in order to help you earn money like how to use photoshop, Microsoft Office, how to use video/text editors, etc.
The internet is a world full of knowledge, systems, wisdom, and a lot more. When we are connected, it seems like we are one of the most powerful people living in this planet because of what it can offer. What we can do to fully take advantage of that is to use it to learn for us to earn money and to grow as an individual. When you have the planet just above your fingertips, what would you do?