Ever heard of Home Credit? If no, then you must be thinking. Are these home credit loans just like what we get from Pag-IBIG? Is this a type of loan wherein you haggle and purchase Real Estate? If you're kind of confused, let me tell you a thing or two about what Home Credit Philippines is.
Read: Comparing Different Car Loans from Different Banks Through Loan Calculators
Home Credit Philippines is a financing corporation which provides no-collateral loans for Filipinos. Their requirements are simple and easy-to-manage. As of the moment, the only people who can apply for these Home Credit loans should be a Filipino citizen who is 18 to 68 years old, and who currently has a stable source of income either through employment, business, and self-employment.
Interested? Then you might be more interested at the different Home Credit loans they offer. Currently, they offer two (2) types of loans; a cash loan and a non-cash loan. If you meet the requirements they need, then you can definitely apply for either of the loans.
Non-cash loans (standard Home Credit loan)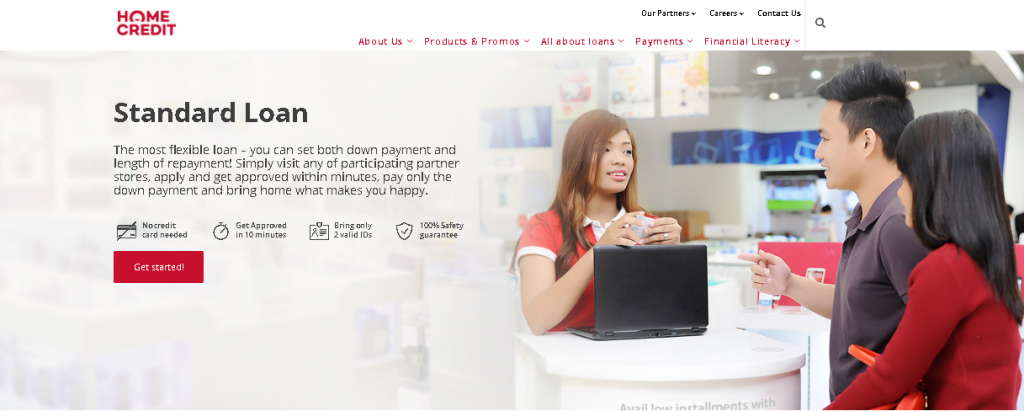 Based on its term, non-cash loans are loans wherein you won't get cash. The loan you can get would usually be because of an item you can buy in cash; therefore, you would need financial aid in order for you to get the item, then you can pay it monthly. This non-cash, no-collateral loan is Home Credit's core; and is often grabbed by borrower because of the features and benefits.
Read: Citibank Personal Loan: How can I Apply?
The top features of this standard or non-cash Home Credit loans include:
Flexible repayment terms from nine (9), twelve (12), eighteen (18), and twenty-four (24) months. Some even get it for six (6) months.
The interest rate varies depending on the variables which are the price of the device and the repayment term.
The loan amount can go up to Php50, 000.00 for purchasing mobile phones; Php100, 000.00 for other items they have business on.
Non-hassle requirements; you don't even need a payslip. All you have to submit is two valid IDs. Bring at least one (1) primary ID and you're all set.
To add to those features, you can also enjoy the privilege of getting in touch with Home Credit agents in major partners nationwide. They have over 3, 500 partners natoinwide; retailers like SM malls, Absenson, Automatic Centre, Western Appliances, and Robinsons malls. Moreover, a wide variety of brands are being offered; brands like Acer, ASUS, Sony, Huawei, iPhone, Toshiba, and many other brands that are Filipino favorites.
Cash loans (Home Credit cash loan)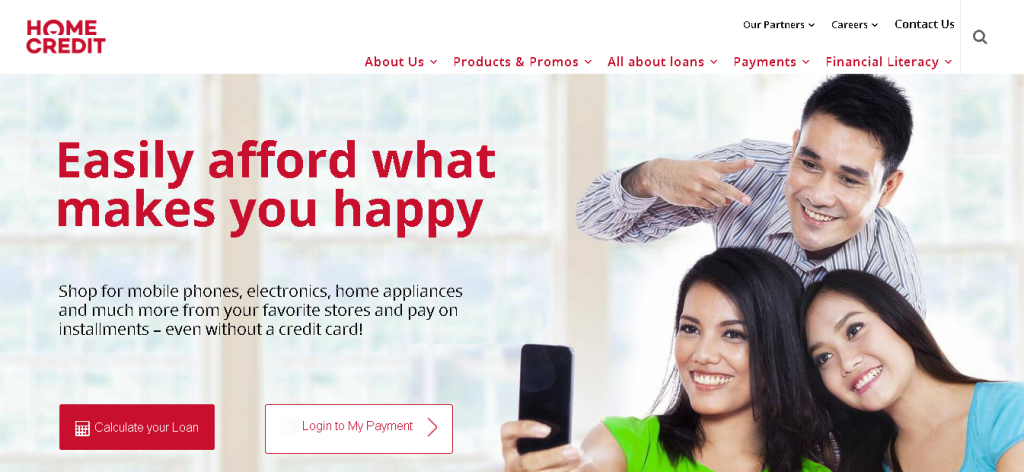 Unlike the standard Home Credit loans, the Home Credit cash loan provides quick and easy financial solutions to anyone who has urgent financial needs. However, the Home Credit cash loan is only available to existing borrowers with a clean and good payment record. If you happen to think about getting a Home Credit cash loan, make sure that you sign-up with the non-cash loans first (of course because this is their core).
Read: A Guide to Your First Car Loan
The good thing about this cash loan is that approval is as fast as half an hour to an hour. The loan release is just within two (2) business days. Once the agent tells you that Home credit OK-ed your cash loan application, you can be worry-free and just have them deposit it through your bank or through cash pick-ups at any Cebuana Lhuillier or Metrobank branches.
Some existing Home Credit non-cash loan borrowers prefer Home Credit's loan because first and foremost, they won't require you to have your ATM cards as collateral, and you have the power if you want Automatic Debit Arrangements (ADA) or not. It's flexible, it's not pressuring,
and it's easy-approval.
The main and top features of the Home Credit cash loan would be:
a. Depending on your capacity to pay, the Home Credit cash loan usually starts at Php10, 000.00
b. The repayment terms are still flexible, you can repay it in whatever term you wish and you can select to repay it in eighteen (18) months, twenty-four (24), thirty (30), and thirty-six (36).
c. Unlike the non-cash loans, if you're going to avail a Home Credit cash loan, you have to submit:
Two (2) valid IDs; again, one being a primary ID is relevant; and
Any bank documents, passbook, deposit slips, bank statements, or online banking transactions that shows the account number of the borrower's savings account.
So, you're interested in getting the non-cash loan, huh? Imagine, you can get the phone you've been dreaming about for a low-cost! I won't be detailing the process because it's simple and it's easy – you just have to go to any Home Credit-affiliated retailer, submit your documents there, select a payment plan, give the upfront fee, and there you have it, easy as 1-2-3.
Upon applying for any Home Credit loans, there are, of course, other benefits of getting a loan through Home Credit aside from the ones mentioned above is eligibility for a life insurance option.
Once a borrower decides to go the transaction, they have the option to apply for a life insurance option via Sun Life Grepa Financial, Inc., for Home Credit loans. If you're not sure what this means, well, being insured simply means that any unpaid loans of a borrower, at the time of death, will be covered by the insurance provider (Sun Life Grepa Financia, Inc.) With this, the beneficiaries or the people who will be left will not be burdened by the remaining balance of the borrower.
Another is the early repayment scheme wherein Home Credit would allow a person to pay not more than fifteen (15) days after the signing of the contract. The good thing is, Home Credit won't charge you any of the interests and fees. If you have questions about early repayment (full or partial), you can contact their Customer Service Hotline (02) 753 5711.
If there are advantages, there are also disadvantages that go with getting Home Credit loans. Although these drawbacks aren't as bad as you thought they might be, they can still have a huge impact depending on how you look at it.
A quick "no" for delinquent borrowers
Yes, they check other financial institutions which people might have loans in. This means that if you're someone who has some leftover past balances in other sources, you'll most likely be rejected. Do not be fooled by other people saying that they do not check previous transactions, that they won't check your credit history and credit score – they do. So, if you know that you have unpaid loans, it'll reflect and there are high chances of your application to be rejected.
High interest rates
Although the interest rates vary, as mentioned above, the interest rates "vary depending on the repayment terms and the weight of the value of the device." So, settling on a loan for a device that has a lucrative amount, automatically means that  the interest rates might be high. More so, if you're planning on settling your debt at a lengthy time, expect medium-to-high interests as well.
Read: Applying for a BDO Personal Loan
Late payment consequences
Let me give you a quick tip: Home Credit will give you a due date; they will also give you three (3) days before the due date, telling you that the most ideal time to settle the payment is during that date. Why? Because payment terminals have a bit of a delay so settling the loan on that exact date can lead to late payments. Just so you know, Home Credit loans take these things seriously and you might zero-out your chances of re-application if you pay your bills late. So, pay your bills ahead of time, avoid being late in your payments are you're all good.
Now that we've covered what Home Credit loans are, what its benefits and disadvantages are, and other relevant information, let's now go to the part that everybody loathes – payments. Another good thing about Home Credit loans is that  you can pay your bills through a number of payment facilities:
Automatic Debit Arrangements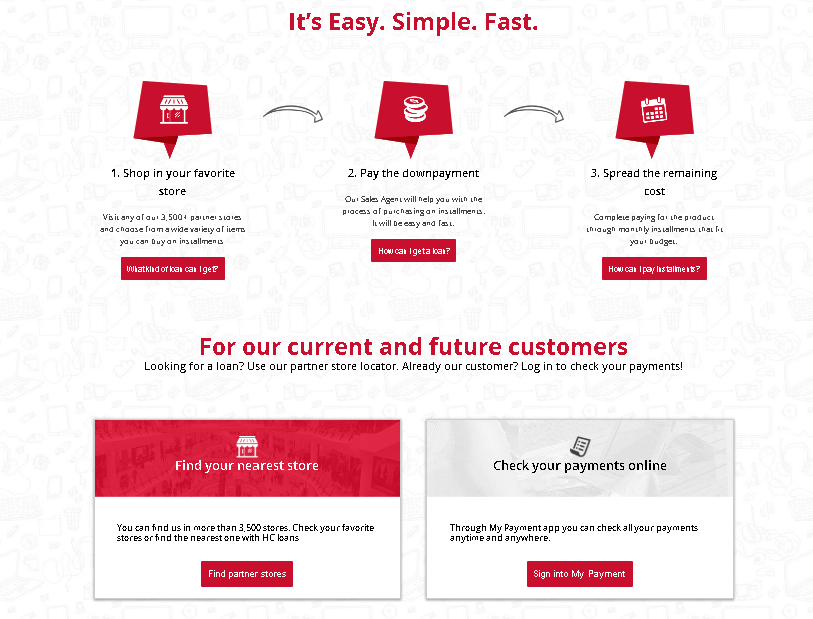 Based on its term, Automatic Debit Arrangements or ADA, is when they'll automatically swipe your account on your due date. Usually, this is when the 3-day-before-the-due-date rule applies. You just need to ensure that you have enough funds in your savings account. If you don't, they'll immediately send you a notification about this and a reminder that you need to settle your payments.
Other modes of payment include:
Bayad centers
ECPay Outlets (Shopwise, True Money, 7-Eleven shops, RD Pawnshops, etc.)
SM Business Centers and bills payment counters in all SM Outlets
RCBC
Cebuana Lhuillier
M Lhuillier
NOTE: RCBC accepts funds transfer via the ATM and online/telephone banking. However, for other payment channels, paying with cash will be required. Credit cards and checks won't be an accepted mode of payment either.
Read: Metrobank Home Loan For OFWs
Are you interested in applying for a Home Credit loan? If yes, you can find out more information about them in their Home Credit Philippines website. You can scan through the FAQs and other information we've missed to provide to you. However, getting or having Home Credit loans is actually one good way to start practicing managing your credit; although it's an easy way to get debt, it's also a good way to practice financial aspects in adulthood.