The BPO industry has taken its toll here in our country and it has proven to the eyes of many people that it can greatly benefit almost all types of businesses. Initially, the SSS hotline only has 16 hours of operations but a few years back, they lengthened their operations to 24 hours which technically concludes that they are giving more access to over-the-phone updates about contributions, benefits, loans, and other transactions you can do with SSS. In this article, we will be talking about everything that you need to know about the SSS hotline.
SSS President and Chief Executive Officer Emilio de Quiros, Jr., said that with longer hours of the customer service, many people will have the idea of calling about their contributions, loans, their memberships, their benefits, and a lot more that concerns their correlation to our country's Social Security System.
Read: Ask SSS concerns using UsapangSSS website
Everyone can inquire and contact the call center, "Local employees with the regular working hours of 8-5, call center agents of graveyard shifts, overseas members in different timezones, almost everyone can find a time for them to make an SSS phone query from Mondays to Fridays," de Quiro said.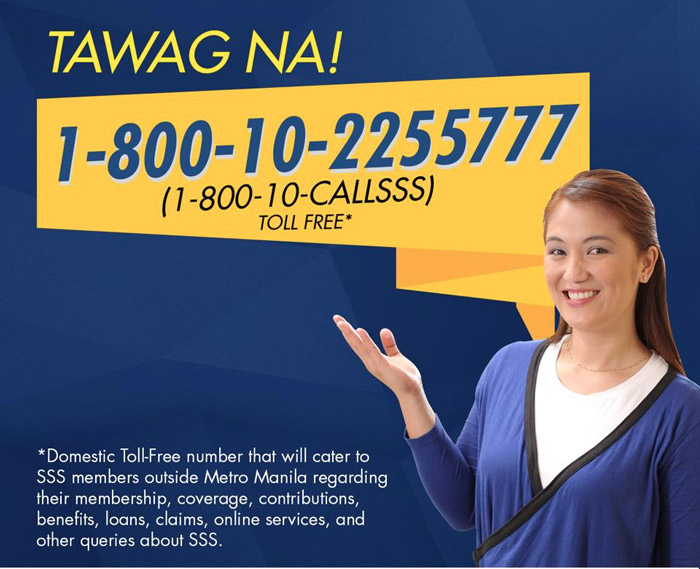 Back in 2012, they reported that the SSS call center receives over 46, 000 calls every month. The usual calls that members make are:
Of course, these are not all of the cases or inquiries that they get, some also ask for applications for benefits, remittance of contributions, complaints about non-remittance of their employers, and a lot more.
Upon dialing SSS hotline which is 920-6446 – 55; 920-6401, be ready with your SSS number because that will be the form of verification of your membership with the system. If you are calling and you're unsure of your number, be reminded that they will ask you some sort of verification like:
Your whole name (including your middle name)
Mother's Maiden Name
Complete Address
After verifying that it is you, they will provide you with your SSS number and as for you, do take note of it so that you won't forget it the next time you need something. Note that it opens at 7:00am from Mondays all the way up to 7:00am on Saturdays. The center is usually closed during weekends and holidays.
If you want to utilize the Interactive Voice Response System (IVRS), this is where you have a computerized voice assist you with your concern; it is when you follow what the voice says in order for you to get what you are inquiring for, you may call the numbers below:
SSS Hotline numbers
SSS Trunkline No. (632) 920-6401
SSS Call Center: 920-6446 to 55
Interactive Voice Response System IVRS: 917-7777
446-5902 (Baguio)
982-8739 (Tarlac)
562-9289 (San Pablo)
472-8842 (Naga)
234-2053 (Cebu)
227-7273 (Davao)
992-2014 (Zamboanga)
Do you have any inquiries that are connected to your SSS membership? Dial the number now and make sure that you have all required information so that they can assist you with your concern.