The Commission on Higher Education (CHED) is an attached agency to the Office of the President for administrative purposes. Its mandate is to promote relevant and higher quality education that will make graduates and professionals, highly competent and recognized in the international arena.
It also includes in their mandate to ensure that quality higher education is accessible to all who seek it, particularly those who may not be able to afford it.
In consonance with the mandate, CHED continues to provide poor and deserving Filipinos opportunities for quality higher education as articulated in its Long Term Development Plan provisions for "Access and Equity" with the establishment and maintenance of scholarship, grants-in-aid, and loan programs.
Read: CHED Scholarship 2022-2023 Priority Course
If you or any of your family members are interested in avail the program and you think you are eligible to check the list of qualifications below.
Qualifications for CHED scholarship 2023
The applicants must meet all the qualifications below to qualify for the CHED scholarship program.
Must be a Filipino citizen;
Must be a senior high school graduate and/or candidate for graduation;
The family gross income must not exceed four hundred thousand pesos (Php 400,000.00)*
Must avail of only one CHED scholarship or financial assistance program; and
Must not be a graduate of any degree program.
General Weighted Average:

For the Full State Scholarship Program (FSSP) and Full Private Education Student Financial Assistance (FPESFA), GWA must be 96% or above.
For half-SSP or half-PESFA, GWA must be at least 93% but not more than 95%.
* In highly exceptional cases where income exceeds PhP400,000.00, an applicant must present a written certification or medical findings of illness of a family member, or school certifications of two or more dependents enrolled in college.
Requirements for CHED scholarship
Academic Requirements
Senior High School Graduate

High school report card for incoming freshmen students eligible for college.

Candidate for Graduation in Senior High School

Duly certified true copy of Photocopy of grades in Grade 11 and 1st semester of Grade 12
Other Documentary Requirements
1. A certified true copy of the birth certificate;
2. Proof of Income (any of the following)
For children of OFWs and seafarers, a photocopy of any of the following:

The latest copy of the contract;
Proof of income

For children of non-OFWs, a photocopy of any of the following:

Photocopy of the latest Income Tax Return of parents or guardian;
Certificate of Tax Exemption from the Bureau of Internal Revenue
Case study from the Department of Social Welfare and Development (DSWD)
Affidavit of No Income
Certificate of Indigency from Barangay
Benefits of a CHED Scholar
These are the breakdown of the financial assistance that will be given to qualified students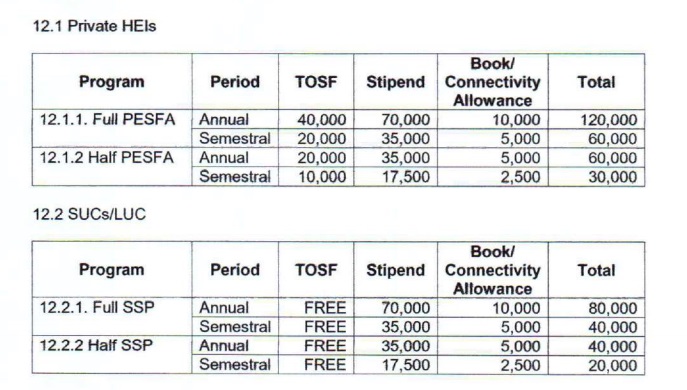 How to Apply for CHED Scholarship Online
Interested CHED Scholarship applicants may apply online through each CHED Regional Offices listed below.
How to Apply for CHED Scholarship 2023
Step 1. Fill out the CHED Scholarship application form, you can download it here.
Step 2. After you fully accomplished the form, submit it to CHED Regional Offices together with all documentary requirements mentioned above.
Step 3. After the evaluation of the forms and documents you submitted, CHED will contact/mail you regarding the status of your application.
For more information about the CHED scholarship, please visit CHED official website or the Philippine government official gazette.
Read Also: Philippine National Police (PNP) Application Requirements and Procedure