Most usually, an employer would ask for a police clearance to validate and check the authenticity of a person. This document is done and processed by the Philippine National Police (PNP); and good news to all Filipinos, they have implemented a new process for Filipino employees to secure this document: through an online application.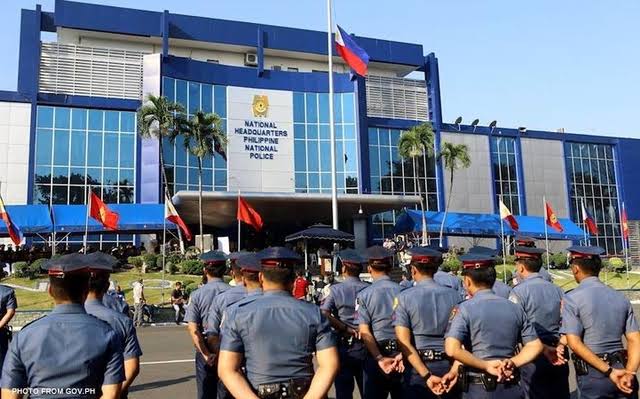 Do not worry because, in this article guide, we will be teaching you on how you can undergo a police clearance online application to avoid the hassle of visiting the nearest police station in your location just to submit your documents.
Read: How to Apply for a Police Clearance in the Philippines – Requirements and Procedure
What is a police clearance?
First things first; before we go dive into the topic, let us first get to know what you are applying for is. This National Police Clearance is a document used to check criminal records of people. The police clearance is different from the National Bureau of Investigation (NBI) Clearance because the police clearance is only for the municipality or city (a certain locality); an NBI clearance, on the other hand, has a wider scope.
The police clearance is a document that provides accurate information that the holder has a clean criminal record or is free from any derogatory record based on the database of the Philippine National Police (PNP).
Read: Philippine National Police (PNP) Application Requirements and Procedure
This document is usually part of pre-employment required documentation that jobholders need to submit to their company/employer. Furthermore, in some transactions and institutions, police clearance is also accepted as a form of a valid ID.
Read: Updated List of Valid IDs in the Philippines
NOTE: A police clearance is not an accepted valid ID should an individual apply for a passport or for COMELEC's voter registration.
Until when is a police clearance valid?
Police clearance is valid for a maximum of six (6) months. Each clearance has a unique QR code; it's proof of its authenticity. After this, people can renew their police clearances.
Read: How to Set Appointment for Multi-Purpose NBI Clearance Online
Requirements for a police clearance
Yes, even if you are doing a police clearance online application, there are required documentation you need to submit in order for the PNP to verify that you are a legitimate citizen of the country; or a legitimate person.
Two (2) valid IDs

Must not be expired;
Bears the applicant's complete name, signature, and clear photo; and
Must be the original (not just a photocopy)
As per the PNP, any two (2) of the following IDs can be used in undergoing the police clearance online application:
Driver's License
Alien Certificate of Registration
Senior Citizen ID
Social Security System (SSS) ID or Unified Multi-Purpose ID (UMID)
Taxpayer's Identification Number (TIN) ID
Voter's ID
School ID (must be submitted together with the registration form)
Government Service Insurance System (GSIS) ID
Integrated Bar of the Philippines (IBP) ID
Overseas Filipino Workers (OFW) ID
PhilHealth ID
Philippine Passport
Postal ID
Philippine National Police (PNP) ID
Professional Regulation Commission (PRC) ID
NOTE: If you only have one (1) of the IDs listed above, the PNP said that they will accept it so long that you present a certified true copy of your PSA-certified (Philippine Statistics Office) birth certificate with the original receipt.
Read: PNP Online Application Appointment for the Entrance Exam
Procedure on doing the National Police Clearance online application
Now that you know which documentation you need to prepare, here is the procedure on how you can do the police clearance application online. It was developed back in August of 2018 and was labeled the National Police Clearance System (NPCS).
The NPCS is an online service which allows Filipinos to acquire a police clearance in less than ten (10) minutes, wherever they are in the country. Although personal appearance at a police station would still be required, the appearance is only for capturing the biometrics and specimen of the applicant.
Read: Professional and Sub-Professional Civil Service Exam Schedule and Requirements – 2020
Without further ado, here are the steps on how you can do the National Police Clearance online application:
Register to get an account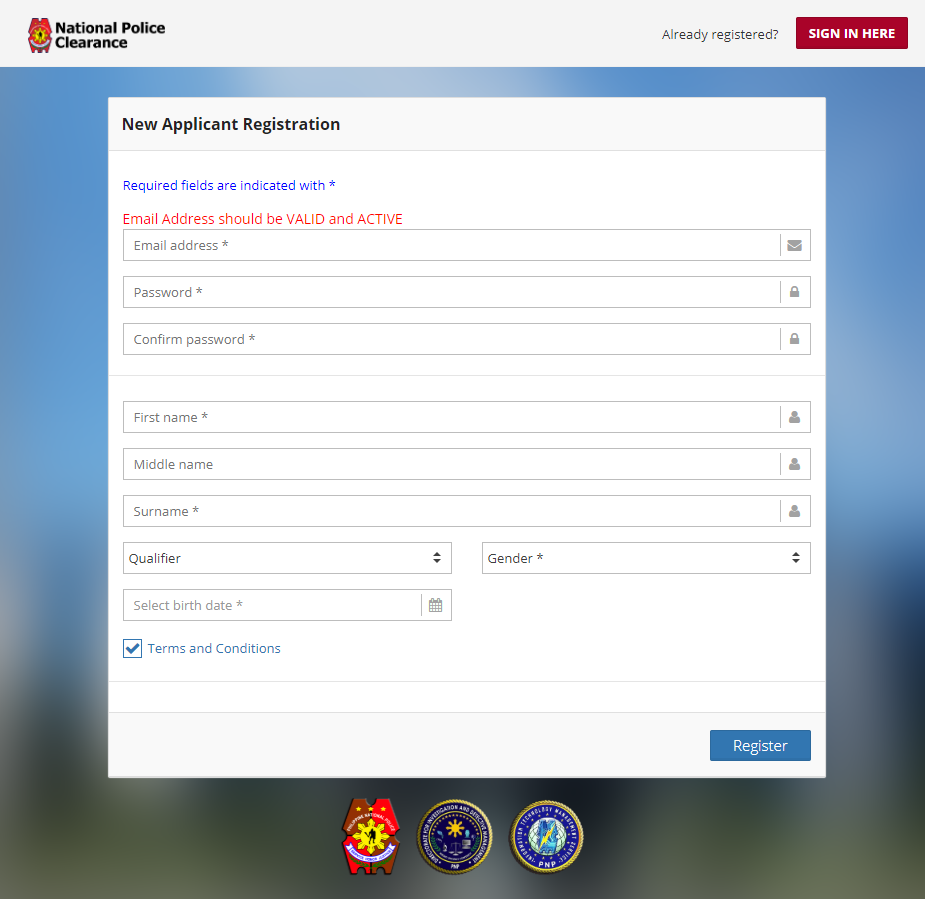 Have you ever tried to apply for an NBI clearance online? If so, it's almost the same process; you first have to register for an online account. To be able to register, visit pnpclearance.ph; read the Terms and Conditions (TnCs) and check all the checkboxes to continue; it will be a few.
Then, fill out all of the required information and click on the register button as you can see in the image.
Read: PHL Post: The New Postal ID, Everything you Need to Know
NOTE: You must provide an active email address and an email address that you have access to. The PNP will be addressing and will be using this email to send you notifications, alerts, etc.
Verify your NPCS account
Once all of those are done, you will receive a confirmation message/link from the NPCS to the email address you declared. If you do not see it in your inbox, check your spam and trash folders. 
Read: Updated Land Transportation Office (LTO) Student's Permit Requirements and Procedure 2019
Click on this link to verify your account; it will redirect you to the log-in page of the NPCS website.
Schedule an online appointment
Now that you're done with the registration, log-in to your account by entering the registered email address plus the password. Once you're in, you won't be able to do anything unless you finalize your profile.
Read: How to Correct Erroneous Entries in Birth Certificate
Click on the Edit Profile button and fill out the online form with necessary and relevant details. Once done, hit on the Save Profile button. Once all of those are done, you can now schedule an online appointment.
To do so, click on the Clearance Application button and select the nearest police station where you can claim your police clearance. Select the schedule (DATE and TIME (AM or PM).
Pay the necessary fees
Hit on the button that says Land Bank of the Philippines and Save Appointment. Payment details will then be displayed – you need to take note of your reference number that will be issued and given by the system; this is what you will be using for the police clearance fee.
Read: How do You Transfer Funds From Your GCash Wallet to Your Bank and Vice Versa?
Click on the Pay to LANDBANK button. This will redirect you to the LBP ePayment Portal; after so, you need to pay to this portal using:
LANDBANK Account
BancNet; or
GCash
The police clearance is P150.00 plus a P10.00 transaction fee, a total of P160.00. Enter the LANDBANK/BancNet/GCash account number together with the PIN.
Read: Approximately 50,000 Driver's Licenses Remain Unclaimed at the Manila Traffic Bureau
After, the transaction details with the payment summary will be displayed.
Proceed to the police station of your choice
Then there you go, it's the date of your appointment. During your appointment, make sure to bring the following to present to the police station:
Two (2) valid IDs;
The reference number for the payment; and
The official receipt of the police clearance payment
Once you are able to present those, you will be queued up for the biometrics capture. This includes: taking a photo, fingerprints, and digital signature. 
Read: National ID To Replace All Government-Issued IDs, Says Diokno
The application will go through a verification process where the police officer will check the biometrics and criminal records in the database of the PNP; this process usually takes ten (10) to fifteen (15) minutes.
After doing so, wait for your name to be called for the police clearance release. Claim your police clearance and everything is now good – you finally have your police clearance.
Advantage of the Police Clearance Online Application
It saves a lot of time
Traditionally, the process of applying for a police clearance involves you going to a police station at the earliest hours, spending a lot of time waiting and transacting. With the NPCS, you can do a police clearance online application in the comfort of your own home, you just need to have a stable internet connection.
It saves money
Many people would think that the extra P10.00 charge is something expensive. However, try to think of it. The amount of money you will spend on the fare going to the nearest police station in your area is more than P10.00. It greatly is a high value of savings and that is why doing the police clearance online application is more of a money-saver than being an expense.
It is more secure
Data does not lie. Should the system detect multiple times a person tried to imitate another person; the system will be able to point that out, avoiding any type of mishap or problem in the future.
Do you need a police clearance but don't want to undergo the hassle of being queued for at least an hour? Take advantage of the online application for the police clearance now!