Facebook has been and is still the most recognized social media mediums Filipinos use today. Before, it was used just for long distance communication. With all the innovations and tweaks, it is now the source of everyday's entertainment, news, even updates on different countries' stands. Although this is the case, it's main use is still for people to connect with each other hence the brand-est, famous Facebook messenger.
Before, the idea or the interface of Facebook messages were at its simplest; simple, bold, user-friendly, and did not have as many features. Now, Facebook's messenger is widely used by people by means of communication, playing games, even sending money.
Read: Hiding Your Last "Active Time" On Facebook
The thing with messages are, it's a lot. So it's not a moral sin to even look at the wrong window every now and then. This is actually the main reason why Facebook's Messenger became so interactive that you can even change colors, names, and put emojis on names.
So how do you customize your messenger?
For this specific action, we have two (2) methods or ways:
For Desktop;
Smartphones/Tablets
For Desktops
First things first, you have to select a specific chat box you want to meddle with. Do that by selecting it from your messages so you have to click on this:

That icon with the "1" is the messages icon. To select a specific message, click on it and a list of messages of people you spoke with recently will appear. Select one and it will pop one out in the lower part of your Facebook webpage.
When that appears, you will see five things on the top edges of the pop-up:
A + sign and this is to add people to the conversation (create a group chat)
The video camera icon and this is to initiate video calling with that specific person
A telephone icon to initiate voice calling with that person
A gear icon to open the conversation settings
Lastly, an X button to close out that specific conversation

Oh and that green circle button beside the video camera icon? That means that your friend is online and available for calling.
From here, you would already know what to select to modify the conversation with your Facebook friend. Of course, selecting the gear icon would lead you to the following: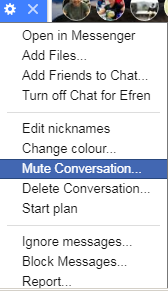 Open in Messenger – clicking this link will redirect you to messenger
Add Files – this allows you to send files/documents to your friend. This is kind of a special feature because this cannot be done on smartphones.
Add Friends to Chat – as mentioned earlier, this option is the same as the + option on the left-most side of the icons.
Turn off Chat for friend – this option will let your friend see that you're not available the whole time.
Edit nicknames – here starts the fun part; the edit nickname option gives you the ability to change the name on how it appears when you chat with them. Although it won't appear on the left-hand side which is the list of friends available for messaging, when opened it'll completely show the nickname.
Change Colour – changing color, a no-brainer lets you change the color of your chatbox with this specific person. It will change the edges, when you view it in messenger and in all of the devices synced to your Facebook account.
Mute conversation – this option cuts down the notifications you receive from this specific person
Delete conversation – from your end, all the conversations you've had with this friend will be deleted. Although it won't be deleted from his end, you won't have copies of it including media, files, etc.
Start plan – this option allows you to start a plan with a friend. That plan will then notify you 1 hr before the exact date and time of the plan.
Ignore messages – this option makes you unavailable to your friend that all messages from the friend will directly go to filtered. Your friend won't know you've ignored them until they call you as all calls will automatically fail even if you're available.
Block messages – this is only for Facebook Messenger; not Facebook entirely. This disallows that certain friend from sending you messages and calling attempts.
Report – this will notify Facebook of a problem you have with this specific person and can draw lines on how you both interact.
Now that you know how you can accomplish this in desktops or laptops, doing it in smartphones isn't that difficult as well.
To do this in smartphones, you just have to open a conversation, click that "i" button on the top right part of your screen. Tapping that opens the settings or options to edit or be creative with your chats.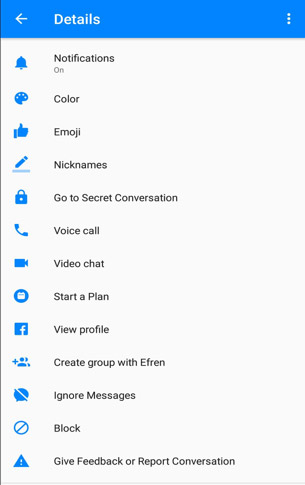 Read Also