Having a house you can call your own is probably one of the greatest investment we can have in life. If you are a member of the Home Development Mutual Fund (HMDF) commonly known as the Pag-IBIG Fund, be reminded that you have the privilege to housing benefits and loans which allow you to build your ideal home. But, for it to happen, you must pay your Pag-IBIG contributions conscientiously and on time. To guarantee that your monthly contributions are accurately deposited, you must proceed with this article to know how you can check your Pag-IBIG contributions online.
Previously, members could use their Pag-IBIG Membership ID (MID) number and other details to check and validate their contributions on the Pag-IBIG website. But the agency, chose to re-design its website and created the Virtual Pag-IBIG platform, which allows Pag-IBIG members to check their MIDs, examine their records, and pay their payments online.
You can now verify your Pag-IBIG contributions online using Virtual Pag-IBIG to determine if your premiums – whether paid by you or your employer – have been deposited and posted. For members who make their contributions on a voluntary basis, this is extremely important. To see the status of your contributions and other information, simply log in to your Virtual Pag-IBIG account. You can see how many contributions you've made and when you've made your last one.
Check Pag Ibig contribution using Virtual Pag-IBIG Website
A Virtual Pag-IBIG account can be created by any Pag-IBIG member, including voluntary members, OFWs, and Loyalty Card holders.
Steps in signing up for Virtual Pag-IBIG
To begin, hover your cursor to the Virtual Pag-IBIG website and select "Create Account" from the menu. You'll get a pop-up message. Then, press "Continue".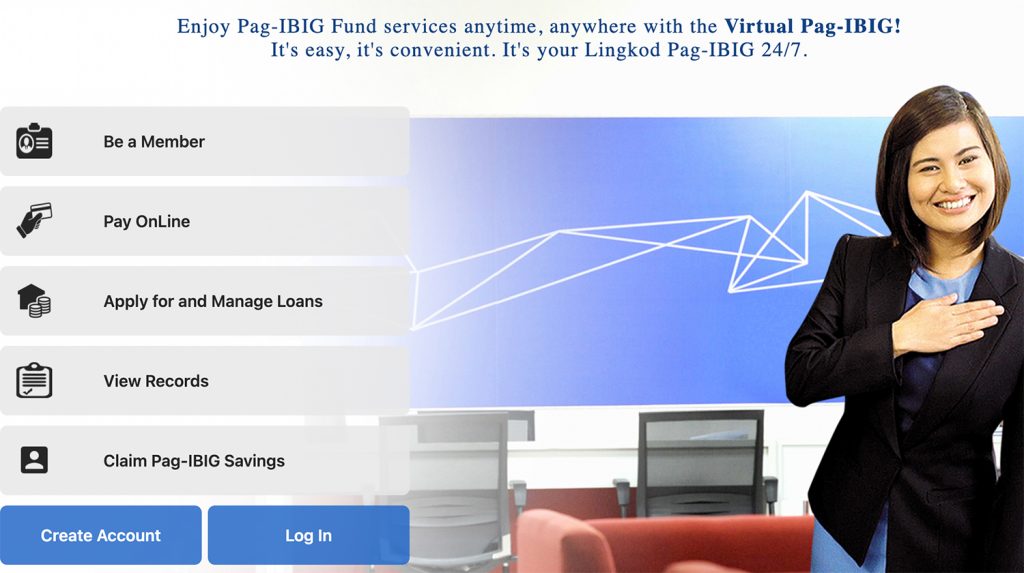 Three options, Via your Loyalty Card Plus, Create and Activate your account online and, Account Creation for OFWs. Select which one is applicable to you, if you have a Pag-IBIG Loyalty Card you can select the first option, otherwise select the other.

Fill in your Pag-IBIG MID number, last name, first name, middle name, date of birth, and mobile number, as well as your Pag-IBIG MID number. You must fill in all the fields except for the middle name, which you can omit by choosing "No middle name".
To move on, press "Proceed."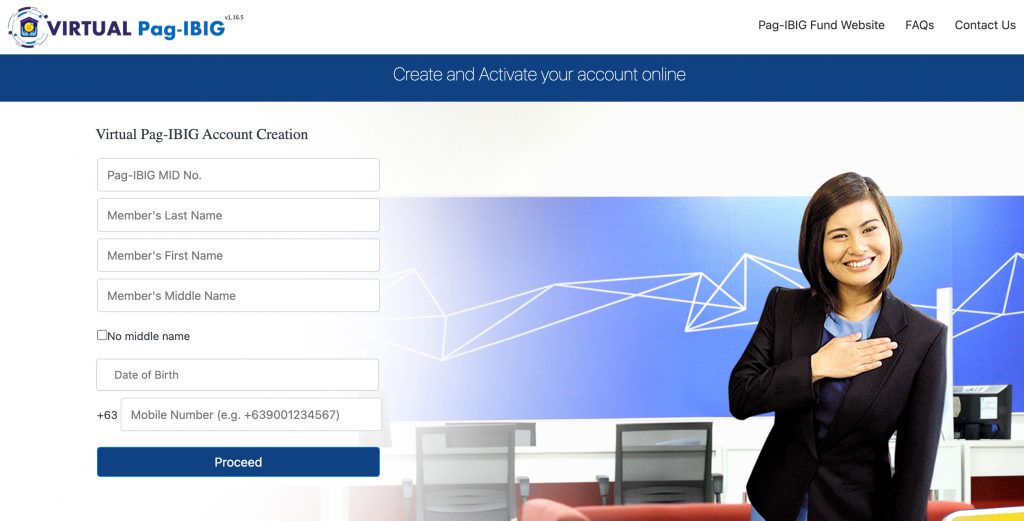 A pop-up will appear informing you that your cellphone number will be sent a one-time PIN (OTP). Select "OK."
Enter the code that has been sent to your phone number. Click "Resend OTP" if you didn't get an OTP code.
Press "PROCEED".
You'll be taken to a page where you'll have to fill out some extra information.
Please provide your email address, three (3) security questions, the maiden name of your mother, and the place where you were born.
Two (2) legitimate IDs or a scanned copy of your passport or two (2) valid IDs should be uploaded. One megabyte (MB) is the maximum file size that can be uploaded at once. You may have to resize your photo using image editing software like Adobe Photoshop or a web-based program like PicResize if it is too huge.
Upload a selfie of yourself with any of the IDs you provided.
Click "Submit" after checking the box next to "I certify that…"
Don't be troubled if you run into problems when registering for the Virtual Pag-IBIG system because it's still new. Refresh your browser and try again if you get an error that prevents you from finishing the registration process.
"You have successfully created your Virtual Pag-IBIG account. Please go to the nearest Pag-IBIG Fund Branch to activate your account." notification will appear once you click "Submit."
How to activate a virtual Pag-IBIG account?
To activate your Virtual Pag-IBIG account, you can visit your local Pag-IBIG branch within the next seven days. Bring valid photo identification with you.
You will receive an email from the Pag-IBIG Fund notifying you that your account has been activated after a few minutes.
Enter your email address and temporary password by clicking on the link in that email. Press "SUBMIT".
This time, you'll have to establish a new password. When you're finished, click "SUBMIT."
There should be a notice that says "Password reset successfully. You are now able to access Virtual Pag-IBIG." if everything goes well.
Congratulations! Your Virtual Pag-IBIG account has been successfully activated. It's now time to check your Pag-IBIG contributions by logging in to your account.
How to check your Pag-IBIG Contributions?
Read the data privacy statement on the Virtual Pag-IBIG website. Click "Proceed" after checking the box to agree.
When prompted, click the "Log In" option and then "Continue."
To access your Virtual Pag-IBIG account, enter your email address and password and click "Log In."
You can now view your regular savings or mandatory contributions, Pag-IBIG MP2 savings, and loan records once you've logged in.
On the left sidebar menu, select "Regular Savings (Mandatory Contributions)."
You will see a summary of your regular savings account at Pag-IBIG I. Enter the year in the field provided (e.g., 2021) and click "View Contributions" to see your Pag-IBIG contributions.
You'll be given a list of your Pag-IBIG contributions, together with details such as the date of the transaction, the reference number, the time period covered, and the amount contributed.
Check Pag Ibig Contribution using Pag Ibig Hotline numbers
If the internet bugs down or you find it difficult to search online, you can call on their help desk hotline no. (02) 724-4244 (standard rates apply) and you will be directed to the personnel in charge of your questions or concerns.  You can also text 0917-8884363 and 0918-8984363 for your concerns.
For the payment, you can download your billing statement and copy or print your payment references for your monthly amortization for the online or offline payment at your preference.  You can also pay it through Metrobank direct using online payment.  Guidelines are given to you for easy processing of transactions.
Read: Eligibility requirements forPag-IBIG housing laon
If you have a housing loan, a Housing Loan Payment Verification page will appear and you must enter pertinent information such as Housing Loan No., Last Name, First Name and Captcha Code.  You also have to remember your HL Account No. and inquire them from your developer if you forgot about it. You can also check the important information of your loan such as Loan Value, terms, interest rate and outstanding balance.
Remember to pay your Pag Ibig contribution on time to avoid applicable penalties.  If you are delayed in any way, you can ask any Pag-IBIG personnel in your area for restructuring for you to update payment.  At times, you will be disallowed to make any other loan if you have payment delinquencies.  You also cannot apply for a housing loan if you have not paid continuously for the last two years of your Pag-IBIG account.  You will be given a chance to cover up for your payment though but you will have to wait a certain period of time to clear up for everything.
In case you have some concerns obout unpaid monthly contributions and you are working, it is likely that your employer who has the responsibility of making the contribution has a problem.  You can verify and check with your employer, previous or present, to check the source of the problem right away.
Read Also: