Aside from GCash, PayMaya should be one of the digital wallet apps you must have especially with its awesome features such as cashless payment for bills, rebates, rewards, and discounts.
If you are a verified PayMaya user, adding money to your account will be convenient and hassle-free since you can do it through 30 bank partners via Instapay or by PayMaya Add Money channels nationwide which include Bayad Center, 7-Eleven, Palawan Pawnshop, Cebuana Lhuillier, BDO, Metrobank and more.
With regard to that, you might as well take advantage and experience the benefits of being a verified PayMaya user by accumulating real money using the easy ways stated below.
Read: How to earn money in GCash (5 ways)
Refer PayMaya to your friends
Just like in GCash, making your friends use your referral code and successfully get them verified in PayMaya will earn you and your friend a P100 (this amount change depending on the promo). You can even earn hundreds or thousands of pesos just by using its referral system.
Steps in inviting your friends to use the PayMaya app
Step 1: Go to your PayMaya app and click the Profile icon.
Step 2: Tap the Invite Friends in the side menu in order for you to see your unique code which you can send to your friends or family via Facebook, Messenger, Messaging, GMail and other channels, so they can sign up for a PayMaya account.
Step 3: The approval will be done in 30 minutes which means you and your friend will only receive P100 if he upgrades his PayMaya account using your referral code. Just click the "Upgrade for Free" and provide all the application requirements to complete the verification process.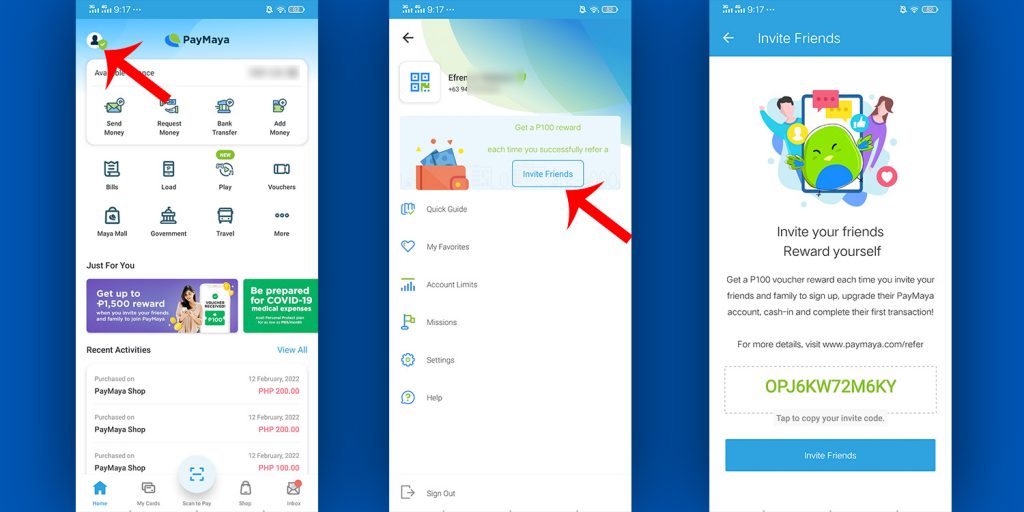 Read: How to transfer funds from PayMaya to GCash
Upgrade your account to unlock more features
Upgrading your PayMaya accounts enables you to enjoy more of its features which include sending money to other PayMaya users, withdraw money at ATMs with your PayMaya card, and transfer money to other banks with P50, 000 to P100, 000 increase in monthly account limit.
Steps in upgrading your PayMaya account
Step 1: Go to your PayMaya account and click the Menu button on the upper left corner.
Step 2: Press "Upgrade my Account".
Step 3: Read over the instructions then click "Next".
Step 4: Ready your valid ID followed by tapping the "Next" button and provide all the fields with your information such as your name, birthdate, and other details which should be in accordance with what's in your ID.
Step 5: Take a picture of your ID (front and back).
Step 6: With the guides given, record a video selfie of yourself. Make sure to follow the necessary gestures and show your whole face within the video capture frame.
Step 7: Click "Next".
Step 8: After reviewing your information proceed by pressing the "Submit" button.
Step 9: An account upgrade confirmation will be sent to you.
Step 10: Finally, tap "Done". You can check your application status on the "Check my Upgrade Status" menu.
Important Note:
PayMaya, as well as its representatives will never ask the listed requirements below when upgrading your account.
Fees (Upgrading is free)
Account Password
Virtual Card Number
One-time PIN
Read: Where you can Invest your Money for as low as P1000