Are you looking for a way to earn profit or income with minimum risk and effort? Perhaps, Pag-IBIG MP2 Savings Program is the one you have been searching for. Unlike other low-risk investing schemes, it's a voluntary savings program for the Pag-IBIG Fund members where you can receive tax-free income at greater dividends. Read on if you're interested to know more about Pag-IBIG MP2 Savings Program and how you can make an investment.
What is Pag-IBIG MP2 Savings Program?
The Home Development Mutual Fund (HDMF), previously known as the Pag-IBIG Fund, offers a voluntary savings program called the Modified Pag-IBIG II Savings Program (Pag-IBIG MP2) which is available to all Pag-IBIG Fund members, as well as former members and pensioners.
The Pag-IBIG MP2 savings program provides a higher dividend rate than the regular savings program, which is mandatory for all Pag-IBIG members. The average dividend rate for Pag-IBIG MP2 over the past five years had reached 7.10 percent compared to the Pag-IBIG regular savings with 6.60%.
Pag-IBIG MP2 has a 5 year maturity period while Pag-IBIG regular savings have 20 years. You have the option of receiving your dividends every year or at the end of the maturity period. You can even take your funds before the maturity date if you wish to, but you won't get all of the dividends.
Your money is invested in a variety of assets and investments, including corporate bonds, government securities, time deposits, short-term loans, and housing loans with 70% of Pag-IBIG MP2 funds in compliance with the law.
The good thing about Pag-IBIG MP2 is that it allows you to save in a variety of ways.  You could, for example, stash P1,000 this month, P2,000 the next month, and then P500 for the following month. There is no limit to how much money you can stash for the month. Don't have money to save? No problem. You can even skip months.
Am I qualified for Pag-IBIG MP2 Savings Program?
The list below are qualified to apply for the program:
Active contributing members of the Pag-IBIG Fund.
Former Pag-IBIG members with source of income.
Pensioners with at least 24 monthly contributions prior to retirement.
How can I apply in Pag-IBIG MP2 Savings Program?
You can apply to Pag-IBIG MP2 Fund through the following:
Online application through the Pag-IBIG website.
Submission of the application form at the Pag-IBIG office.
If you want a hassle-free transaction, we recommend you to apply through the Pag-IBIG website. Any PC or mobile device with an Internet connection will suffice. You will be given your unique Pag-IBIG MP2 account number as soon as you apply in the Pag-IBIG MP2 Savings Program.
Online application process for Pag-IBIG MP2 Savings Program
Hover your cursor to the Pag-IBIG MP2 application website.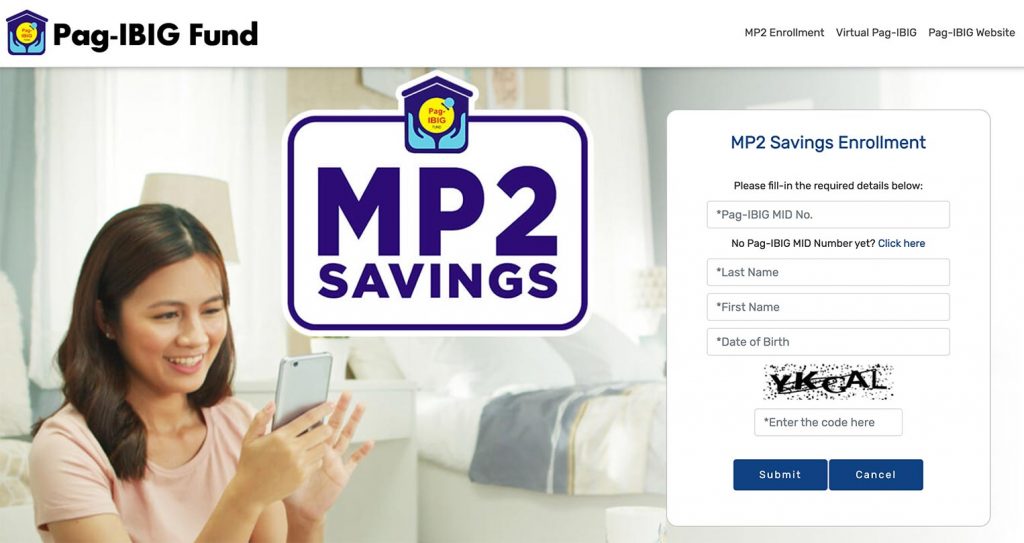 Fill in your Pag-IBIG membership ID or MID number, last name, first name, and date of birth in MM/DD/YYY. Click the SUBMIT button after entering the captcha code.
Read over your application information. Select the appropriate information as follows:
Desired monthly contribution (minimum of ₱500)
Preferred dividend payout:
Mode of payment:

Salary deduction
Over-the-counter
Through accredited Pag-IBIG collecting partners

Source of funds:

Employment income
Savings/deposits
Property sale
Sale of share or other investment
Loan
Company sale
Company profits/dividends
Gift
Maturity/surrender of life policy
Other income sources
Press the SUBMIT button to proceed.
Congratulations! Your application is successful.  For future reference, save or copy your Pag-IBIG MP2 account number.
Print the filled-out application form, sign it, and present it to the Pag-IBIG Fund branch nearest you. Provide a valid ID as well as your nominated bank account's ATM card or passbook (this is where your dividends will be deposited).
After that, you can begin paying your MP2 contributions at any approved collecting partner or at the Pag-IBIG office.
Where can I pay my contributions to the Pag-IBIG MP2 Savings Program?
You can deposit your funds at your nearest Pag-IBIG office or through Pag-IBIG approved collection partners including:
Bayad Center
M Lhuillier
SM Business Center or ECPay
For members abroad, you may pay through collecting agents and overseas remittance partners including:
Philippine National Bank (PNB)
Asia United Bank
CashPinas
I-Remitan
Ventaja
Paying your Pag-IBIG MP2 savings contributions online is also an option, using GCash, PayMaya, Coins.ph, and other online payment platforms.
You can check your contribution online after paying them using the Virtual Pag-IBIG website.
Employed people can also have their MP2 contributions deducted from their pay. To do so, the member must fill out the application form with his or her employer's firm name and address.
What is the recommended amount to invest?
You can invest in Pag-IBIG MP2 as much as you want. You can invest as little as P500 (the minimum) or huge as P1 million (or even more).
For amounts greater than 500,000, a personal or manager's check is required instead of cash.
Keep in mind that the more you save, the more you will earn.
When will I get my dividends?
You have the option of receiving your dividends annually or when the 5-year maturity term has ended.
Annual dividends will be deposited into Pag-IBIG-accredited savings or checking accounts, such as Land Bank of the Philippines or Development Bank of the Philippines. OFWs will get their Pag-IBIG MP2 payouts by check if they do not have a bank account in the Philippines.
After the 5-year maturity term, compound dividends can be claimed at any time. Based on the Pag-IBIG regular savings rates, unclaimed MP2 deposits will continue to generate dividends for another two years. Your funds will no longer produce dividends after the extended two-year period and must be claimed as soon as feasible.
Once your old MP2 savings account matures, you are free to reapply for a new Pag-IBIG MP2 savings account. Keep in mind that you can have many savings accounts.
Can I withdraw my savings before maturity?
Within the 5-year lock-in period, you may withdraw your Pag-IBIG MP2 savings at any time. However, you will only receive half (50%) of the entire income earned in addition to your total savings. Members who choose annual payouts will get only their entire funds and will not earn any dividends.
Read: How to Withdraw Pag-IBIG Fund Contributions
Total disability, insanity, death, health-related work separation, retirement, unemployment due to job layoffs or company closure, critical illness, permanent departure from the country, OFW repatriation, and other Pag-IBIG Fund-approved reasons are considered. Members who withdraw their savings for the reasons stated above will get their whole savings as well as any dividends earned up to the time of withdrawal.
How much will I earn from Pag-IBIG MP2?
The performance of Pag-IBIG MP2 will determine your earnings. Check the tables below for a sample calculation of your dividends based on a five-year average rate of 7.10 percent. Please keep in mind that past performance does not guarantee future results.
How can I compute the Pag-IBIG MP2 dividends?
To compute your Pag-IBIG MP2 dividends use the formula below as your reference.
Cumulative Savings x Dividend Rate ÷ 12 = Monthly Dividend
Remember that the dividend rate in this formula must be in decimal form. For instance, 7.10% is 0.0710.
If you save ₱1,000 at a dividend rate of 7.10%, your monthly dividend is ₱5.92 (rounded off). The computation is: 1,000 multiplied by 0.0710 and divided by 12 equals 5.92.
Then if you save ₱1,000 the next month, your cumulative or accumulated savings is now ₱2,000 (1,000 + 1,000). Using the formula, your monthly dividend is 19.28. The computation is 2,000 x 0.0710 ÷ 12 = 11.83.
If you choose an annual dividend payout, your dividend will be paid out once a year, with only your accrued savings rolling over to the next year.
If you choose compounded dividends, the annual payout will be added to your accumulated or cumulative savings at the end of the year, and the total amount (savings + dividend) will roll over and earn dividends the following year.
For example, if your total savings for the year are P12,000 and the yearly dividend is P461.50, the total amount will roll over to the next year as P12,461.50. You can then use this amount as the foundation for calculating dividends for the next year.