Since Lazada's arrival in the Philippines back in 2014, Lazada has been consistent in providing excellent retail services to people—they don't have a physical store, take note. The best thing that most Filipinos loved about Lazada is the fact that people can do window shopping without having to go to a mall—it's just there in one website!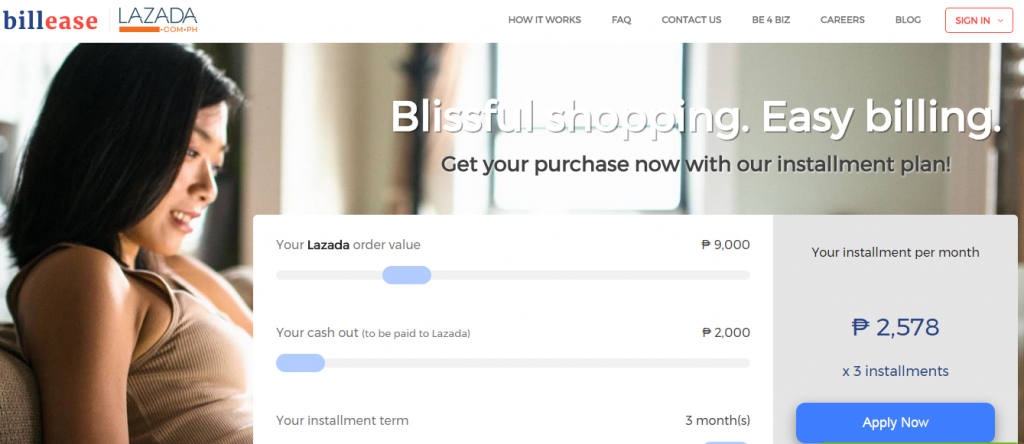 A lot of things and promos have been introduced and one of the most unnoticed would be BillEase. BillEase might just be the thing you are looking for so read on.
Read: Lazada Contact Number: Alternative way to reach Lazada easily
In this article, we will be telling you what BillEase is, how it works, and how you can register. We'll also give you a couple of tips that you can do for you to be able to maximize it.
What is BillEase?
BillEase is actually one of the newest shopping partners of Lazada PH. It is a free service that can be used online. It's hassle-free and it is actually what Lazada allows as an installment payment option for your shopping.
BillEase is what you need in the event that you want to purchase something in installments but you do not have a credit card. Yes, if you have BillEase, you can make a purchase of your favorite items and brands in Lazada—even if you don't have a debt comaker or a credit card!
What can I use BillEase for?
As mentioned above, BillEase is what you can use if you want to get an installment plan in any Lazada product if you don't have a credit card.
For instance, if you want to purchase a smartphone and the specific smartphone accepts installment plans, you can use your BillEase account if you don't have a credit card or if you don't want to use it.
How do I register or apply?
Registering or applying to BillEase is actually easy. You just have to follow these easy steps:
Step 1: Duly accomplish the application form
Before you can enjoy the benefits and privileges of BillEase, you have to ensure that you are registered—by registering, you would also have to submit all necessary documents in order for them to evaluate your account.
Read: Where Can You Sell Old Clothes and Other Old and Used Items?
Fill out the BillEase application form. It will only ask you of three (3) things:
Your Lazada order value (what you plan on purchasing/ why you are applying for BillEase)
What your cash out amount is (the amount you will be paying to Lazada); and
Your installment term.
Click here to be redirected to that specific page.
Once done, it will ask you for your personal information that would include your full name, date of birth,gender, and so on. BillEase will send you an email confirmation to continue with the application.
NOTE: You can submit clear copies of the following: proof of income, valid government ID, proof of billing.
Step 2: Wait for BillEase's decision
We cannot forecast whether or not BillEase will be accepting your application. So, in this regard, you have to wait if they will accept your application or not. After you've submitted all necessary documentation, wait for them to validate the information you've given them.
Step 3: Top-Up of Lazada Wallet
Congratulations! Your application has been approved and now, you already have a credit limit. A credit limit in Lazada is considered to be the maximum amount that an individual can loan.
Read: Top 5 Smartphone In The Philippines Under 10k
For instance, if you have a credit limit of P5,000.00, you can loan that amount from BillEase without any further ado!
But what if I want to purchase something higher than that amount?
In the event that you need or want to purchase something worth more than your credit limit, you can pay for the excess amount via Cash on Delivery (COD). Whatever your credit limit is with BillEase, you can save it up from them.
Requesting for a Lazada voucher isn't rocket science. First step is to make sure you were able to activate your Lazada Wallet. Once you've done so, login to your BillEase account.
Read: Pros and Cons of having Credit Cards
Click on My Account and click on the Claim Now button. You would need to wait for at least one (1) banking day before your Lazada Wallet Top-Up gets activated.
Step 4: Use it for your checkout!
Once you've done all the necessary steps, you're ready to shop! Whichever item you plan on buying, in the payment options, select the payment option of Lazada Wallet  as your preferred payment option and place your order.
As mentioned above, if the amount exceeds the amount of your loan, you can pay for it via COD. Alternatively, you can add more funds on your Lazada Wallet via Banco De Oro (BDO), Bank of the Philippine Islands (BPI), Metrobank, and 7-Eleven outlets.
Do you have more questions on different things about BillEase? Don't worry, we've got you covered! BillEase has a Frequently Asked Questions (FAQs) page. If you have any questions about their services, you can refer to that page!
Why should you apply for BillEase?
BillEase is made and is meant for people who are frequent Lazada shoppers. It will be effective and efficient especially to clients who were able to see an item in Lazada that is quite high in price—but an installment plan is available.
Well, having they can use BillEase for them to have an independent payment option instead of utilizing a credit card for their purchase—it's easy, fast, and hassle-free!
Read: Credit Card Application Tips And Techniques For Higher Chances Of Approval
So, for instance, you saw a smartphone you want to purchase in Lazada and the manufacturer or the seller/dealer is accepting installment plans and you don't have a credit card, you should apply for BillEase.
BillEase boasts of their 1-day approval. As a matter of fact, they approve applications a few minutes after the initial application. Sometimes, it's a maximum of one (1) banking day of approval. The transfer of funds, however, is a different thing so don't include that in the counting.
BillEase contact
If you have questions, you can contact them by dialing their hotline at (02) 320-3052. Alternatively, you can shoot them an email at [email protected].
What are you waiting for? Register and apply for a BillEase account now and enjoy the privileges of using a Lazada Wallet via BillEase versus credit cards and raw cash for your Lazada purchases! This is just one of the few ways Lazada helps people who are in dire need of it.