Facebook has been one of the most popular applications and social media networks there ever is. Because it is a tool that most people use for communication, it also went on to evolve to become one of the online platforms where people can read the news, know what's trending, and the like.
So, it's quite easy to conclude that even yourself spend minutes to hours a day just on Facebook. With its updates, new features, and trendy topics, we can't deny the fact that it's a necessity for most of us.
Read: You Can Now Reply to Specific Messages in Facebook Messenger
Have you ever asked yourself how much time you spend on Facebook? If yes and if you are in denial—whether or not you spend hours in a day, the tech-giant recently launched a new tool or feature that would allow users to see how much time they really spend on Facebook.
How does the Time Spent on Facebook work?
This feature is called the Your Time on Facebook feature and it adds up the data they've gotten when you're on your smartphone browsing the Facebook application. It's basing the data on the usage you have incurred and you are incurring through your Facebook app.
It's a very healthy feature because once you notice that you are spending more time on the app than the usual, you might want to cut back on your usage. To add to that, this doesn't include regular browser usage so those won't count.
Facebook is really becoming an all-in-one application because both Apple and Google launched programs that will try to summarize the time you spend using applications. Although these are not centered to Facebook, these apps will help you in knowing the time you've spent under these apps.
Digital Wellbeing is an Android application that focuses on letting you see what your digital habits are. In addition to that, the app will help you see how you are using different applications on a daily basis.
Read: The Newest Facebook Feature, Facebook Dating Launches in the Philippines
Screen Time, on the other hand, is the counterpart of Digital Wellbeing in the iOS platform. It was launched back in iOS 12 in September of last year and has and is still being a legitimate helper of iOS users. It's not an application—it is a built-in feature if you have updated to the latest OS.
Advantages of the Time Spent on Facebook feature
Its main and only advantage is that you will see how much time you have spent on the application. This will help you control how much you use Facebook, how much time you look at it, and the like.
Should you need it for work purposes or for more important measures like marketing, endorsing, sponsoring, etc., you can use it for you to somehow measure the data or the productivity of your operations.
How or where can I see the Time I have spent on Facebook?
Firstly, you have to download the latest Facebook version either from the iTunes App store or the Google Play Store.
Open the Facebook app, make sure that your account is logged-in. You have to ensure it's yours because there can be multiple accounts saved in one device.
Tap on the menu button or the three-horizontal line button at the top-right part of your screen.
From there, you would have to scroll down and tap on "Settings and Privacy."
It will open a dropdown menu and select "Your Time on Facebook."
Read: Hiding Your Last "Active Time" On Facebook
It might load for a few minutes, don't be agitated—it's normal because Facebook is trying to calculate the time you have spent. Once they're able to do appropriate calculations, you will see a screen like this.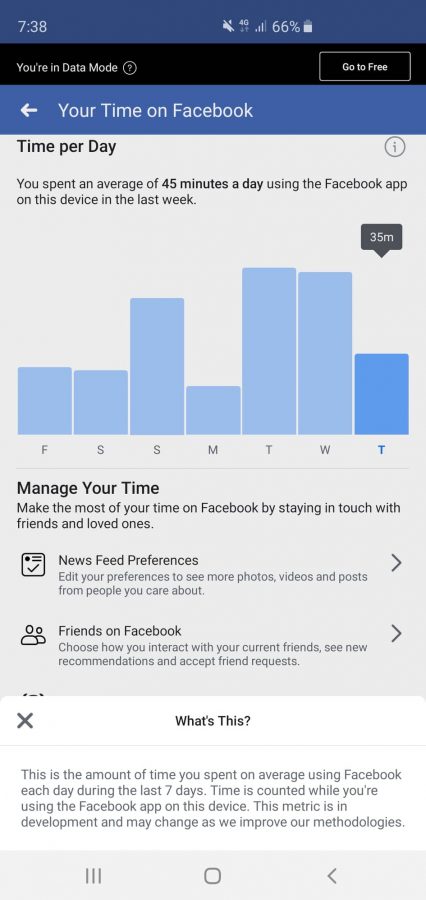 As you can see above, the graph says that the time spent on Facebook this week per day was 45 minutes per day. It's quite low and minimal compared to other people. It shows you the data for the past week so don't be confused.
Read: The Newest Facebook Feature, Facebook Dating Launches in the Philippines
Other options you can do in this category is to check and manage your news feed preferences, find friends on Facebook, and to set a daily time reminder.
The Set Daily Time Reminder is a perfect ingredient in controlling Facebook usage. It will tell you and send an alert when you've reached the supposed time you chose.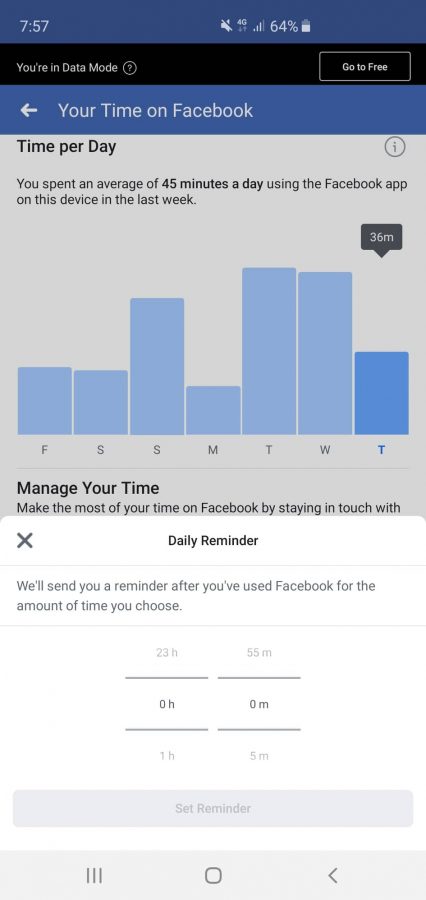 What do you think about you knowing your actual Time Spent on Facebook? Do you think that this is an important feature in controlling how the Facebook application is used?
Read: How to Hide Location on your posts on Facebook
What's your usage? Check it from your app now! Download the latest app version and enjoy seeing how much you've used.