Every seen that circular thing in cashiers of Jollibee food chains? Yes, that object which shines a bright blue light? That thing, apparently, is like the POS of the HappyPlus card. In this article, we will be discussing what HappyPlus is and how you can use it for your benefit.
What is HappyPlus?
HappyPlus is Jollibee Foods Corporation's (JFC's) loyalty program made to serve customers who often come in stores to eat. Moreover, it's a program wherein you can be a part of to avail many discounts and freebies. Just like any other loyalty program, the HappyPlus program allows you to earn points which you can use at any JFC chains here in our country.
To add to that, these points can be used as currency to whichever HappyPlus affiliated branch you choose. You can also use it to pay cashless at these chains and to have more security in terms of eating at these branches because you won't have to bring any cash.
I'm interested. How can I buy a HappyPlus card? How can I be a member?
You can register to be a member through their website at www.happyplus.com. Alternatively, you can visit any JFC branch and purchase a card through there at the price of Php100.00 only. If you're to signup through the branches, you would have to fill out the application form and pay the necessary Php100.00 fee for the card. If you register through the website, however, you can claim your card and pay the fees on your visit.
What does the HappyPlus card do?
Naturally, the card can be a substitute of cash with every transaction. As a matter of fact, the JFC encourages all people who regularly eat at their chains to secure a card and an account. Why? Because there are a lot of discounts and freebies you can get if you have an account and if you visit Jollibee, Red Ribbon, Greenwich, and Red Ribbon branches.
Read: Shakey's Delivery Menu: Promos and Discounts
One of which is that you can earn points. For every Php50.00 worth of purchase, you earn one (1) point which is equivalent to Php1.00.
NOTE: You need to have the card physically if you want to earn points. There's a strict policy of no card = no point so for you not to waste points, ensure that you always have your card with you.
In addition to that, you can also participate in monthly raffles and draws held by the JFC. In order to participate, you need to have your account registered. Having that said, if you have a HappyPlus card, don't miss to check if you have an online account because raffle entries are automatically loaded to your account when you reload it.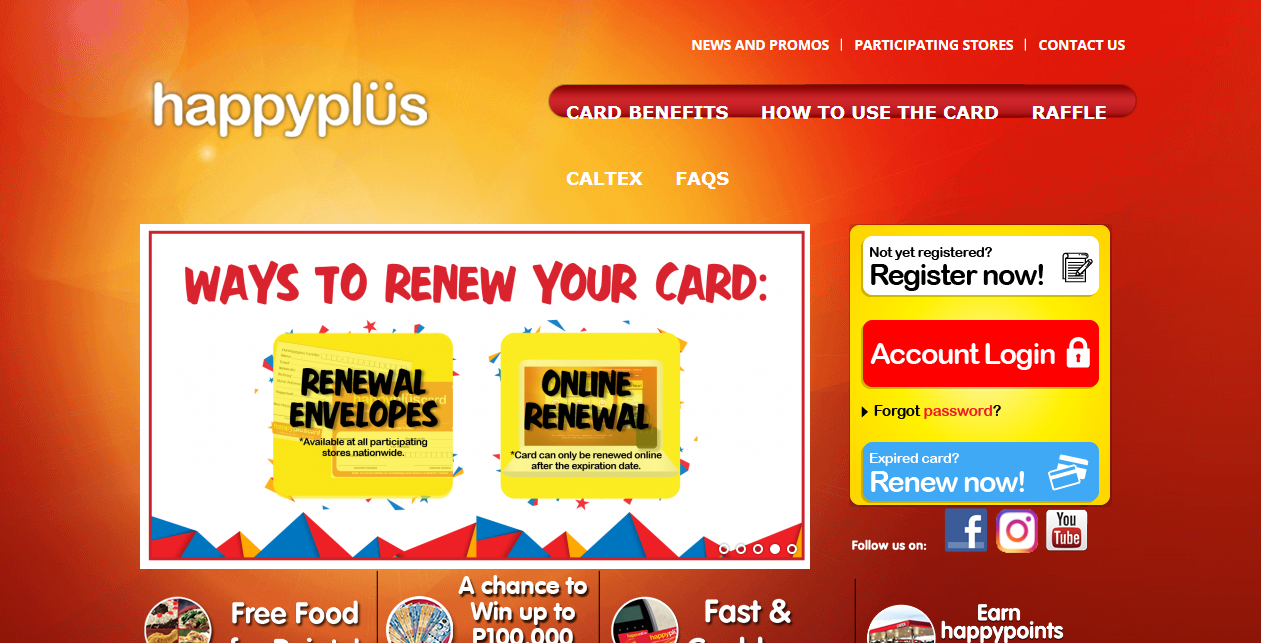 It has a 3-year validity which you can renew by requesting for a renewal envelope/slip or through the HappyPlus website.
Senior citizens and PWDs can still avail of discounts even if they'll use their HappyPlus cards. Since the transactions are treated good as cash, they can still avail of promos and discounts; even those promo papers they give out.
So I have a sufficient amount of points (pesos) in my card/account… how do I redeem these?
Redeeming is actually using your points to buy food from any JFC affiliated outlets. If you're looking to utilize your points, just proceed to make your order and advise the cashier that you'll be utilizing HappyPlus points for your purchase.
Read: Jollibee Online Delivery: Step-by-step How to Order Online
If you're unsure of your balance or points in your HappyPlus account, you can actually check how much points you have, just tap your card to the POS' or the readers and it will display how much balance you have left. Moreover, if you use your HappyPlus card for your purchases, the receipt of your transaction will show how much points you've collected or how much is left.
Can't go to physical stores to check? Do you prefer checking everything online? No worries because once you have an online account at www.happyplus.com, you'll be able to:
Check your points
Manage it
View rewards, discounts, and raffles
This is why it is imperative to have an online account for you to remotely access what you have without having to go to physical stores just to check on your balance.
Losing your Happyplus card
If you lose your Happyplus card, all points will be lost because it's treated good as cash. As a matter of fact, even if you have an online account, you won't be able to transfer the points from the lost one to a new one. If it is damaged, however, and is proven to be a defect, surrender the card to any JFC affiliated cashier and they'll replace it with a new one. If it's proven to be a fruit of mishandling by the customer, there'll be a Php100.00 fine to replace the card.
Checking would be a maximum of fifteen (15) days whether it's a defect or if it's human error.
How much can I reload my HappyPlus card?
It is totally understandable that using the HappyPlus program is safer. However, the maximum reload is at Php10, 000.00 only. The reason for this is because in the event that the card is lost, customers won't feel like they've lost a fortune. The minimum reload is Php100.00.
Having that said, you won't be able to use the cad for deposits for events reservations and such. It can, however, be a payment completion for party reservations, meeting events, etc.
Can I use my HappyPlus card if I want a delivery?
Definitely! You can use your HappyPlus card points if you want a delivery. You can dial the hotline of both Jollibee and Greenwich and use your HappyPlus card to pay for those.
NOTE: You cannot gain HappyPlus points and you cannot use coupons for these because you need to be in a physical store to have access to these.
What advantages do I get in loading my HappyPlus card?
Besides the fact that you can enjoy cardless transactions, you get to have more raffle entries. Meaning, more chances of winning for you every single month! It's not just about the security you gain by using the cashless system, it's also a way for you to avail discounts, coupons, rewards, and raffle entries.
Read: McDo Delivery: A Step-by-step guide how to order in McDonald's Online
If you have inquiries and concerns about the rewards you can get, refer to rewards page on their website by clicking this link.
Now that you know how you can take advantage of the HappyPlus program, what are you waiting for? Are you a repeating customer of Jollibee, Greenwich, Chowking, or Red Ribbon? Do you frequently spend a lot of your food allowance on any JFC chains? If your answer is yes and you're still not a part of the HappyPlus program, you're missing a terrible amount of chance to win raffles and to avail discounts, coupons, and promos!