Competition of one product or company will benefit the consumers, the more the competition the lower the price. This is the reason why telcos in the Philippines have always promos to their subscribers.
Smart, Globe and Sun Cellular have same strategy to make their subscribers stay with them. By giving their subscribers discount when availing the promos they are offering.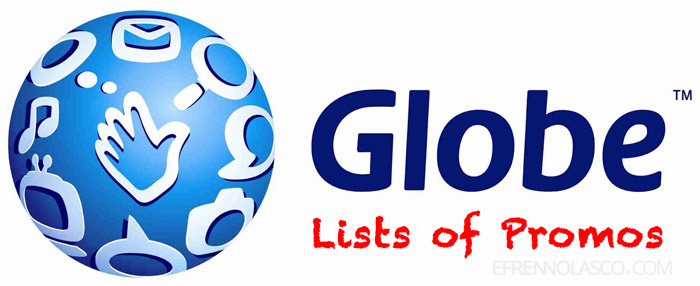 In this article I will list down some globe promos that you can avail as prepaid or postpaid subscribers. To get the updated promos from globe you can visit their website. Here is the list of Globe promos.
How to avail Smart Internet Promo
List of Talk N Text Promo
List of Sun Cellular Promo
List of TM Promo
For Prepaid Subscribers
Call Promos
My Duo – There are two types you can choose from, this promo, the Duo and Super Duo.
Duo/MyDuo allows you to make unlimited calls to any Duo/MyDuo number, Globe Landline nationwide, and selected landlines for only P450 for 30 days! If you're a Prepaid subscriber, you have the option of getting it for only 14 days and you only pay P350.
SuperDuo/MySuperDuo,  is Globe Duo plus unlimited calls to Globe/TM. That's P599 for 30 days. The service will be charged on top of your plan if you are a postpaid subscriber and no lock-up period applies.
To avail this promo you can visit the nearest Globe business center or you register via SMS by texting a keyword to 8888. Keyword are different depending on your location.
Be sure that you have enough load before registering the service if you are prepaid subscriber.
Tawag 236 – Tawag 236 is a call promo from Globe where you can talk to your family and friends longer with the special rate of 20 Pesos for 20 minutes Globe to Globe and Globe to TM call.
To avail this promo, it's easy and simple you don't need to register, just replace the 0 with 236 in the number that you are calling, e.g. the number that you want to call 0917-7654321 you will dial 2369177654321.
Text Promos
SuperAllTxt20 – SuperAllTxt20 makes your 20 pesos 250 SMS to any network plus 10 minute call to Globe and TM subscribers for 1 day.
To register to this globe text promo just text ATXTPLUS20 and send it to 8888. Before registering, make sure that you have at least 21 pesos in your balance, 20 pesos will automatically deducted and 1 peso maintaining balance to enjoy the promo.
Super Combo 20 – In this promo you can send unlimited SMS and 50 minutes of call to Globe and TM subscribers
To register, text COMBO20 to 8888, this will cost you 20 pesos plus a 1 peso maintaining balance total of 21 pesos.
Sulitxt – This promo is available for prepaid and postpaid subscriber. Prepaid subscribers can send 100 SMS to Globe and TM subscribers for 15 pesos only in one whole day. If you  are postpaid subscriber 15 pesos will charge separately on your monthly bill.
To register text SULITXT 15 to 8888, one peso maintaining balance for prepaid subscribers is required.
Supertxt – The SUPERTXT promo lets you send unlimited text messages to other Globe/TM users for 30 days.
Unlitxt All Day – In this promo you can send unlimited text message to Globe and TM subscribers in one day. There are 3 variations in this promo.
UNLITXT20 for one day, it will cost 20 pesos, UNLITXT40 for 2 days, cost is 40 pesos and UNLITXT80 for 5 days and cost 80 pesos.
To register in this promo text UNLITXT20 or UNLITXT40 or UNLITXT80 to 8888. Make sure that you have enough amount in your balance before availing the promo.
ITxtAll30 – This is an international and local text promo for Globe postpaid and prepaid subscribers. In this promo subscriber in the Philippines allows to make a combination of 100 local or international text messages for only 30 pesos in 1 day. However, this is only limited to more than 50 countries, to see the list of countries visit this page.
For complete list of Globe prepaid promos including the Combo and Internet promos please visit the official Globe prepaid promo page.
For Postpaid Subscribers
For Globe postpaid subscribers, call and text promos are almost similar to Prepaid subscribers. For more detailed instructions about globe postpaid promos, visit this page.