Filipinos are big fans of promo specially when it comes to mobile internet. Smart, one of the leading networks in the Philippines are always make their subscriber happy and stay connected by giving them a regular internet promo.
READ ALSO
List of Talk N Text Promo
List of Globe Promo
List of Sun Cellular Promo
List of TM Promo
To make it easy for you to avail the promo, I've listed down some of the offer currently offering by Smart. This promo may not last long, so please visit their website for updated promo.
FB2 Unlimited Facebook

For only 2 Pesos you can like, share, comment or post using mobile for one day. But before you can avail this promo it is required to avail first any smart prepaid promo e.g. (UNLI25, UNLI30 or UNLI50) to make this FB2 Unlimited Facebook work. Basically, it's not only 2 pesos, you need at least 30 pesos to avail. Two pesos are only marketing strategy to make it look cheap.

To avail follow these steps;
Register to any Smart prepaid promo e.g. (text UNLI25, UNLI30 or UNLI50 to 6406)
Register to FB2 text FB2 to 6406
Wait for the confirmation message for your subscription
You can now enjoy unlimited Facebook for the next 24 hours.
Reminder while enrolled in FB2, make sure that you don't watch videos hosted outside Facebook, example if your friend  posted a video from YouTube on your timeline and you play the video it will cost you 5 pesos per 15 mins if I'm not mistaken.
---
Nokia Express Browser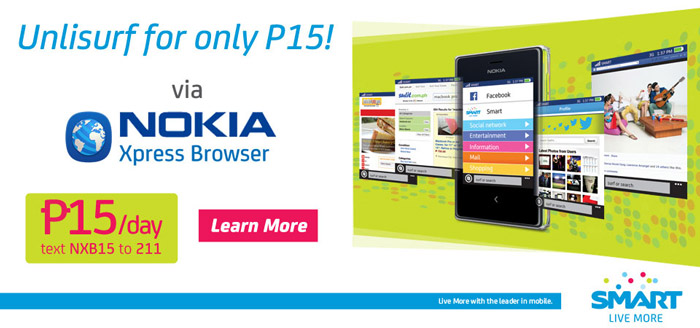 This promo is exclusively for Nokia Xpress browser only, it's the most affordable unlimited mobile website access. Using Nokia Xpress browser you can visit all websites in a whole day for only 15 Pesos. 
The Nokia Xpress browser is available on all Nokia Symbian s40 handsets and may be downloaded for Nokia Windows OS users in the Nokia Store.
To avail this promo use this text this keyword to 211
NXB 15 for 1 day, price 15 pesos
NXB 80 for one week, price 80 pesos
NXB 160 for 15 days, price 160 pesos
NXB 299 for 30 days, price 299 pesos
Nokia phone supported are; Series 100, Series 200, Series 300, Asha Series 200, X Series, Asha Series 300, Asha Series 500 and the C Series.
---
LTE Data Offers

LTE is the acronym of Long Term Evolution also knows as 4G network, which users of the LTE network should see data speeds that are up to 10 times faster than the current 3G network.
Availing LTE Data Offers of smart network will enjoy blazing LTE speed on your prepaid phone.To avail or register in this promo text the keyword below to 2200.
LTE 50 for 1 day unlimited browsing on 3G LTE network
LTE 299 for 7 days unlimited browsing on 3G LTE network
LTE 995 for 30 days unlimited browsing on 3G LTE network