There would be instances where you would not keep track of every ID or license that you have and that leads to you losing an ID or two. In this article, we are going to instruct you on the steps you need to take in order to have your Professional Regulation Commission (PRC) ID renewed if it expired or to be duplicated if it got lost or stolen. If you are worrying on how you can get a hold of one again, fret no more because I am telling you now that it is less of a hassle than you think and it is a lot cheaper than you can imagine.
Before delving deeper inside the topic, what is the PRC ID? The PRC ID or license is the official proof of a new professional who passed the licensure examination. This ID is also considered to be one of the most valid IDs in the country – this is like having the driver's license but in a different field of professionalism.
Read: How to renew PRC License
So what are the things or the requirements I need to complete before I can file for a renewal or a duplicate of an expired, lost, or stolen PRC ID?
Notarized Affidavit of loss (if lost)
Passport sized photo with white background; collared shirt
250 pesos for duplicate (if lost)
Original PRC ID (if renewal)
Now that you know the things you need to bring in order to push through with the renewal or duplication of your PRC ID, what you need to be aware of now is the procedure on how you can successfully finish this task.
So here is how you can have your PRC ID renewed or duplicated:
Before going to PRC make sure to have an appointment first. Go to PRC website (https://online.prc.gov.ph/) then register. Complete all the data, you cannot make any transactions without completing your personal data (with picture).
After you register and completed all the required information, click the "SELECT TRANSACTION" on the upper right corner of the page, then on the popup window select duplicate if your ID was stolen or renew if you want to renew your ID.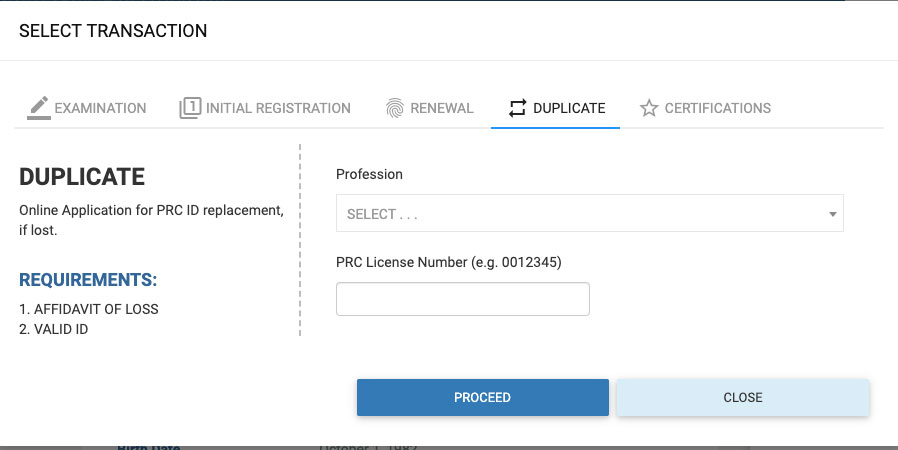 Enter all the necessary information needed then proceed to make an appointment. When you have the appointment date, you can follow these steps when you arrive at the PRC office. This may differ depending on the office.
1. After entering the office, be sure to go to window 17 firsthand in order for you to inform the officer/staff there what your purpose is.
2. You will then provide the officer with information (with affidavit of loss if for duplication).
3. Be patient because you will have to wait for your name to be called for you to fill up the renewal/duplication form.
4. After duly accomplishing the form, line up to the payment booth to settle your payments.
5. After paying, you will then receive the receipt and another part of the form that you will have to submit to a different window.
6. Proceed to window 15; patiently wait there for your name to be called.
7. Show the officer your receipt and the other part of the form in order for them to approve it.
8. You will receive your ID on the day of application with the word "DUPLICATE" on the ID.
As you can see, it is not as hard as you think. The only problem I think with this is long lines and long waiting times because of the volume of people coming in negatively complemented by the not-so-big spaces of the office. Nevertheless, this is how you can successfully renew or duplicate your PRC ID.
Read Also: How to get new Postal ID