A no-brainer: A peanut butter is a food paste or spread made from ground-dry, roasted peanuts. It often contains supplementary ingredients that adjust the taste or texture; such as salt, sweeteners, or emulsifiers. Every children knows the feat; peanut butter is and will always be a good eat.
It's popular in many countries. In addition to that, it is well loved by a lot of children and adults. The target audience ranges from children to young adults, even adults!
How do we Filipinos prepare peanut butter?
Most of us are creative and we think of ways on how we can make peanut butter a good meal. For most, peanut butter is spread on the bread; even in toast, crackers, and sandwiches. Filipinos however, tend to consume it in a lot of ways. One would be eating it directly, adding it as an ingredient in some of the "merienda" recipes, or plainly smothering it on a loaf bread to add taste.  It may be a morning, afternoon, midnight snack, or sometimes right after meals.
Read: Starting a Concessionaire (Karinderya)
Nutritional facts and values of peanut butter
Peanut butter is packed with nutrition. In 100 grams, smooth peanut butter supplies 588 calories. It comprises 50% fat and 25% protein. Additionally, it's a rich source of dietary fiber with 20% or more of the Daily Value (DV) and 2% water. A serving of peanut butter has 3 mg of the powerful antioxidant vitamin E, 49 mg of bone-building magnesium, 208 mg of muscle-friendly potassium, and 0.17 mg of immunity-boosting vitamin B6.
It is also rich in pantothenic acid and niacin. Furthermore, high in content are the dietary minerals phosphorus, zinc, and copper. Peanut butter is a moderate source of thiamin and iron.
Both crunchy/chunky and smooth peanut butter are sources of saturated and monounsaturated fats; mainly oleic acid as 47% of total fat, and polyunsaturated fat (28% of total fat), primarily as linoleic acid).
Research shows that eating peanuts can decrease your risk of heart diseases, diabetes, and other chronic health conditions. One study published in the Journal of the American Medical Association found that consuming 1 ounce of nuts or peanut butter (about 2 tablespoons) at least 5 days a week can lower the risk of developing diabetes by almost 30%.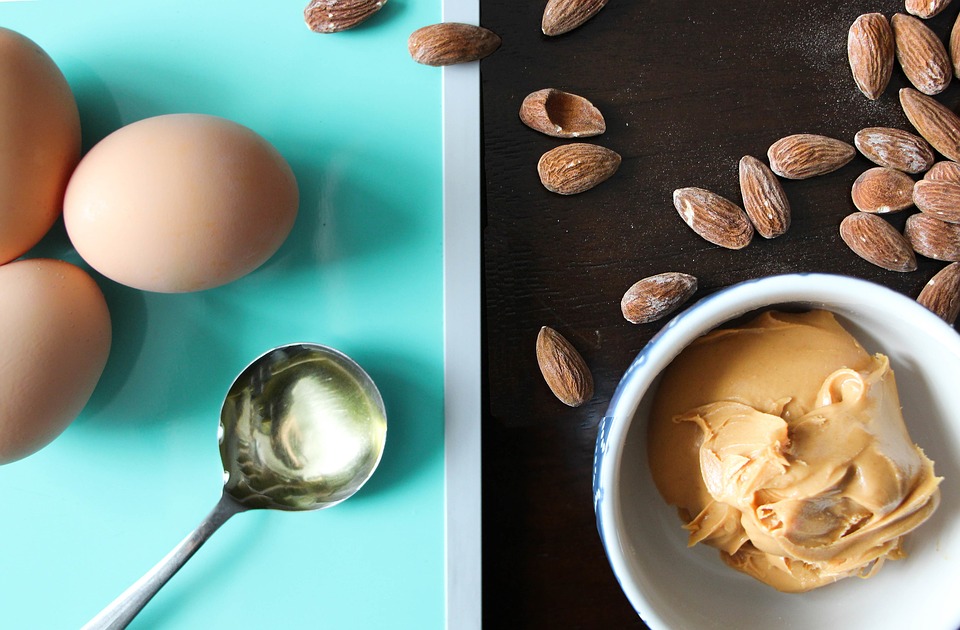 Peanut butter helps lose weight
Calling peanut butter a diet food, with 180 to 210 calories per serving, may seem counter-intuitive. But it has the combination of fiber (2 g per serving) and protein (8 g per serving) that fills you up and keeps you feeling full longer. Thus, making you eat less overall. Plus, there's nothing more indulgent than licking peanut butter off a spoon–and indulgence (in moderation) helps dieters fight cravings and stay on track.
It contains the "Good Fat"
Peanut butter is chock-full of heart-healthy monounsaturated fat. A recent study found that insulin-resistant adults who ate a diet high in monos had less belly fat than people who ate more carbohydrates or saturated fat.
But there are people who are allergic to peanut butter
For people with peanut allergy, peanut butter can cause a variety of possible allergic reactions; this includes life-threatening anaphylaxis. This potential effect has led to banning peanut butter, among other common foods, in some schools.
And, as an ingredient
Peanut butter is included as an ingredient in many recipes: peanut butter and jelly sandwiches, peanut butter cookies, and candies where peanut is the main flavor, such as various peanut butter and chocolate treats. Not only that, peanut butter can make a great sauce! Have you ever tried Hong Kong Style Fried Noodles? Yup, there's peanut butter sauce.
Let's cut to the chase, the title says Peanut Butter Business…
The peanut butter snack production magnetizes a billion dollar proceeds worldwide. There is huge potential for local markets and exportation. Moreover, there are many major branded competitors producing peanut butter. However, the distinctiveness of your product should carve a niche and attract huge patronage.
This business competes with other snacks in relation to sales and production. Meeting the demand requires an effective marketing strategy and sales outlets. The good thing about this is you can easily and inexpensively make it in your own kitchen. If you are desperately thinking what business to put up, then this might be one for you. Why not? Inexpensive, easy, crowd favorite; you can produce in under 20 minutes.
Read: 21 Home-based Business that Filipinos can do
Here are the ingredients in making your own special peanut butter:
Of course, the amount of the peanut butter will vary on the ingredients you are to get. In this case, you'll be using 1 kg of peanuts so, more or less, you'll be getting somewhere around the same amount.
1 kg. Peanuts
225 g. Butter
½ L Cooking Oil
1 tsp. Salt
1 ½  cup brown sugar/honey
Small, medium or large container
Container seal
Food blender/grinder
Now, here are the steps on how you can make and prepare your special peanut butter!
Step 1: On the pan, heat the cooking oil and then put the peanuts and fry in medium heat for approximately 6 to 8 minutes; wobble them every interval of 2 or 3 minutes to make sure it won't burn; toss it around. Add a little bit of salt in this process.
Step 2: Then, remove the peanuts from the pan after frying. Allow it to cool for few minutes to avoid unwanted crushing and debris.
Step 3: After cooling the peanuts, gently pour the peanuts into the food processor or blender. Then, add butter and sugar or honey.
Step 4: Allow it to grind for 2 – 3 minutes or until the peanuts are throughly crushed. The time will be dependent on how the peanuts will look like. If you don't have your own food processor or blender, you may grind your peanuts in markets; it will cost you only Php20 – Php30.
Step 5: Add about one to two tablespoons of cooking oil in small amounts and regrind or blend the mixture until the peanut butter is the familiar paste consistency. You can have creamy peanut butter by grinding the peanut very finely or chunky peanut butter by adding large pieces of peanut after grinding. In this step, it is your decision ; whether you want to make it creamy or chunky, it's your call.
Step 6: Put the peanut butter in a container and seal. You can put label or name of your product for branding so customers will recognize it.
NOTE: Sealing the product is as important as keeping it clean. You should be wary that all of your products are carefully and properly sealed.
Aside from being a delicious snack loaded with nutrients, peanut butter has a massive business potential. Though it's not just about making the product, it's also in the execution of your business. Initiating a peanut butter processing factory of course, requires a good business plan.
There are lots of huge competitors in the peanut butter business. Small snack food items are a major attraction to brand manufacturers. The competitive advantage for small manufacturers is closer to the pulse of the customers and quicker delivery. Differentiating your product through branding, unique taste, nutritional values and flavor gives you the advantage.
In order to ensure customers, your peanut butter should feature rich blended ingredients to create unique taste. Remember, it could be spread on bread or be eaten from a jar. So, you should consider the taste if they eat it, add it on their breads, or use it as an ingredient. The rich blend of flavors adds to the uniqueness of the product.
Now, let me give you a quick view of the numbers
You would just be spending less than Php200.00 for a kilo of peanut butter. From there, you can start your own small business retailing business. Why not try it? If you could acquire small suppliers and have your relatives and friends as your buyers, that wouldn't hurt, right?
Try to buy a kilogram of peanuts and all other ingredients. In estimation, you wouldn't go over Php500. 00 to produce your first peanut butter kilogram. Try it first then decide.
In addition to directly selling you product, you can offer sari-sari stores, small groceries, and convenience stores of your product. Although that won't give you a hundred percent ROI, your market will spread and people will be able to know about your product. Always remember that you have to start from the bottom before working your way up.
Read Also: Upgrade Your Small Business Thru DOST SETUP where You Can Loan Up to Php 5M with no Interest