Just recently, the Department of Finance (DoF) announced that there will be a small business wage subsidy (SBWS) program. This program will be sent to people through the Social Security System (SSS) and the eligibility of these are specific.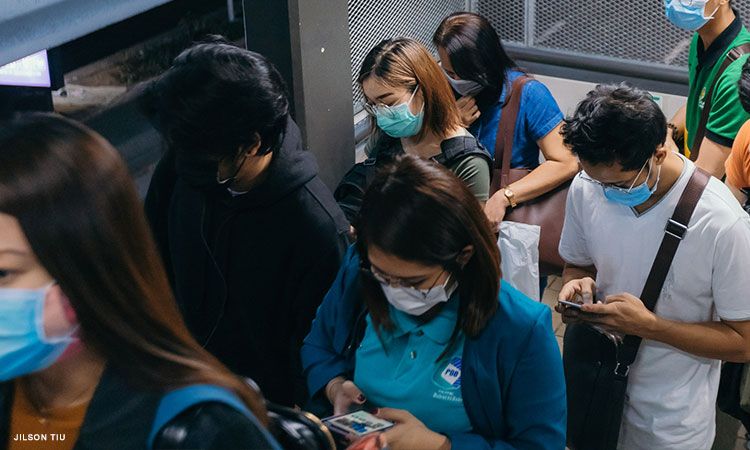 If you want to know more information about it, here's a guide on what you can do to apply:
Read: How to Avail Small Business Wage Subsidy (SBWS) Program
The link above would include the following information:
The documentary requirements needed
Eligibility requirements
The amount; and
Schedule of when it's going to be sent
Modes of Fund Dispersion
The most common type of loan proceeds distribution would be to the bank account for PESONet bank affiliations. However, what's included in the modes are:
Cash pick-up arrangement through remittance companies like MLhuiller
E-wallet like PayMaya
Through SSS UMID Cards that are enrolled as ATMs
Employee's bank account for PESOnet bank affiliations
Union Bank Quick Card (SSS partnership)
Read: P50.8 Billion Wage Subsidy For Middle Class Workers, Approved
I don't have a bank account, what can I do?
As for other options, you can receive it by picking it up from remittance companies. Alternatively, you can also receive it through your e-wallet like PayMaya. By doing so, you don't need to have a bank account to receive the loan proceeds; you can receive your SBWS through PayMaya!
Creating a PayMaya account
Creating an account in PayMaya is rather easy; it would ask you for a few pieces of information. In the event that you don't have a PayMaya account, here's a quick guide on how you can create one:
Read: The SSS COVID-19 Calamity Loan Program to be Launched on the 24th of April
Download the PayMaya application on your smartphone (Android version or iOS version)
Once you've finished downloading, select the app then hit on Register.
Enter all necessary information including:

Your mobile number (you'll receive the confirmation here)
Full name
Complete address
Email address

Double-check all the information you have provided
Hit on Agree when it's finalized
You will be sent a text message or an SMS of the verification code to the mobile number you've registered
Enter the verification code on the app *but when you're using the same number for the app, it's going to be populated automatically
Hit on Proceed 
To get Php50 FREE credit you can use the code 8jbvb3 then tap "Submit Invite Code"
PayMaya verification
That's the first step, however, if you would be using this for receiving your SBWS proceeds, you might need to be completely verified first. To verify:
Read: List of Government Cash Assistance Programs For the COVID-19 Crisis
When you're inside the account, hit on the Menu option; it's MORE for iOS
Hit on the option that says Upgrade for Free 
Populate the empty fields with all the information that is required; make sure that all of the information you've entered is correct so that it reflects the ID you will upload:

Your full name
Date of Birth (DoB)

Upload a photo of a valid government ID;
Take a video clip of you being legitimate (liveness clip)
When you've completed this, you will receive a verification code both through the app and the SMS
Depending on the application status, you might be asked to initiate or to participate in a video call with a representative.
Now that you know how you can create a PayMaya account; here's a guide for you to receive the SBWS through PayMaya.
How to receive the SBWS through PayMaya
Once you have your PayMaya account, log-in to your My.SSS account through SSS.gov.ph
When you're in, hit on the E-Services and click on Bank Enrollment 
If you don't have a bank account, you can enroll your PayMaya account instead; hit on PayMaya as the option and enter your Paymaya registered mobile number
You'll see a prompt telling you that you have successfully added your PayMaya account
An email notification will be sent to you saying that your registration is successful
Read: Pag-IBIG Fund 3-Month Moratorium FAQs: Who Can Get it, How, and Other Questions, Answered
So if you don't have a bank account, don't panic. PayMaya has got you! SSS made it convenient for everybody to the point that approved members will be able to receive their SBWS through PayMaya account.
How much will members get?
As per the guidelines of the SBWS, for each region, there's a specific amount. They are as follows:
National Capital Region (NCR – P8,000
Cordillera Administrative Region (CAR) – P5,500
I – P5,500
II – P5,500
III – P8,000
IV-A – P8,000
IV-B – P5,000
V – P5,000
VI – P6,000
VII – P6,000
VIII – P5,000
IX – P5,000
X – P6,000
XI – P6,000
XII – P5,000
CARAGA – P5,000
Bangsamoro Autonomous Region in Muslim Mindanao (BARMM) – P5,000
Related: Free Electricity for Lifeline Consumers From March Until April
What do you think about the fact that you are actually able to receive your SBWS through PayMaya?