Kentucky Fried Chicken (KFC) is one of the best fast food chains with the best fried chicken recipes in the world. Most kids and even adults love its good and mouth-watering taste. In our country, if you're craving for KFC, you can easily find them in malls or in almost every corner. However, if you don't feel like going out, you can also order through KFC delivery. In this article, we will guide you on how you can have a KFC delivery either through phone or through their website.
KFC delivery over the phone
Let's look at the classic way of delivery. You can have KFC delivered right in front of your door by dialing their hotline. Just dial 887-8888 and you'll be able to speak to an operator. Once you connect to that operator, they will connect you to the nearest KFC location in your area to check if your area is deliverable.
KFC's online delivery
In the event that you do not have a telephone or if you're more comfortable in using the internet to order, you can absolutely order through their online portal. Yes, at this point, KFC offers online delivery. However, you won't be able to have that KFC delivery without having an account. We'll be detailing how you can order online by registering through their site.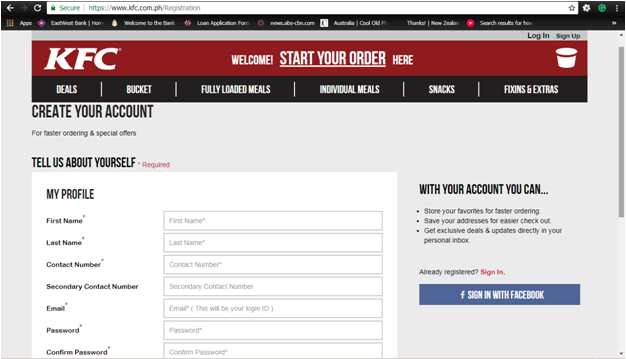 Of course, you need to open their  website at https://www.kfc.com.ph/. Once there, you need to sign-up in order to have the full access of the KFC website. Another option is for you to connect your Facebook account to the KFC website. For me, this is easier because you don't have to input all the required information.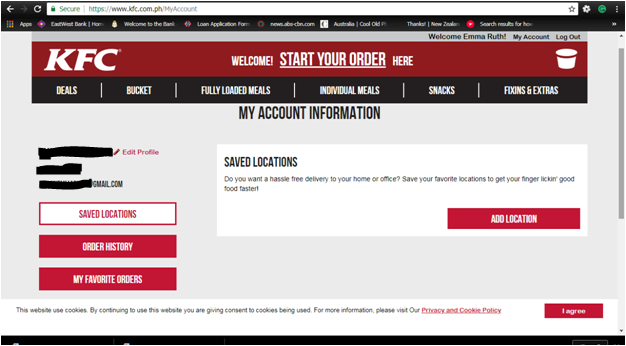 Once you're successfully registered, you can start navigating through the KFC site. You may access your account and see what you can order online. You will notice that hen you start ordering, you have the option to have a delivery or if you want a pickup.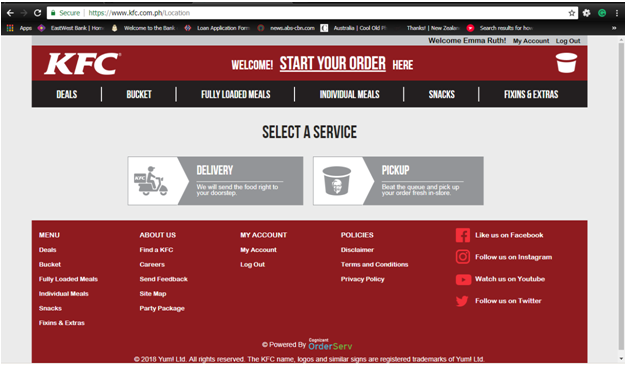 Delivery is the type where they'll send your orders to the address you've put. Pickup on the other hand is when you'll pick up whatever your order is in a store. Pickup is focused on beating the queue in order for you not to wait that long. Both options will ask for your address; delivery, however, will then filter whether your location is eligible for delivery or not. Pickup won't care as long as you select a KFC branch.
When you click current location, a list of KFC stores in your area will be posted and its now up to you what to pick.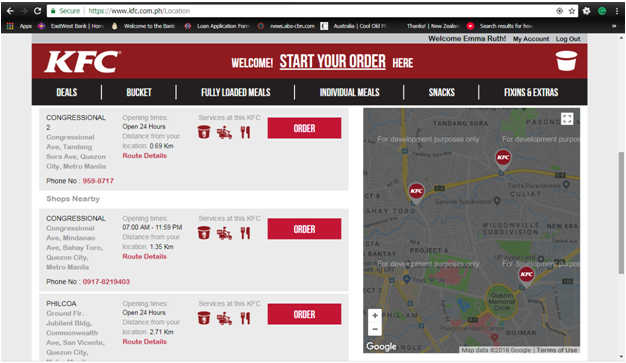 What can you order through KFC delivery?
Although you have many different options or foods to choose from, the delivery category has been filtered enough for you not to go through everything one-by-one. They're filtered in categories of:
Deals
Buckets
Fully loaded meals
Individual meals
Snacks
Fixins & extras
To see the menu for yourself, access their portal through https://www.kfc.com.ph/Menu#!/Deals. Here, you will see the food that they offer and how you can order them.
These are categorized this way in order for it to be easier for people who want to order online. Clicking on an order would allow you to customize it. For example for ordering chicken, it'll ask you if it's spicy or classic.
Other than the food products they offer, the website also gives details about other products and services which are perfect for all occasions. Events and gatherings that would need Corporate Party Packages and Kiddie Party Packages.
You can refer to their website on what these packages offer and what they look like. Click on this link to view different foods and offers they have.
Ordering KFC through FoodPanda?
If you're looking to order food through FoodPanda, then don't have your hopes up. As of the moment, FoodPanda doesn't deliver KFC products here in the Philippines because KFC has both a hotline or an online delivery system. You can utilize any of them if you're looking to order KFC products and have them delivered in your home.
Important reminders about KFC delivery:
The KFC hotline delivery number is 887-8888 and you can call from 9 A.M. until 11 P.M.
Online KFC delivery services are currently available in Metro Manila and selected provincial areas only. The online system is available from 9:00 A.M. to 9:30 P.M. only. (Special delivery schedule available from 11:30 pm to 6:59 am only).
The maximum food purchase is just Php2, 000.00 for both cash and credit card transactions.
Temporary suspensions should be expected in extreme weather conditions. KFC looks to provide the best and the fastest service they can.
If you change your mind and you want to cancel your order, it must be done through the hotline 887-8888 within five (5) minutes of ordering. Even if you ordered through the website, the cancellation should be done through phone.
In the event that there are changes in your order, the quoted time will reset.
The costs for add-ons of Php10 for premium fixins like macaroni, coleslaw, and pies shall be waived for KFC Online delivery transactions
30-minute rule:
So that you know what the rule is and where it applies, we will also give you information about it. You can read about it on the KFC disclaimer part by clicking on this link here.
KFC will guarantee a 30-minutes delivery for a Php40-fixed delivery charge. In the event that the delivery exceeds the 30-minute mark, the customer will receive Php100.00 worth of gift certificate for KFC. The rule is seen as:
30-minute guarantee will start when you successfully checkout or end your order (after the confirmation).
As mentioned above, if you change your order, the order will reset after the confirmation of the changes and modification.
No minimum order amount is required. However, do note that there's a Php40.00 base fee.
It's only for orders within 9:00 A.M. to 9:30 P.M. ONLY
If the delivery is within the vicinity at the 30-minute mark, it's counted. Examples would be building lobbies, subdivision, or village gates.
Selected trade areas nationwide.
For orders above Php2, 000.00 contact 370-1253, not the 887-8888 delivery hotline.
Now that you know how you can order through KFC, what are you waiting for? You also have the option to have it delivered or if you want to pick it up from a physical KFC branch. Having that said, everything is easy for customers for both calling through the hotline or ordering online! With the 30-minute mark, you're sure that the food is still hot when it gets to you. Just be mindful of the weather because as mentioned in the disclaimer, it's dependent on the weather.
Enjoy KFC at the comfort of your own home and do not worry about being hungry ever again.