Online banking has really been the benchmark of technology. From viewing your account, researching detailed history of transactions, to transferring funds, and transacting online. Although banking is not that difficult, the concept of online banking made everything much easier. Speaking about this, we Filipinos are most certainly aware of mobile banking; it's being used by almost everyone. However, there are Filipinos overseas who has bank accounts here in the Philippines. Are they also eligible for this mobile banking as well? In this article, we are going to give you a step-by-step guide on how OFWs can enroll their accounts to BDO Online Banking.
First and foremost, you would need certain requirements in opening an Overseas BDO Online Banking Account. You would need:
An Active Email Address
BDO Account Details
Preferred Log-in Username and Password
An Active Mobile Number
Once you have all of these, you can now sign-up for Online Banking!
How do you enroll an account to BDO Online Banking Abroad?
Step 1:
First, you of course would need a reliable internet connection. You need to visit the Official BDO Website.
Step 2:
Once you're in, you need to find the Enroll Now button. If you look in the upper right corner of the screen, you would see the blue log-in button. Hover the mouse over that button and you will find the following: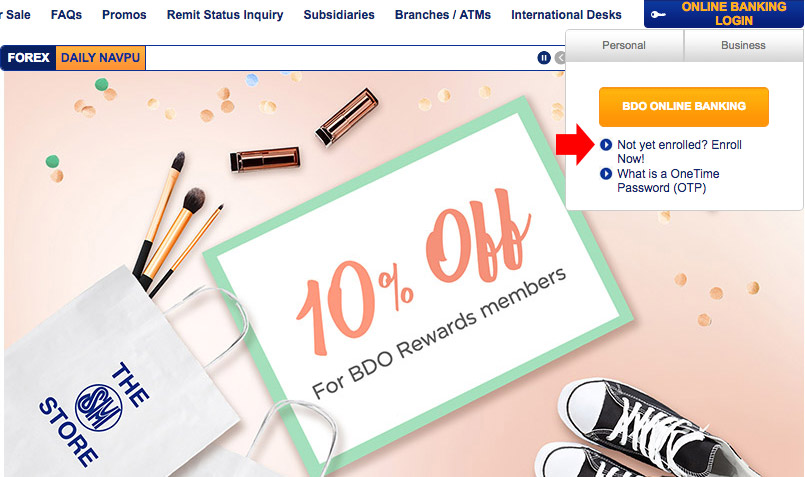 BDO Online Banking
Not yet enrolled? Enroll now!
What is a One Time Password (OTP)?
Obviously, you want to click on the Not yet enrolled button for you to sign-up.
Step 3:
After clicking on this button, you will be redirected to a page where it displays information about online/electronic banking terms and conditions of use. Read this thoroughly; after doing so, tick the "I have read, fully understood and agreed with the Terms and Conditions." Click SUBMIT after ticking this box.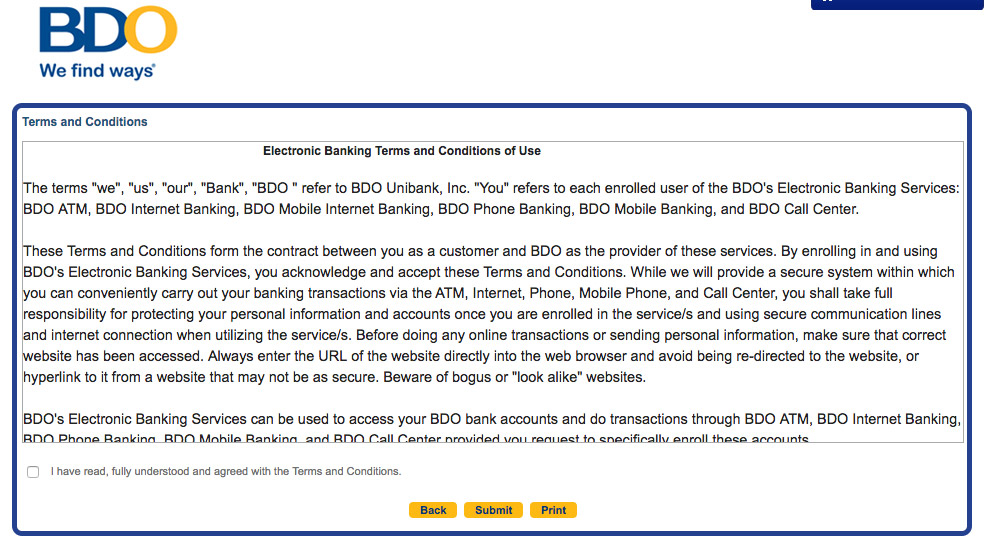 Step 4:
You will be brought to a new page where it will require you some of your personal information. You would need to provide the following:
Account Type
Since we are discussing about an overseas online banking account, select the option Outside the Philippines
Online banking information: User ID, Password, Mobile number and Email Address.
Challenge Questions and provide the most correct answers. This is relevant in securing and in ensuring that you are the sole person who can access this account.
Ensure that you correctly copy the captcha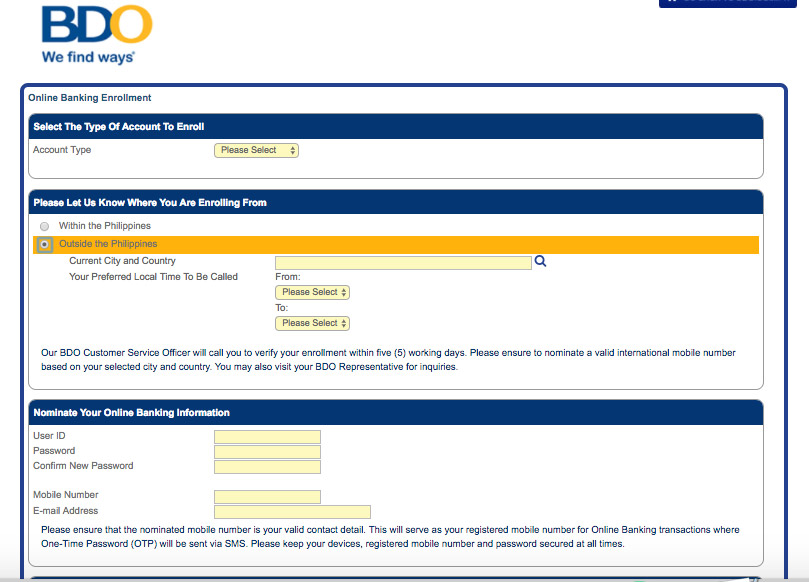 Step 5:
After filling all of these out, wait for a confirmation message to be sent to your email address provided in the enrollment process. Furthermore, a BDO representative will call you to verify your enrollment. Expect this call to be received within five (5) banking days.
Are you living overseas and still yearning to have an online BDO account? Follow these steps now and secure your funds in just one click.
Read Also: