In our generation, traditional banking is not really utilized so much anymore. With our technology, we can now make deposits, pay, even transfer funds without going to the bank anymore; all you need is an internet connection and a device and you're all set.
For some people, they still patronize and go on with the traditional way of banking – going to the bank itself and interacting with a teller to do what they want to process. But for some, they are so used to online banking that they rarely visit their banks.
Banco de Oro (BDO), one of the larger banks here in our country, was one of the first banks to offer online banking to its members and its subscribers. In this article, you are going to be made aware on how you can transfer funds and what the maximum amount is for funds transfer.
The Send Money to Any BDO Account feature is a feature inside BDO's online banking facility. This feature is also applicable to sending money even to unenrolled BDO accounts. Unenrolled BDO Accounts are accounts that aren't enrolled in Online banking.
Enrolling your BDO account Online
To enroll your account, go to https://online.bdo.com.ph, Click "Enroll Now!"and then fill-out the enrollment form. Be sure to tick on the "Internet Banking Box" because that's what you are doing in the first place.
Take note of your activation code in the acknowledgement page after filling the form out. Activate your account using any BDO ATM within 45 days.
Funds Transfer
Funds Transfer (Transfer Money) is a feature applicable to those BDO accounts enrolled online or for Funds Transfer. The amount limit of Send Money to Any BDO Account is Php50, 000.00 IF ENROLLED and Php10, 000.00 IF NOT ENROLLED.
Read: How to transfer funds to other local bank accounts using BDO Online banking
The maximum amount of the Funds Transfer however, is Php250, 000.00 and $5, 000.00 for U.S Dollars.
This is a screenshot of the difference between the two service features:
Funds Transfer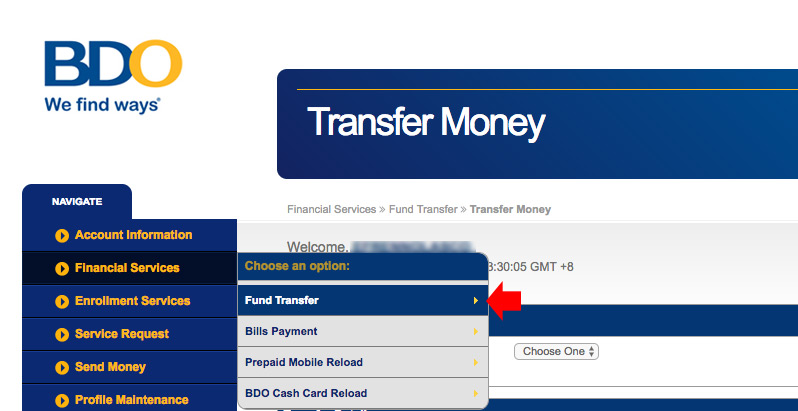 Send Money to Any BDO Account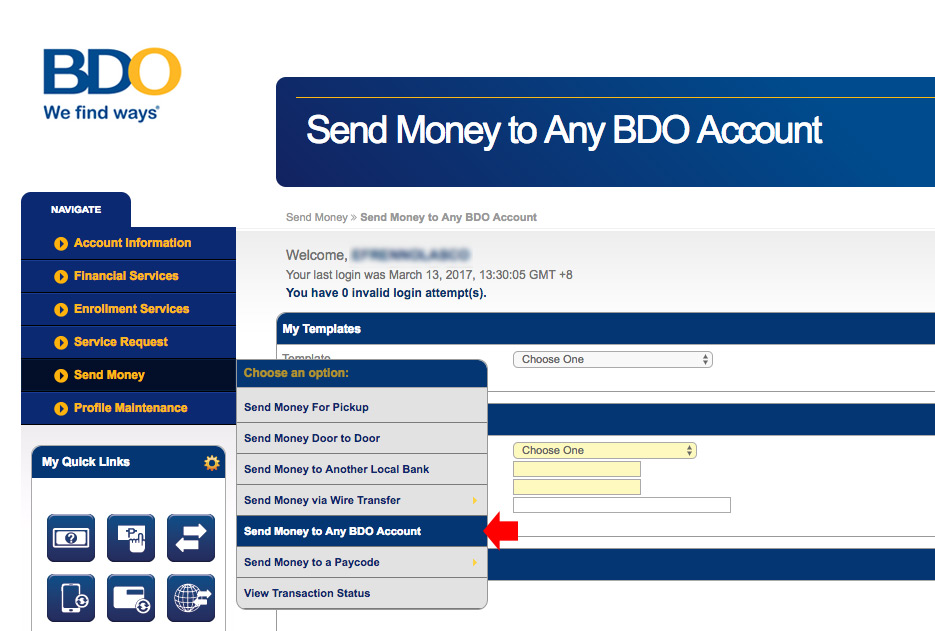 Now that you know the difference, you can now enjoy Online Banking with BDO. A few points to remember:
Activate your account by visiting any BDO ATM and you can achieve this within 45 days
Send Money to Any BDO Account is different than Funds Transfer (Transfer Money)
Both processes are real-time if BDO to BDO. BDO to other bank can be pushed through after 1-2 banking days.
BDO would like to ensure its members and subscribers that their money is safe within their hands. This is why there is a limit of transactions per day so that unauthorized payments won't go on and push through every time.
Now that you have an idea of how awesome Online Banking is, would you still be thrilled with traditional banking?
Read Also: How to transfer more than 10k a day in BDO Online Banking