As we've discussed in a previous article, getting a car loan is an easy and good way for you to get the car you've been wanting all along.  To add to that, we also mentioned that there are many different banks in which you can apply for a car loan. Although comparing the offers of different banks is not necessary, it can actually help you plan more on how you can execute it accordingly. These banks have loan calculators you can utilize for you to check initially if you agree on what their payment terms are.
Loan calculators
In the overview, we've discussed that these banks have loan calculators wherein you can check the different factors of the loan you're trying to get. With these loan calculators, you will be able to determine the loan amount, and of course depending on what vehicle it will be. Moreso, you will be able to toggle the length of the loan, together with the price of the interest.
To access different loan calculators of banks, click on these links:
Read: Secured Credit Card and What You Need to Know
Almost all banks have car loans and you can choose whichever bank. In this article, however, we will be listing the top banks that more customers prefer to look into if they're planning to apply for a car or an auto loan.
BPI auto loan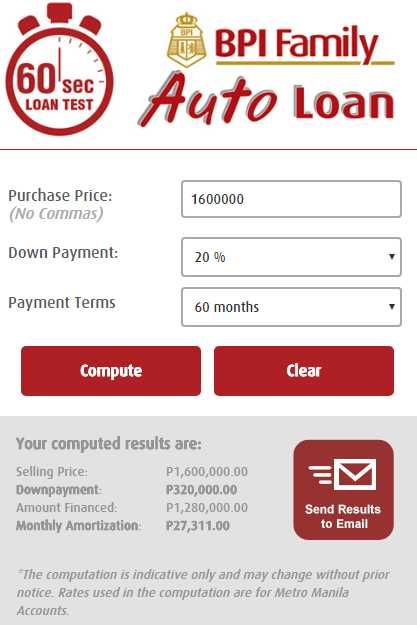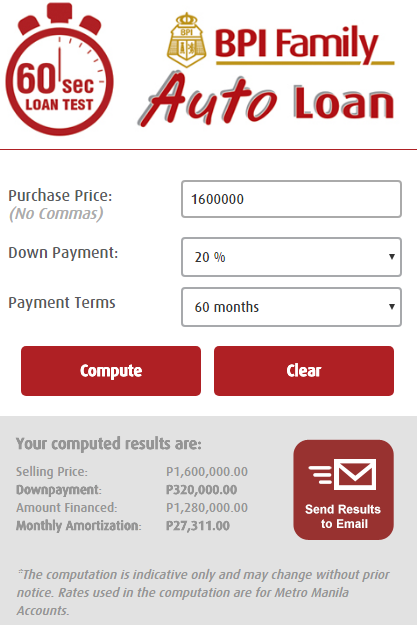 With the BPI auto loan, you have different payment terms depending on the type of vehicle you will be getting.
Brand new vehicle – Dp as low as 20% – 1-6 years repayment terms
Second-hand unit – Dp as low as 30% – 1-5 years repayment terms
Brand new truck – Dp as low as 30% – 1-3 years repayment terms
BDO auto loan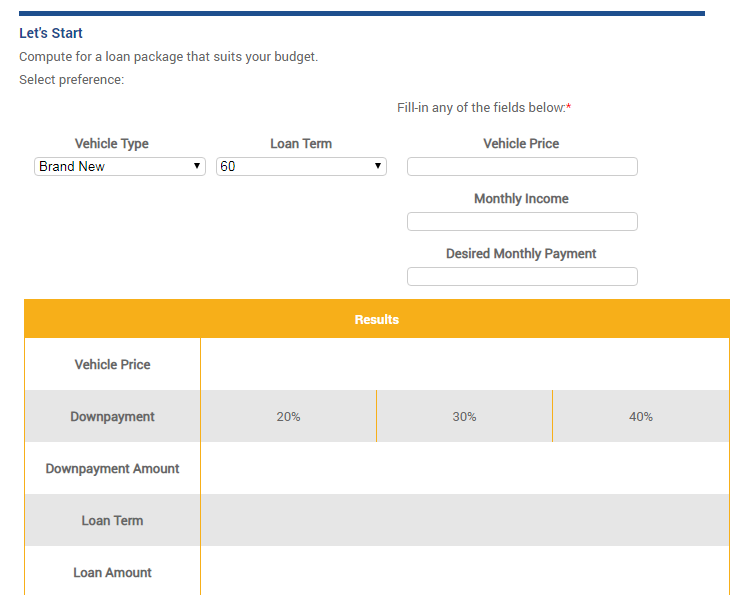 The BDO auto loan, however, will depend on what you will be using the car loan for.
For brand new car loans that would be for personal use, the minimum down payment is at 20%; the repayment term is a maximum of 6 years. For business use, however, the minimum down payment is at 30% and the maximum loan term is 3 years.
Pre-owned car loans for personal use would be at 30% and the maximum loan term is 4 years. For business use, however, the maximum loan term is 2 years and the minimum down payment is 20%.
Security Bank auto loan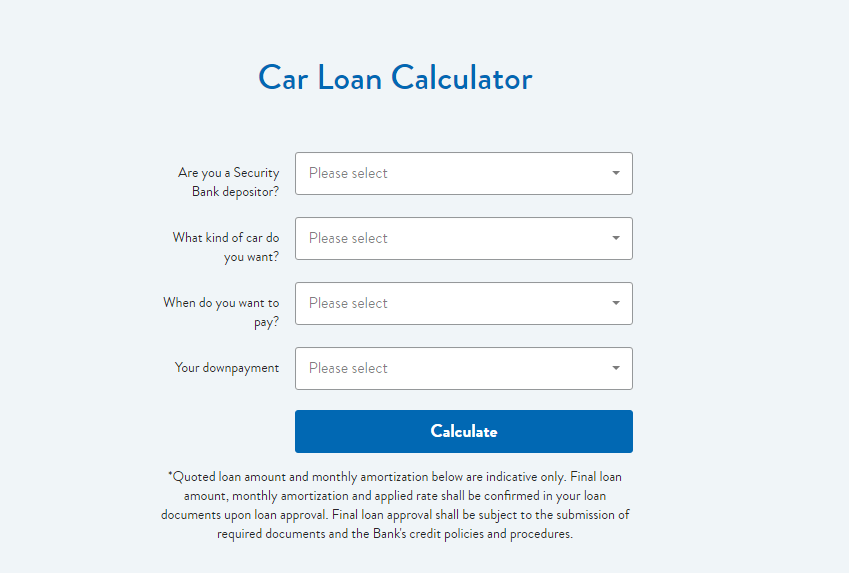 Brand new cars have a minimum down payment of 20%. Payment terms for brand new cars would be 12 to 60 months and the loan amount could be 80% of the purchase price. Pre-owned or second-hand cars, however, would have 12 to 48 months in loan terms and can have a loan amount of up to 70% of the appraised value.
Read: Applying For A UnionBank Home Loan
To know more about how their auto loan works, you can reach them through 88-791-88. Alternatively, you can send them a message by accessing this link. You will find the "send us a message" button below the webpage.
EastWest auto loan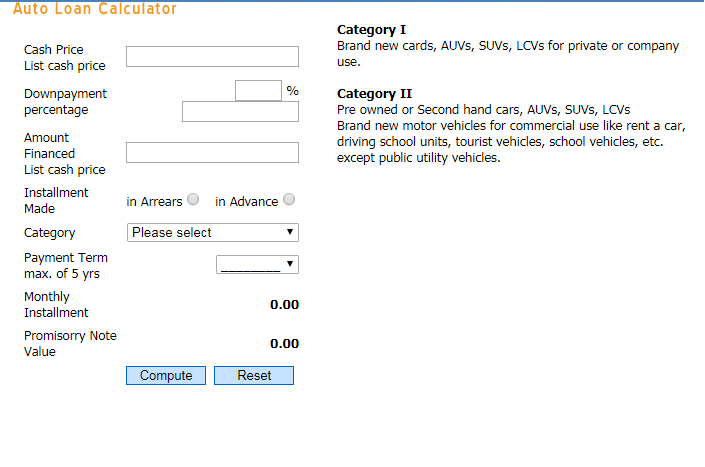 For EastWest bank, both brand new cars and second-hand cars are at the same rates. The downpayment, as they say, is inexpensive but we will give you the standard rates along if you pay a month in advance.
Payment term Standard rates With One-month advance
12 months  4.95%  4.20%
18months  7.5%  6.70%
24 months  10.75%  9.85%
36 months  17.5%  16.5%
48 months  24.10%  23%
60 months  32%  30.75%
To have more information about how much the down payment they're requiring is, it's best to contact them through their hotline at 888-1700. Alternatively, you can email them at [email protected].
PSBank auto loan
The minimum loan amount for PSBank car loans would be Php100, 000.00. The loan terms, however, is flexible between 12 months (1 year) to 60 months (5 years). In their website, they already state their qualifications and requirements. However, they did not include the amount of the loan and the rates.
To know more about what their rates are, what their policies are, and how much you can loan from them, you can contact them through (632) 845-8888 or you can send them an email at [email protected].
Read: LandBank's Home Loan Program For OFWs, Government, And The Private Sector Workers
Now that you have an idea on how you can access their loan calculators, you can narrow your decision out from this. You can check whether or not their payment plans fit what you can apply to and go from there. Aside from these payment plans and loan calculators, you will be able to also check what documentary requirements they might ask from you.
Although we will be tackling that in our next topic, it's still best if you check it out on their websites if you choose them so you have a raw idea on what you need to prepare for.