We talk about loans that much and in this instance, we will be discussing one of the most prominent banks that we know of – Citibank. Citibank prides of their system of having a 24-hour approval and flexible and comfortable payment terms of up to five (5) years. Citibank made it easier in order for people who have urgent cash needs to not go and try anywhere else. Although applying for a loan is easy, Citibank wants people to cling with them. In this article, we will be teaching you how you can apply for a Citibank Personal Loan in a few easy steps.
Just like any other bank, Citibank has a website where you can go to in order for you to check your eligibility, how much the interest is, and so on. So, you can go to their website and check if you're applied to qualify for a Citibank personal loan.
What can you use the personal loan for?
It's best if you use the Citibank personal loan for:
Going on a dream vacation
To simplify debts
For emergency purposes
For putting up a business
Home improvements
Tuition fees
These are just some of the prime reasons why people get loans. There could be more reasons, any reason you like as long as it's legal.
Read: Applying for a BDO Personal Loan
Step 1: Checking for eligibility – Are there eligibility requirements in applying for the Citibank personal loan?
Yes, there are certain eligibilities you need to meet before you can apply:
Must be a Filipino citizen with a valid Philippine billing address. Foreigners can also apply as long as they have a valid Philippine billing address and if they're permanently residing in the country.
Age must be at least 21 years old but must not be 65 years old upon the maturity of the loan
Minimum gross annual income should come or reach Php250, 000.00
You need to have a credit card with Citibank for at least six (6) months or a credit card from another bank for at least one (1) year or twelve (12) months.
NOTE: This has been taken from the loan calculator through the Citibank Philippines website. You can try out the tool for yourself by clicking on this link.
Step 2: Amortization calculation – Calculate how much your potential loan amount is for you to see what fits your budget
Also like any other banks, Citibank also has a Citibank personal loan calculator which you can use before you actually apply. By toggling through the second option in their virtual interactive tool, you can see how much you would pay. In the example below, we've put in a loan amount of Php200, 000.00 with a loan repayment term of sixty (60) months or five (5) years.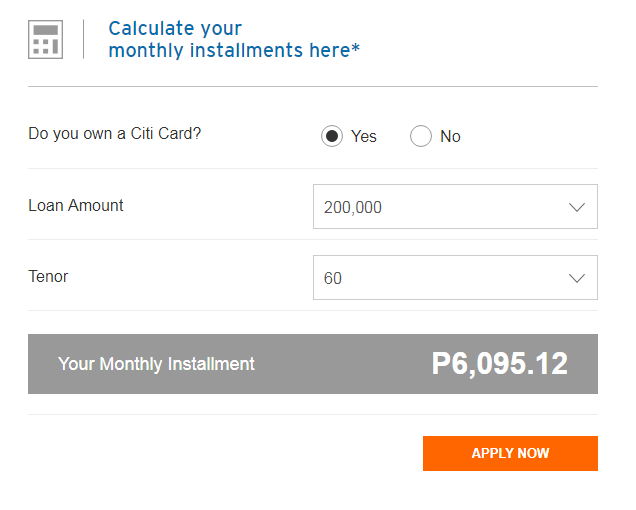 Using those values, your monthly installment would be Php6, 095.12. Not bad for a big sum of loan, right? With this kind of loan that is flexible and that has a justifiable and reasonable interest rate, everyone would be enticed to avail of this loan.
How do I use the Citibank Online Personal Loan Amortization calculator?
It's fairly simple, just access their website, toggle through the calculator. There are questions you need to answer in order for the tool to determine how much your monthly amortization will be.
Read: Applying for a Personal Loan with BPI Online
You would need to answer the following questions:
Do you have a Citi card?
How much are you trying to apply for a loan?; and
What is the tenor or the repayment term?
NOTE: You can toggle through the tenor or the repayment terms for you to arrive at your desired monthly amortization amount. Of course, the lower the tenor, the higher the monthly amortization. But, interests would be lower as compared to maximizing the tenor of five (5) years. In addition, you can also toggle the loan amount which has a maximum of Php2 million.
Step 3: Gathering of requirements
What are the requirements in applying for a Citibank personal loan?
Duly accomplished Citibank personal loan application form. Alternatively, you can walk-in any Citibank Ph branches here in the Philippines or fill out the form on the Citi Philippines website for the online Citibank personal loan application.
Proof of income:
1. For employees: latest one to two months of payslips
2. For self-employed or for business owners:
The latest Income Tax Return (ITR) and audited financial statements
Original and photocopy of any government-issued ID.
What if I'm a foreigner residing here in the Philippines? What do I need to submit?
1. Photocopy of the Alien Certificate of Registration or the valid passport
2. Proof of residency here in the Philippines
Visa
Work permit
Immigrant certificate of residency
Once all of those are complete, you can proceed to any Citibank PH branch and apply for a personal loan! For the application form, you can download it or you can get it when you visit the Citibank PH branch.
How do I apply for a Citibank personal loan online?
If you're fond of technology and you prefer to utilize their online facility than walking-in any Citibank branch, you can use their online platform to apply for the loan. To do this, access their website.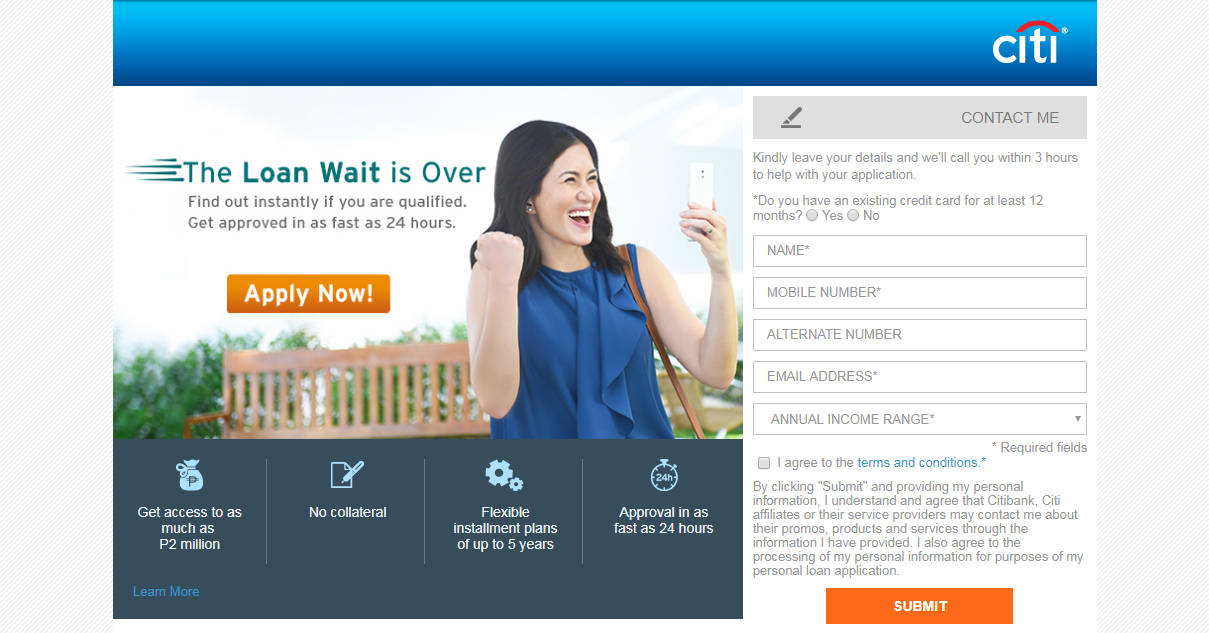 Once you access that, you will be asked to fill out personal and professional information. Duly accomplish this short form. Afterwards, you will receive a phone call from a Citi sales officer. The call will be placed within three (3) hours from your application to verify your plan of applying.
Once all of those are done, you will be asked to email the documentary requirements to Citi through their email address: [email protected].
Step 4: Following it up
How can I follow up on my Citibank personal loan application?
Although they promote their supreme service of them being able to approve a personal loan within 24 hours, with the people trying to get the same thing as you, it could extend up to a week. However, in the event that you don't receive feedback, you can check the status of your loan application through their CitiPhone hotline. To do this:
Dial 995-9999
After doing so, type in your 16-digit Citi credit card number
Press *2
If you are a non-Citibank credit cardholder, you can press 0 to directly talk to a customer service representative or wait on the line.
Step 5: Receiving the loan
When Citibank approves your loan application, they'll be contacting you through a phone call to finalize everything on your loan. You can either pick it up at a Citi branch or have a check delivered to your billing address.
Repayment terms
Once approved, the bank will ask you to complete and sign a Loan Disclosure Statement (DS). As per the website, you need to pay the loan by submitting post-dated checks (PDCs) for the monthly loan payments.
These are the things you should know if you're interested in applying for a Citibank personal loan. With you being equipped with this information, all you have to do is to gather your requirements, check the amount of loan you're looking to apply for, and you're good to go!
If you think that you have all of those passed, then what are you waiting for? Apply for a Citibank personal loan now! We do hope we've given you sufficient information on how you can apply for a Citibank personal loan.
For further inquiries, you can visit their website at https://www.citibank.com.ph/gcb/loans/loans.htm.
Disclaimer: This is not a Sponsored Post