Last year, the Philippine Star has reported that the student population peaked at an astounding 27.7 million. This means that it occupies at least 30 percent of the total population that our country has. Since this is the case, the government rolled out the rule that would provide discounts for students in land, air, and water transportation. But that's not all—in fact, there are other student discounts students in the country can avail.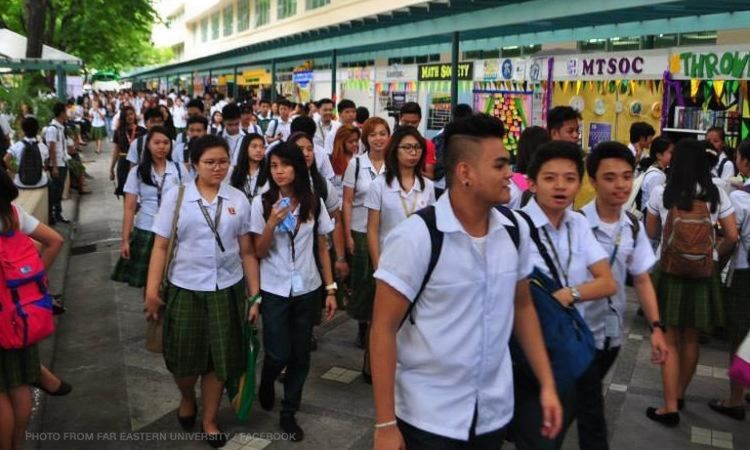 So what student discounts can students in the Philippines avail? Which things can they take advantage of of being a student in the country?
Read: Back to School Tips for College Students
Public Transport
If you were not aware, President Rodrigo Duterte recently signed the Republic Act (R.A.) 11314 or more commonly known as the Student Fare Discount. This act discusses that the students get a mandatory 20 percent discount on all public transportation (land, air, and water) here in the Philippines.
Students can take advantage of the fare discount if they provide a valid school ID. Students in the elementary level up to college level are included in this discount.
NOTE: Master's degree, post graduate, law, and doctorate students are not part of the said demographic who can avail of student discounts in the country.
Students who will be able to present a valid school ID can get the discount from the following modes of transportation:
Read: How to Apply for a Student Visa to Study in the United States
Buses
Trains (LRT, PNR, and MRT)
Taxi cabs
Jeepneys
Tricycles
UV Express vans
Passenger Ships
Transport Network Vehicles Services (TNVS) like Grab PH
Domestic flights (Airlines)
Tourist services, shuttle services, and other services covered by a private agreement are excluded.
So if you are a student, just present your valid school ID to take advantage of this student discount.
Museums
Student discounts do not only revolve around transportation; museums also provide student discounts if the student is able to present a valid school ID. Although museums in the country usually offer free admission, there are museums that ask for admission and entrance fees.
Read: Relevant Money Lessons you were not Taught in School
Here are the museums who ask for admission or entrance fees from students including the original rates and the rates if a student takes advantage of this particular student discount.
Museum Name
Regular Rate
Student Rate
The Mind Museum
PHP 625.00
Public School Students – PHP 190.00
Private School Students – PHP 475.00
Pinto Art Museum
PHP 200.00
PHP 100.00
Fort Santiago and
the Rizal Shrine
PHP 75.00
PHP 50.00
Destileria Limtuaco
Museum
PHP 100.00
PHP 50.00
Casa Manila
PHP 75.00
PHP 50.00
Calvo Museum
PHP 50.00
PHP 20.00
BenCab Museum
PHP 150.00
PHP 120.00
Baluarte de
San Diego
PHP 75.00
PHP 50.00
Bahay Tsinoy
PHP 100.00
PHP 60.00
Ayala Museum
PHP 425.00
Local Student – PHP125.00
Foreign Student – PHP 300.00
Art in Island
PHP 500.00
PHP 400.00
NOTE: The National Museum of the Philippines is free of charge.
Tech Products and Devices
One of the most undermined student discounts is when a student is going to purchase a device or a tech product. It is not a popular discount but did you know that if you are a student, you can get as much as P6,000.00 if you buy an iPad or a Mac?
However, we only know of Apple's policy of giving student discounts in purchasing the following devices:
Read: How to Apply for the DOST Scholarship – Academic Year 2020-2021
iPad
iPad Mini
iMac
iMac Pro
iPad Air
iPad Pro
Mac Pro
Mac Mini
MacBook Air
MacBook Pro
Who can avail this discount?
Students aren't the only ones who are given privilege for this discount. This educational discount offered by Apple is applicable to all K-12 student, staff of schools and learning institutions, and teachers and professors.
People can avail of this discount by going to any authorized Apple dealer or store nationwide.
Local and Filipino films
Student discounts are also given if a student decides to watch local or Filipino films in the country. This is to encourage the youth to patronize and to support Filipino-made films.
Students can take advantage of this student discount every Wednesday. The discounted price of Filipino films in the Metro is at P200.00 and P150.00 in provinces. 
Read: "Study Now, Pay Later" Program By Cebu Pacific For Aspiring Pilots
Who can avail this discount?
Students who are not older than 18 years old can take advantage of this discount. So, even if you are a regular college student, if you are older than 18 years old, you would not be able to avail the discount.
Cinema '76, a film society, also offers discounts even if you are 18 years old or older. Students just need to bring their valid school ID to be honored the student discount.
Indie film student fans can also take advantage of this specific discount. Cinemalaya films can be given to students at P150.00 per screening.
Music streaming
The music industry gets it—they provide a certain student discounts to students who are fond of listening to music. Both Spotify and Apple Music provide a 50 percent discount to students and it's good for four (4) years.
The Spotify Premium subscription is at P129.00 per month. Availing the student discount will allow students to get it for only P65.00 per month.
Read: Top UPCAT Hacks That Actually Work
Apple Music is priced the same with a regular monthly subscription at P129.00 and a discounted price for students at P65.00. 
Plays, concerts, and other performances
Are you a fan of concerts and plays? Well if you are, students in the country can avail of a discount for concert tickets and theatrical performances. TicketNet and TicketWorld provide student discounts from 20 percent to 50 percent!
This can only be availed in physical stores; students could not get this discount if they are going to purchase a ticket online.
Who thought that student discounts were vast and is not limited to just regular transport? In fact, these student discounts are actually beneficial and helpful not just to regular basic education students; college-level students can also avail them.
Read: AMA Online University – Get Your Degree
Just like senior citizens and persons with disabilities (PWDs), students in the country are also given the privilege of discounts that can help them save money or set it aside for more important matters.
Students in the country most often have limited allowances on a weekly basis. With these student discounts in place, it is now going to be easier for them to save money. Students all over the country just need to take note of one (1) important thing: to bring their school IDs with them even if they are not going to school.
This habit is not just for the safety and security of student discounts; this can also be a way on how they can be identified if need be.