Due to the recent outbreak of the ever-famous Coronavirus Disease 2019 (COVID-19), many people needed financial aid and support. There were private companies and institutions that reached out to their employees; but there were those that did not. Nevertheless, several government agencies reached out — including the state housing development or the Pag-IBIG Home Development Mutual Fund (HDMF) — and we would be giving you the Pag-IBIG Calamity Loan Program FAQs.
Read: Here's How to Retrieve Your Pag-IBIG MID Number
But before we get to that, let us first have a quick rundown of why the loan has become an essential part of members' lives.
Pag-IBIG Calamity Loan
Since we have been struck by a calamity, Pag-IBIG assured its members that they can apply for the Pag-IBIG calamity Loan.
However, certain criteria and qualifications apply; and they are as follows:
Must be an active Pag-IBIG contributing member;
Residential location must be under the declared state of calamity by the Office of the President (OP);
Must have at least twenty-four (24) months in savings contributions;
Must submit proof of income
Read: How to Apply For the Pag-IBIG Fund Loan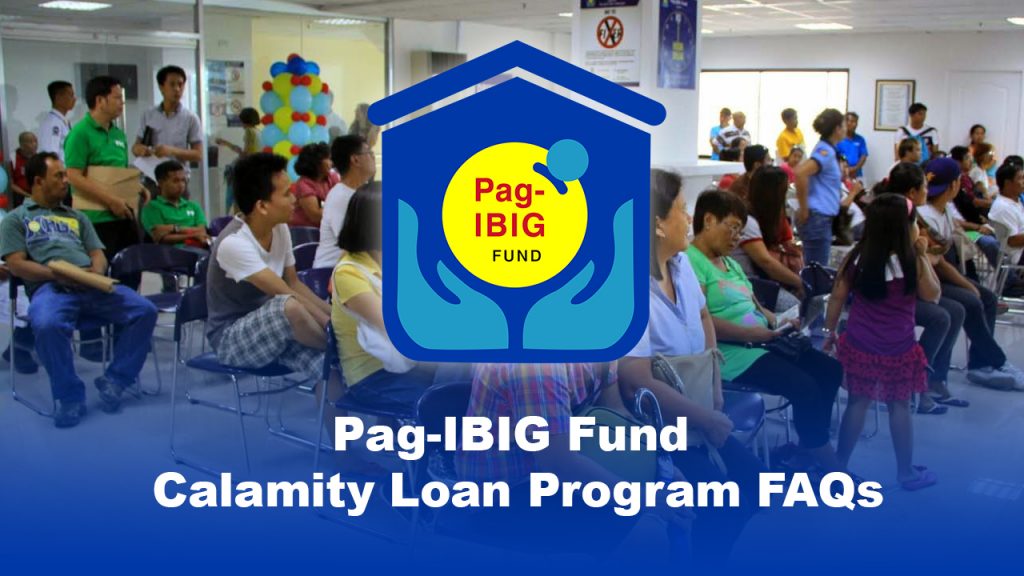 Pag-IBIG Calamity Loan Program FAQs
Many members are still left mind-boggled as to whether or not they're eligible for the program. Good news, though, because these Frequently Asked Questions (FAQs) are perfect for members who are hesitant to apply because of some questions!
Q: What is the Pag-IBIG Fund Calamity Loan Program?
A: The Pag-IBIG Fund Calamity Loan Program is a loan program or benefit offered to Pag-IBIG members to act as an immediate response or financial aid who have been affected by a calamity.
Read: A 6-Month Installment Payment Program For Globe Postpaid Customers
Q: How do I qualify for the Calamity Loan?
A: In order to qualify, a member must be:
Living within the calamity-stricken area;
Must have contributed at least for twenty-four (24) months or two (2) years; and
Must be actively contributing to the Pag-IBIG
Q: Can I apply even if I have an existing loan?
A: Yes! Members who currently have an existing Multi-Purpose Loan (MLP), an existing Calamity Loan, or an existing Pag-IBIG Fund Housing Loan would be able to apply. The only criteria is if the payments are updated.
If they are, then you can apply! If not, you can update them manually or voluntarily and go from there.
Read: Three-Month Moratorium to All Loans, Pag-IBIG Fund
Q: How much can I borrow from Pag-IBIG?
A: The question that many people are waiting for. Qualified Pag-IBIG members would be allowed and eligible to borrow up to a total of 80% of their total Pag-IBIG Regular Savings.
These Pag-IBIG Regular Savings are comprised of:
The members' monthly contributions;
Monthly contributions of employers; and
Accumulated dividends that have been earned
NOTE: If a member has an outstanding Calamity or Multi-Purpose loan (MLP), the amount that he or she will receive will be at the difference of the 80% of the total PRS and the outstanding loan balance.
Q: How much is the interest for the Calamity Loan?
A: The Pag-IBIG Fund boasts of its low interest rate, only being at a market rate of 5.95 percent per annum. If broken down into monthly payments, it's at 0.49 percent.
Read: What is the Difference Between the Pag-IBIG 3-Month Moratorium and the Grace Period?
Q: How would I pay my Calamity Loan?
A: If you've been approved and you're looking to pay for your Pag-IBIG Calamity Loan, you need to know certain information first.
The loan is payable within a total of twenty-four (24) months. This comes after the initial payment due date which would be on the third (3rd) month after the loan dispersion.
For Formally Employed Members
Members who are formally employed are to pay for their loans through monthly amortization through salary deduction arrangements from their companies or employers.
Read: The List of Government Cash Assistance Programs For the COVID-19 Crisis
Self-Employed Individuals and Overseas Filipino Workers (OFWs)
On the other end of the handle, self-employed members and individuals would be able to pay for their amortizations through any of the Pag-IBIG Fund branches.
NOTE: The Pag-IBIG Fund has certain digital channels such as GCash and PayMaya. However, no account and mention of it has been made in their Pag-IBIG Calamity Loan Program FAQs.
Contact them to be sure.
Q: Until when can a member apply for the loan?
A:  Eligible borrowers and members are able to borrow and take advantage of the Calamity Loan within ninety (90) days from the declaration of the state of calamity in their area.
Read: Apply For The Pag-IBIG Calamity Loan Online
These are the Pag-IBIG Calamity Loan Program FAQs that you might need. Should you have any more questions, you can direct it to Pag-IBIG through any of their channels:
Source: Pag-IBIG Fund Website