On the first day of the Mobile World Congress Samsung held a long-awaited presentation "Unpacked 2014 Episode 1". It was clear that the central event will be the announcement of the smartphone Samsung Galaxy S5. The South Korean manufacturer did not disappoint expectations.
What are the key features of a new smartphone? They were presented in five categories: design, camera, communication, security and fitness opportunities. Let's see what was made in each of the categories.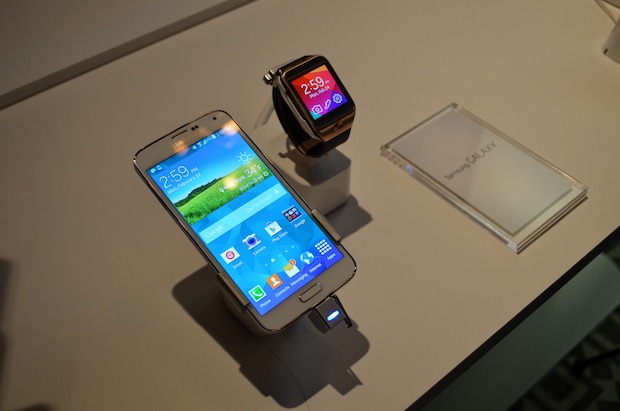 Design and security
Overall, the Samsung Galaxy S5 preserved main design features typical for Galaxy smartphones. The main difference between Galaxy S4 and S5 is more straight lower and upper edges. The type of buttons and their location remained unchanged. Moreover, in spite of previous forecasts Samsung Galaxy S5 didn't get metal case, it remained plastic. However, there are two important novelties.
First of all, the back surface is perforated. Samsung highlights it as an important element of a new design. All promotional materials place emphasis on the perforation. It's hard to say whether this innovation is successful or not. As for appearance, on the one hand, perforation distinguishes Samsung Galaxy S5 from its predecessors. On the other hand the smartphone doesn't provoke a desire to immediately buy it. Though, of course, it's a matter of taste.
The second novelty is its impermeability to water and dust (protection meets IP67 standard). Thus, we can talk about security. Samsung is trying to imitate Sony, which made security one of the trump cards of the Xperia Z line.
Another aspect of security is connected with program security – Samsung Galaxy S5 supports corporate services Samsung Knox. Finally, last but not the least, Galaxy S5 is equipped with a fingerprint reader located right on the screen (its lower part). So now you can forget about remembering passwords and authorization in Play Store.
Connection
In addition to the design and security, advanced abilities of Internet connection are considered to be key features of the new smartphone. Galaxy S5 supports LTE networks of all ranges (hence, the smartphone will work with LTE networks of all countries), Wi-Fi module supports MIMO technology and 802.11 ac standard, which should provide the highest possible speed of Internet connection.
Another interesting thing is the fact that you can simultaneously download data via Wi-Fi and LTE connection. Sounds very promising.
Camera
Camera in Galaxy S5 leaves behind most of its competitors. For instance, the maximum camera resolution is 16 megapixels. Moreover, camera has an Selective focus function. This function could be viewed mainly in SLR and some compact cameras.
Theoretically, such an autofocus must be faster than the traditional contrast AF. Samsung promises that the speed of the autofocus will reach 0.3 seconds. The camera also supports video recording in 4K resolution at 30 frames per second in Full HD at 60 frames per second.
Fitness opportunities
The last thing emphasized during the presentation was fitness opportunities. First of all, galaxy S5 has built-in tool for determining heart rate. You only need to put a finger to the area under the camera on the back side of the Galaxy S5 and your smartphone will measure the frequency of your heart rate. The second opportunity is called Annex S Health. This fitness tracker allows to count the number of steps you've walked, calories you've burned, the speed of your movements and other parameters.
However, if you are really interested in fitness, then it makes sense to buy Gear Fit, a wearable device which became a major sensation of Samsung presentation.