Every Filipino's dream is to have a place they would be able to call home. Well almost all people would want that in their lives. This is achievable, depending on the living measures and the standards of living of most people; it comes with a price, however. This would mean hard work, sacrifice, perseverance, and dedication. But what if I tell you that this particular dream is achievable? What if I tell you that applying for a UnionBank Home Loan is just beneath our fingertips?
The Pag-IBIG or Home Developmental Mutual Fund (HDMF) is an institution that provides a chance to Filipino workers to get the dream house they've been thinking of. That is one option but in this article, we will be giving full-on details on what the UnionBank Home Loan is; what it can give potential applicants, and of course, details about how you can apply.
What is the UnionBank Home Loan?
In a previous article, we discussed the UnionBank Auto Loan. To give you a brief refresher, the UnionBank Auto Loan gives a chance to Filipino people, well even foreigners, to grab the car of their lives – with minor requirements and of course arrangements.
The UnionBank Home Loan is pretty much the same thing, except, this is for real estate properties. UnionBank allows people to borrow money from them to purchase real estate properties.
The self-assessment test
If you've read our previous article about UnionBank's Auto/Car Loan, then you already know about the self assessment test. The self assessment test is designed to tailor-fit specific inquiries and wants of clients or applicants to the loan they're about to get. This kind of filters everyone going to the same direction.
To give you an idea of what it looks like, refer to the image below. It's not a complex thing; as a matter of fact, you can easily take this assessment and check whether the thing you want is achievable, or if you need to lower your ceiling a bit.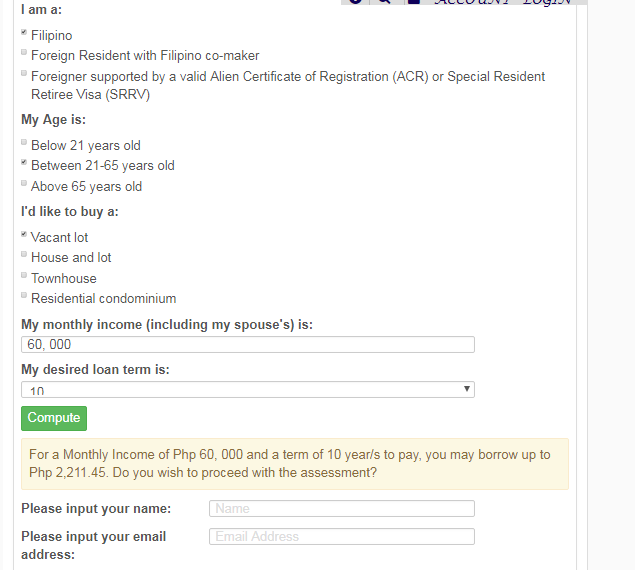 Who are eligible in getting this type of loan?
Unlike the Pag-IBIG HDMF fund, the requirements for the UnionBank Home Loan are slightly different and a bit more challenging. In order for you to be eligible for application, you need to abide by these requirements:
Must be an individual who are gainfully employed (with permanent/regular status);
An individuals engaged in own business operating profitably for at least 2 years or a partner in a registered ownership;
Must be of legal age and not more than 65 years old upon application and must not exceed the age of 70 years old upon loan maturity
; and
Credit standing is a great factor
Now that you know you're eligibility, there would be requirements you need to submit of course.
What are the documentary requirements for the UnionBank Home Loan application?
For this part, you need to submit personal records (personal data) and income generation information.
Personal Data Documents
Duly accomplished application form;
Photocopy of Marriage Contract (if applicable);
NSO or PSA-certified birth certificate; and
Photocopy of any government-issued ID with picture and signature
Income Documents
For locally employed applicants:
Certificate of Employment
3-month pay slips (must be latest)
For Overseas Filipino Workers (OFWs):
Original Consularized Special Power of Attorney  (SPA)
Passport with entry and exit stamps
For self-employed applicants:
Business Registration
Latest 6 months Bank Statements
Financial Statements
ITR
Top 3 list of suppliers/customers with contact numbers (landline)
Collateral Documents
Contract to Sell or Reservation Agreement
Statement of Account
What are the types of loans I can get under this home loan?
UnionBank would allow you to borrow money to aid the purchasing of your own lot, townhouse, residential condominium or house and lot from our Accredited Developers. The minimum loanable amount is Php500, 000.00.  The maximum loanable amount, however is up to 90% of the property's selling price.
Let's talk about interest rates now…
As per UnionBank, each rate is fixed to a corresponding period. You can contact them at [email protected].
1 year – 6.50%
3 years – 7.50%
5 years – 8.50%
10 years – 10.50%
15 years – 11.50%
As you can see in the list, the maximum would just be at 15 years. This is true for Overseas Filipino Workers (OFWs). For locally employed individuals, the maximum term for a UnionBank Home Loan would be 20 years.
Similar with the Auto Loan, the UnionBank Home Loan also has a loan calculator which you can access by clicking here.

The UnionBank Home Loan calculator compared to the Auto Loan is generally the same. You will be asked to input the loan amount, the interest rate (which would of course be dependent on the term length).
Are there fees involved in applying for a UnionBank Home Loan?
Of course, there would be different fees involved as there are different processes in the application, upon approval, and of course the loan itself. Moreover, there are penalties also if you're not able to comply with the agreement or requirements.
Amendment Fees and Penalties

Full or partial payments made outside the anniversary date of the loan
Php4, 000.00

Request for shortening;
Extension of term

Cancellation of Mortgage (for fully paid accounts)
Php500.00
Delinquent Interest on unpaid balance (for fully paid accounts)
Delinquent interest (interest rate per PN or the repriced interest) and penalty (36%) on unpaid monthly installment
Registration fees
These are fees collected relating to the registration of the TCT with the register of deeds. The computation would be based on the loan amount.
Bank charges
Processing fee would be Php3, 500.00 within Metro Manila; and Php4, 000.00 outside.
Appraisal fee would be at Php3, 500.00 within Metro Manila; and Php4, 000.00 outside.
Other (misc) charges
Fire Insurance
Documentary Stamps
REM-Doc Stamp – Php20.00 for the first Php5, 000.00 and Php10.00 for the succeeding Php5, 000.00
PN-Doc Stamp – Php1.00 for every Php200.00 or a fraction; Php1, 160, 000.00 per 200 = Php5, 800.00
Mortgage Redemption Insurance
Notarial Fee – Php400.00 for an individual account; Php800.00 for a developer
What are the ways or modes of payment after the loan succeeds?
Just like payment methods for the Auto Loan, you can pay via Auto Debit Arrangement (ADA) by opening a savings account with UnionBank; or Post-dated checks (PDCs).
In addition to the perks of UnionBank in terms of granting a vehicle, they can also give Filipinos a chance to get their dream house in just a few easy steps. Who knew that getting a house is this easy? What are you waiting for? Contact UnionBank now and get the house that you want.
The advantages of trying an application with UnionBank:
Loans get approved as fast as five (5) days;
No hidden charges and surprise fees. All written here are the only charges. If you want more details, you can refer to the UnionBank PH website.
With the self assessment test, you will be able to determine whether or not you're qualified. You don't have to wait for days to check.
You can reach them by sending them an email at: [email protected]. Alternatively, you can phone them at:
Customer Service: 84-186 or (02) 841-8600
Trunkline: (02) 667-6388