Do you have a Shopee app? Shopee is a multinational technology company based in Singapore that specializes in online shopping. The business began operations in 2015 in Singapore before branching out internationally.
With 343 million monthly visits as of 2021, Shopee is regarded as the biggest e-commerce platform in Southeast Asia. Additionally, it serves buyers and sellers who seek to buy and sell things online throughout the continents of Europe (Poland), Latin America, and East Asia (Taiwan).
To compete with other e-commerce firms like Coupang, Lazada, Tokopedia, and AliExpress, the app-based company developed a website. To set itself apart, Shopee provides online purchasing security via its own escrow service, dubbed Shopee Guarantee, which enables sellers to withhold payments from customers until they have received their items.
With that being said, are you aware that you can pay your SSS contribution via a feaure of Shopee which is Shopeepay?
Read: How to Pay SSS Contribution Online using GCash
What is Shopeepay?
Shopee's mobile wallet, ShopeePay, is regulated by the Banko Sentral ng Pilipinas (BSP). It is a rebranded version of Shopee's earlier attempt to break into the mobile wallet market, but with added features that will be more beneficial to both buyers and sellers.
Shopeepay is the most well-liked online retailer in the country. You can conduct various government transactions, including monthly SSS contributions, on this safe and practical online platform. Additionally, ShopeePay offers up to 25% cashback on bill payments.
Read: How to Pay SSS Contributions online using Paymaya App
Who can use ShopeePay to pay their monthly SSS contributions?
Only certain categories of SSS members—self-employed, voluntary, non-working spouses, and OFWs—can use ShopeePay to pay their monthly contributions.
There any other options to pay your monthly SSS contributions such as via Gcash, Coins.ph, and Paymaya, but if you ever want to try paying using Shopeepay, here's a simple guide for those not too techy folks.
Read: SSS Digital and Online Payments: Where You Can Make Them
Step-by-step procedure in using ShopeePay:
Step 1: Go to your Shopee app and log in to your account.
Step 2: Go to the "Loads, Bills, and Travel" section on the Shopee app's home screen.
Step 3: You can see under the "Bills" different categories but choose "Government Services."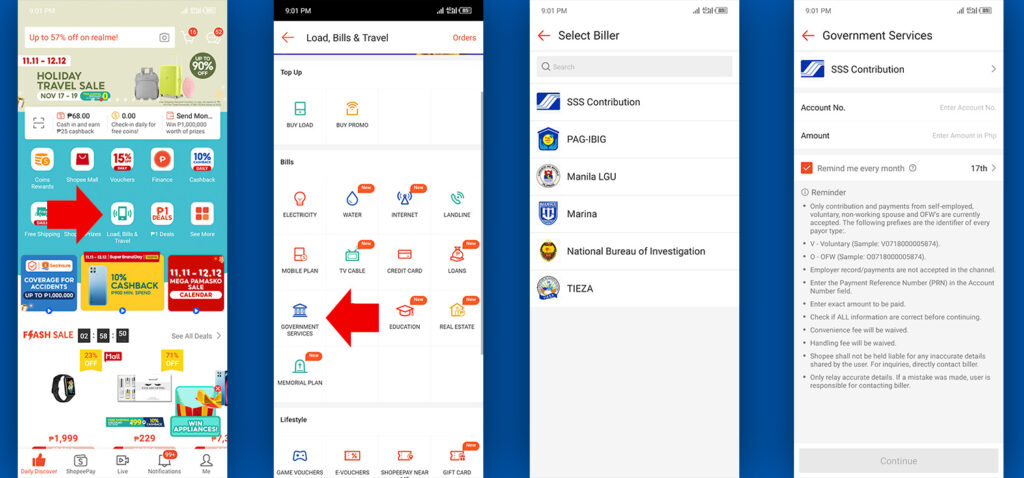 Step 4: For the biller, pick "SSS Contribution." Be aware that in addition to SSS, ShopeePay can be used to pay the following government agencies: Pag-IBIG, Manila LGU, Marina, NBI, and TIEZA.
Step 5: Put your SSS account number and the amount of your monthly contribution.
Step 6: To proceed, select Continue.