Did you know that you can set an appointment for the voter's registration? Yes, the Commission on Elections, or more commonly known as the COMELEC, opened their online appointment-setting facility last month – which is the iRehistro.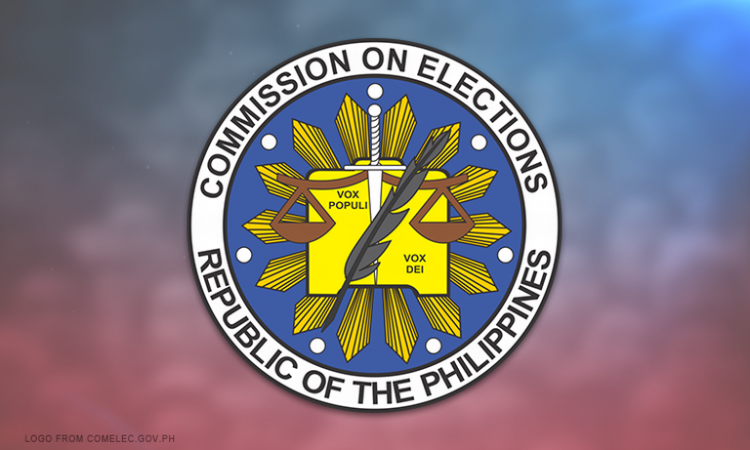 Today, we'll discuss how you can use iRehistro; we'll let you know how you can vote even if you're not in the country.
Read Related: Qualifications, Requirements for Voter's Registration
What is iRehistro?
Upon opening the website, it'll tell you that iRehistro is an online accomplishment of forms for voter registration. 
What does that mean? – you may ask. It simply means that it's an easy way for aspiring legal voters to fill out information in forms virtually.
COMELEC launched it back in the first week of December. Its main goal was to bring Overseas Filipino Workers (OFWs) closer to home by allowing them to setup an appointment while they're overseas.
We're slowly moving towards the May 2022 elections; and via iRehistro, the COMELEC is giving Filipinos who are out of the country the chance to become a registered voter!
Also Read: A Guide to Doing Police Clearance Online Application
Clarification About What iRehistro is
iRehistro is not an online voter's registration facility. In fact, when you access it, it will give a prompt – a disclaimer telling you about what it is not.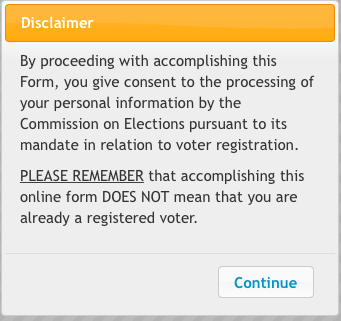 Prompt that you get when you access the facility
As it indicates: accomplishing this online form does not mean that you are already a registered voter. 
What it is, is a facility that:
Allows aspiring voters to easily fill out forms without visiting their respective COMELEC branches and offices
Makes the lives of Filipinos who want to be registered voters easier
Gives people the feeling of safety and security from the infamous COVID-19 virus
Therefore, it is a facility that will help you set an appointment! Once you finish them successfully, all you'll have to do is to visit any COMELEC office and have your biometrics captured there!
Read: Diokno Shows a Sample of the National ID Card, They Plan on Printing 154K Cards Per Day
Information You'll Need
Let's get onto it: how do you set up an appointment for the voter's registration online?
Firstly, you'll be asked what type of application you're doing:
Registration – For new registrants; those who have just turned 18 years old; and those who have never registered before since the year 1997;
Transfer of Registration Record – For already registered voters who transferred residence within the city and/or municipality they were in to another city and/or municipality. OR For already registered voters who transferred residence with deactivated registration statuses;
Reactivation of Registration Record – For registered voters with deactivated registration status;
Change of Name (Marriage or Court Order/Correction of Entries in the Voter's Registration Record – For registered voters with legal changes that need to be made on their registration record:

Name for married female voters
Change of civil name or status for married voters
Incorrect information on their registration record (typo errors, suffix errors, middle initial and name, etc.)

Inclusion of Records in the Book of Voters/Reinstatement of Name in the List of Voters – For registered voters that had their names or records removed from the Book of Voters or registered voters whose names have been removed from the List of Voters.
Whatever you pick would determine the next personal information you'll need to fill out.
Personal Information Needed
However, you can expect that y0u'll need to supply it with the following:
Complete Name
Date of Birth
Place of Birth
Sex
Civil Status
Address
Citizenship
Once done, you'll see the Set an Appointment for Biometrics Capture and Form Submission area.
Read: 2021 Civil Service Examination Requirements And Procedure
You can choose to set an appointment, which you need to abide by strictly. However, you can also choose not to set an appointment.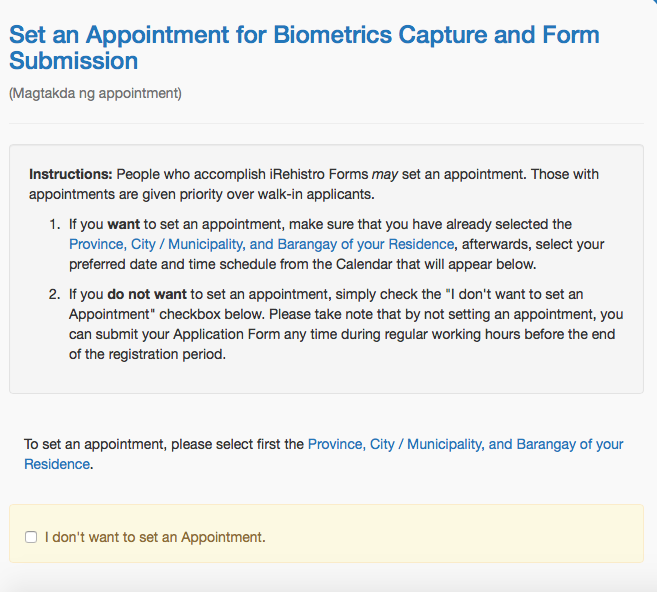 Last step of the iRehistro voter's registration appointment page
The latter option gives you the opportunity to submit your Application Form any time during regular working hours. But, it's worth noting that it'll only be valid until the end of the voter's registration period.
Submit the captcha and the system will ask you to review all the information you have supplied – it'll take you to a page where it will ask you to CONFIRM at the end.
That's it! That's how easy it is to set an appointment for the voter's registration via the iRehistro website.
Also Read: PhilHealth Contributions Will Increase Starting Next Year
iRehistro is Not Opening
There have been several reports where people say that iRehistro is not opening on their browsers. For this, you can follow these steps:
Try restarting your browser, whatever browser you're using
If it's still not opening, clear the cached data and cookies from your browser
Should the problem still persist, try accessing it via this link: https://irehistro.comelec.gov.ph/cef1
Try changing the browser of where you're accessing it if it's still not working
Lastly, try a different device and see if it'll open
COMELEC has made it clear that they'll complement the efforts of the national government in keeping the virus at bay. With the iRehistro, you will be able to set an appointment for the voter's registration easily!
Source: iRehistro | Business Mirror PH