We are consuming an ocean of data everyday in front of our computer. And sometimes, admit it or not, we are losing interest in reading long articles in the internet. Busy people nowadays wants to consume information in an easier and more convenient way. Way that does not require heavy readings. And here is the answer! The use of infographics.
WHAT ARE INFOGRAPHICS?
Infographics are a mix of design, writing and analysis. They are defined as a fun and quick way to learn topics. This is the best way to convey the messages to the readers in easier way possible. It is one of efficient ways to combine a great text, best images and design that represent an article. Infograhics are data-rich visualization of stories and a tool to educate and inform people.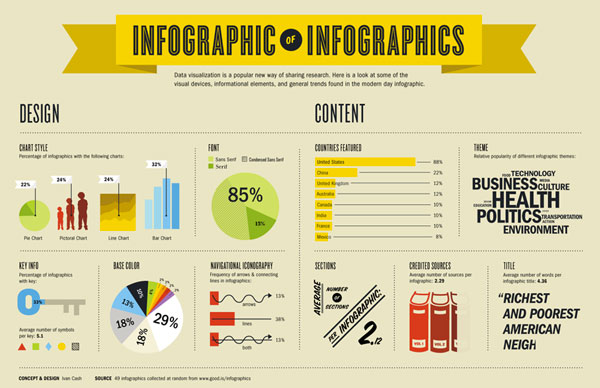 They are complex data in a visual format used to communicate with readers. And because it is a photo with some text for important details, it is easy to digest and is fun to share. It is also the latest way to establish brand awareness and build inbound links.
WHY USE INFOGRAPHICS IN CONTENT MARKETING?
These are the seven things that can help you decide why you need to use infographics in marketing your business.
 Attractive – People tend to ignore information presented in plain text even if the product or services offered is wonderful. Even if the writing is well-worded and engaging. Why? Because most people are avoiding heavy text articles nowadays. People love facts, figures and statistics. They love having information in an attractive way.  And one of the attractive ways to present information is through the use of infographics. Make sure to always spend time in creating both attractive and informative infographics because that visual display of information with fantastic imagery often catches a lot of attention.
Embeddable or Easily Transportable – Downloading and uploading of a great infographic takes only a few minutes. It is much easier than writing a blog content. Also, they are easy to embed into a website or blog because creating an infographic provides you an embed code. This code creates an automatic link from where it is posted on to your website. This can create traffic to your site without a lot of effort.
Easily Scanned

– Since human beings are highly visual, it will help your readers understand the post more clearly. Most people process visual information faster and easier that is why it is best to use infographics in your content marketing.

 Easy to Share – Infographics are more engaging than plain text that it is more likely to be shared on blogs and social networking sites such as Facebook and Pinterest. People only remember the things that grabbed their attention, chances are, if they remember your infographics, they will surely share it to other people as well. We all love sharing interesting stuff, right?!
Viral Capabilities – Because using infographics are fun and attractive, there is a greater chance that it will be shared on social networks and become viral compare to ordinary text content. And this will surely drive a lot of traffic into your website.
Create Brand Awareness

– You can always create an infographic that is embedded with your company's brand and logo. That is a very powerful way to create brand awareness about your products and services. The best way to get your prospective and current customers to trust your company.

 Worldwide Coverage – Infographics can provide global coverage that text-based printing could never do. They can be published online, can be globally visible and can instantly shared with millions of people around the world.

 
Always remember that you have to create an attractive but still informative infographics. It is a must that you create an infographic that can be easily understood. So, better pay attention to the colors, fonts and graphics that you will use.