No Filipino wants to rent forever. As a matter of fact, it is the goal of most to secure shelter as early as they can. Ensuring that you have a house does not just mean wellness for you and your family, it also is a good investment as you can hand it down to your next generations. Most people think that owning a house is impossible based on their income and living standards. However, there are currently a lot of institutions that support the Filipino dream of owning a home. The Bank of the Philippine Islands (BPI) has a program that aims to help Filipinos get the dream house they've been looking for.
What is the BPI Housing Loan?
The BPI Family Housing Loan is ideal for people with income as packages can be tweaked. The good thing about the BPI housing loan is that you can change it to whatever and however you want the model should be. With tailor-fit loan packages that depend on the needs and current spend capabilities of the customer, it truly is an opportunity you shouldn't miss.
Am I eligible in applying for a BPI Housing Loan?
Just like other loans, BPI has the self-assessment calculator which can help you determine if you qualify for the loan or not. In other words, this actually is the first step of the application to pinpoint the needs and patterns every customer has.
Read: Applying for a Personal Loan with BPI Online
For eligibility however, everyone who is the following with a minimum income of Php40, 000.00 a month are eligible:
Filipino citizen who is more than 21 years old but not more than 65 years old upon maturity of the loan;
A foreigner who has marriage to a Filipino citizen; subject to specific documentary requirements; and
Foreigner with issued immigrant/resident visa, subject to specific documentary requirements (for acquisition of residential condominium unit only)
The BPI self-assessment test
Just like other self-assessment tests for loans, the BPI would filter choices depending on the capacity of the payer, what it will be used for, and the terms or the years of the loan to be repaid. In the image below, you see that the minimum income should be at Php40, 000.00 otherwise, you won't be able to proceed with the assessment.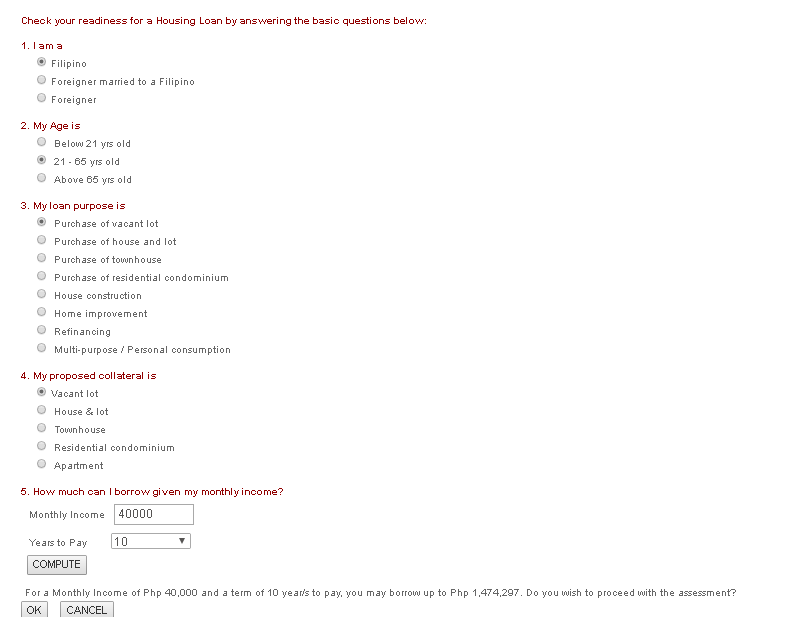 With an option of purchasing a vacant lot, a loan amount of Php1, 000, 000 under a term of 10 years would have the interest be fixed at one (1) year. The monthly amortization would be Php10, 852.00 per month. 

BPI Housing Loan calculator
With this tool, you'll be able to play with the purchase price, the type of purchase, and the terms. The results would be able to give you the monthly amortization price, the downpayment, and the amount BPI is financing.
Read: Commercial Bank, Pag-IBIG, and SSS Housing Loans – What Are Their Differences?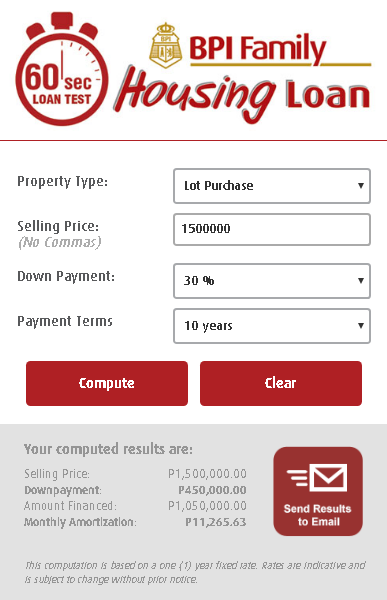 What are the pre-processing requirements for the BPI Housing Loan?
The requirements in applying for the BPI Auto Loan is not that different. However, to give you the checklist, the following would be the things you need to apply for the loan:
Housing Loan Application Form
Duly accomplished application form
2 valid Identitifcation Cards (For married applicants, the husband and wife are to sign on the application form; or If with co-borrower or co-mortgagor, a separate application form is needed)
Income Documents (Proof of income)
If Self-Employed
DTI Registration/Business Papers;
Income Tax Return with Statement of Assets and Liabilities (SAL) for the previous 2 years;
Articles of Incorporation and By-Laws with SEC Registration Certificate
Audited Financial Statements for the last 2 years
List of Trade References (at least 3 names with telephone nos. of major suppliers/customers)
Bank Statements of the past 6 months
If locally employed (working within the Philippines)
Latest Income Tax Return (ITR) for the last 2 years; and
Certificate of Employment (CoE) indicating: (Compensation, Position; and Length of service)
If working overseas (OFWs)
Proof of monthly remittances
Contract/Certificate of Employment (CoE) authenticated by Philippine Consulate
Notarized or authenticated Special Power of Attorney (BPI Family Savings Bank Format)
Crew Contract and Exit Pass validated by POEA (Seaman)
Let's talk about the interest rates
Of course, like any other lending program, there would be interest rates.
Repricing Term
Published Rates
Housing Loan
Property Equity Loan
1
5.25%
6.25%
2
6%
7%
3
6.3%
7.3%
4
6.5%
7.5%
5
6.8%
7.8%
6-10
7.5%
8.5%
I'm interested, how much can I borrow off of the BPI Housing Loan?
Read: Eligibility Requirements for Pag-IBIG Housing Loan
Applicants can borrow at a minimum of Php400, 000.00. For appraised value of house and lot, a maximum of 70% would be the value; 60% for vacant lot or residential condominium. Up to 80% of appraise value of house and lot but not to exceed Php5 million (if the applicant is employed and purpose is for occupancy).
I am currently overseas because I'm an OFW, how can I apply for the BPI Housing Loan? What do I need to submit?
You can definitely apply for this loan even if you are overseas. However, you need to submit the following to the Bank Officer in your country (you can also ask your bank officer for a sample format).
Certificate of Employment (CoE); or Contract indicating salary, position, and tenure (Local Hire)
CoE translated in English with the latest 1 month payslip or Contract authenticated by Philippine Consulate, (Direct Hires);
Loan Administrator with address, contact number and relationship to borrower (If you won't be able to submit the documents);
Oath of Allegiance from the Philippine Embassy (If dual citizen); and
Consularized Special Power of Attorney **IF YOU WILL BE UNABLE TO SIGN THE LOAN DOCUMENTS IN THE PRESENCE OF A BANK OFFICER IN THE PHILIPPINES*
How are the terms applied?
Terms would have a maximum of 25 years for a house and lot; and
A maximum of 10 years for vacant lot, residential condominium, business loan, refinancing,or multi-purpose loans.
I'm interested in applying, how long would it take before the results?
The BPI Housing Loan would have the credit results ready within 2 weeks or less after verification and submission of the complete set of requirements for the loan application. Having that said, it's safe for us to say that you would have to wait for 3 weeks to a full month before you get the results; that comes with the loan amount already, of course.
Read: Step-by-Step Guide on How to Apply for a Pag-IBIG Housing Loan
What are the modes of payment I can do in the event that I get approved?
Unlike other banks and financing institutions, BPI offers different choices in terms of payment of your loan. You're not just tied up to Auto Debit Arrangement (ADA) and checks. Refer to the following below for different payment methods:
Auto Debit Arrangement (ADA) – payment will be automatically deducted from your account (you would need to open a BPI account if you don't have one;
Over the Counter (OTC) payments (with a teller);
Express Mobile – through BPI Mobile text facility;
Through express Phone – call 89-100; or
Online Payments/Online Banking – log on to www.bpiexpressonline.com
Securing a house for yourself or for your family has never been this affordable and easy. With the BPI Housing Loan, watch yourself as you make your dreams come to life. Interested? Have further questions about the loan? You can contact them at:
89-100 hotline
754-69-21; 754-69-60 for customer service
or email them at:
What are you waiting for? Get your dream house and fulfill your needs now. With the BPI Housing Loan, securing a shelter for your family has never been this easy.
Read Also: Applying For A BPI Auto Loan? Here's How